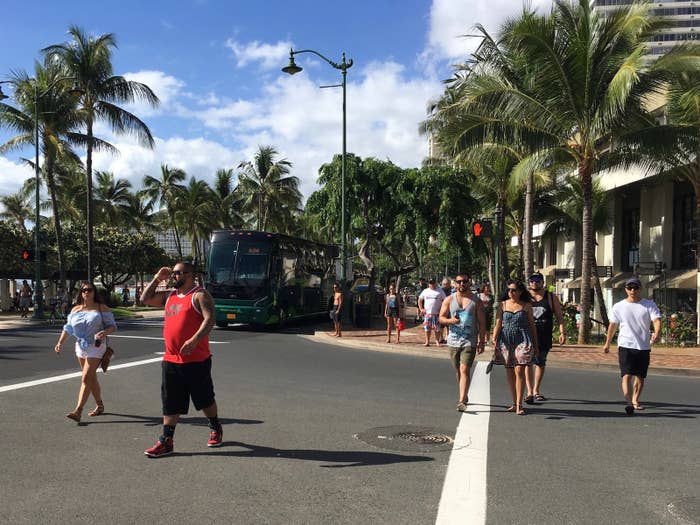 HONOLULU — Honolulu implemented a new law Wednesday, under which anyone caught crossing the street while texting can receive a fine between $15 and $99.
Under the legislation, people caught manipulating a mobile electronic device while crossing a road or highway can be fined up to $35 for their first offense, as much as $75 for the second, and up to $99 for a third infraction.

Pedestrians are still allowed to talk on the phone while crossing the street, Honolulu Police Department Sgt. James Shyer said to BuzzFeed News.

"Looking down and manipulating the phone, like texting, means your eyes are off the road, you are distracted, you are not making eye contact with the drivers, and that's when you're subject to being cited," Shyer said about enforcing the new law.
After receiving a citation, the individual will have to appear in court. "When you get to court, the judge will make the determination whether you are guilty or innocent, and what the fine will be," Shyer said.
The police sergeant added that the department has seen an increase in pedestrian deaths, although he couldn't say for sure what has caused the uptick since it's not always clear what caused an accident.
"There's a lot of pedestrians — it's just a crowded island," Shyer said.
The Governors Highway Safety Association, a nonprofit that works with state highway safety offices, confirms the number of pedestrian fatalities across the United States has been rising sharply over the past few years. The group said the US reported 2,660 pedestrian fatalities for the first six months of 2016, compared to 2,486 deaths during the same time period the year before.
GHSA cited several reasons for the spike including the rise of smartphones for messaging, calling it "a frequent source of mental and visual distraction for both walkers and drivers."

Honolulu's new legislation was introduced by City Council member Brandon Elefante and was signed it into law by Honolulu Mayor Kirk Caldwell in July. Elefante told BuzzFeed News in a statement that the "the law's focus is on safety and awareness as a shared responsibility between motorists and pedestrians." He added that education and situational awareness can alter people's behaviors.
"After all, the next 'smartphone zombie' you come across may very well be a loved one or friend who just needs a gentle nudge to be reminded to 'look both ways' when crossing a street," Elefante said.
Honolulu City Council member Ernie Martin, who opposed the legislation, told BuzzFeed News in a statement that he worried the law is open to legal challenge, and that it "borders on over-regulation."
Instead, he said he supports safety education and using city council recourses to focus on "very serious issues," such as the "leaderless police department," which is currently seeking a new department head as the former police chief has been indicted by the FBI, as well as "an exploding homeless population," and "a recent spate of violent crimes in Waikiki."