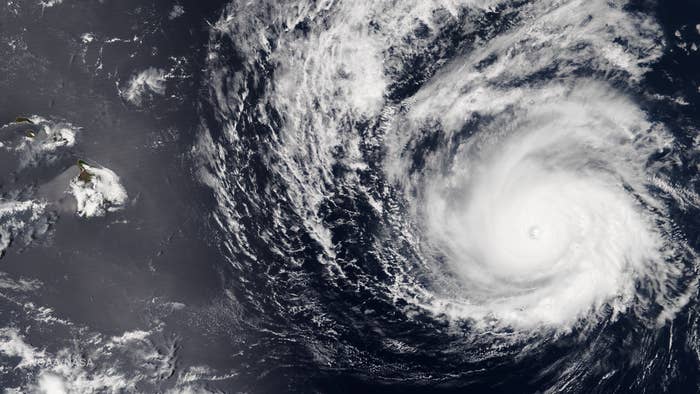 Residents of Hawaii and Florida braced for tropical cyclones Tuesday as forecasters issued hurricane warnings for two separate storms bearing down on the states.

Forecasters at the Central Pacific Hurricane Center said Madeline, churning westward through the Pacific, would pass "dangerously close" to Hawaii's Big Island, the southernmost island in the archipelago. On Wednesday, a hurricane warning for Madeline was downgraded to a tropical storm warning, but the island was still expected to be hit by heavy rains and winds. A second, stronger hurricane, Lester, is also expected to approach the state by Labor Day weekend.
In Florida, a hurricane warning was posted Wednesday over a tropical depression coming from the warm waters of the Gulf of Mexico. The system, which was named Hermine, is forecast to make landfall along Florida's Gulf Coast on Thursday night.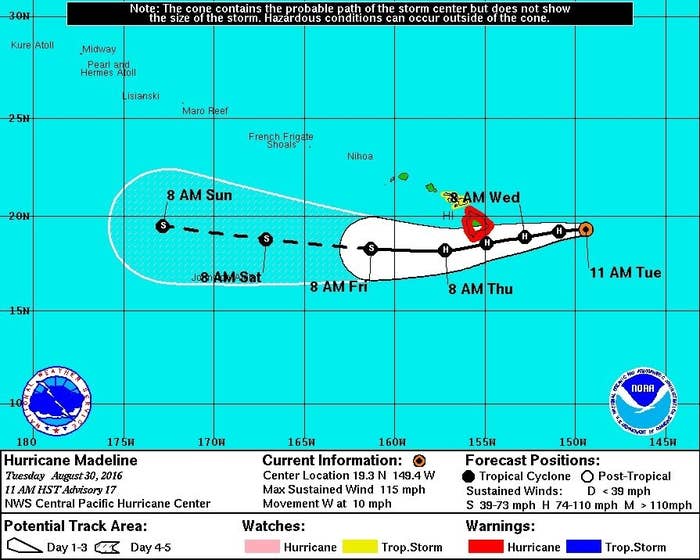 Both states are preparing for heavy rain, powerful winds, big waves, coastal flooding, and erosion.
Forecasters expect the depression to make landfall in Florida as a hurricane as early as Thursday, but parts of the Gulf Coast were already getting drenched with rain. More than 1,000 sandbags were handed out on Tuesday to protect local businesses and residents in low-lying areas, CBS News reported. Tampa Mayor Bob Buckhorn urged residents to use common sense and not drive into standing water.
Resident Debbie Deady said on Wednesday water was already up to her ankles as she was trying to put sandbags around her mom's home.
"The water had been really bad," Deady said to CBS2. "We actually have a pump inside ready to go to flow out the water out here."
In Florida, people were also stocking up on bottled water and other food supplies, as well as batteries, flashlights, and lanterns.
"Just to be prepared just in case the store does come and we get stuck in the house for a day or two you know, you just never know," resident Kristin Dugan said to the Associated Press.

Federal regulators said offshore workers were evacuated from at least nine oil rigs and platforms in the Gulf of Mexico that were in the path of storm. Some of the rigs were also repositioned.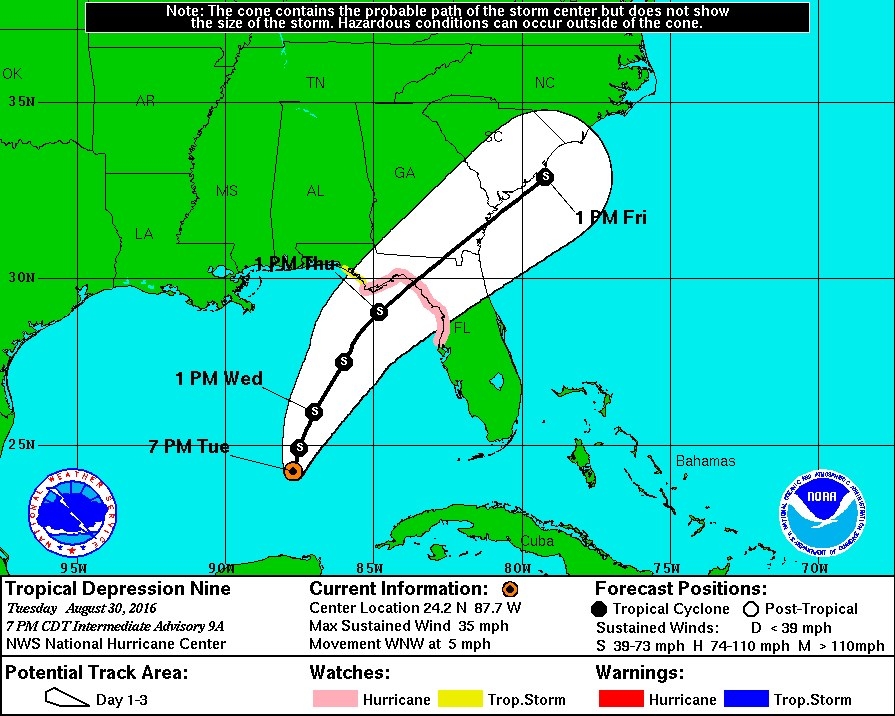 In the pacific, Madeline on Tuesday was a Category 2 storm with maximum sustained winds of 110 mph, but by Wednesday winds decreased to 70 mph. A tropical storm watch was still in effect for the Big Island, Maui, Molokai, and Lanai.

If Madeline made landfall on the Big Island as a hurricane, it would have been the first to strike the island since records started in 1949. The last hurricane to hit the state, Iniki, made landfall on Kauai in 1992, causing six deaths and widespread damage.
"Hopefully our roofs stay on, and our houses don't float way or get blown away," said Big Island resident Mitzi Bettencourt to the AP. "It's like, 'Oh my God, are we going to get flattened or what?'"
In preparation for the hurricane, the Hawaii Department of Education announced all public schools on the Big Island would be closed on Wednesday and Thursday.
On Wednesday, heavy rain fell on the Big Island over the eastern side of the island. In several areas, storm surges were starting to flood roads, rendering them impassable, KHON2 reported. Thousands of residents lost power, but it was restored after a few hours.
A second hurricane, Lester, is following close behind Madeline in the Pacific, and is expected to pass just north of the islands on Saturday. Still, it could bring additional heavy rains and flooding to the state.