MSNBC's Joe Scarborough, a former Republican congressman, said Tuesday that he is leaving the GOP and registering as an independent, on the heels of a very public fight with President Donald Trump.
The announcement, made in an interview with Stephen Colbert, comes just weeks after the president tweeted a series of insults at Scarborough and his fiancé and Morning Joe cohost Mika Brzezinski, calling him "Psycho Joe" and claiming that "low I.Q. Crazy Mika" had arrived at Trump's Mar-a-Lago club "bleeding badly from a face-lift."

"I am a Republican, but I'm not going to be a Republican anymore," Scarborough said in an interview on The Late Show With Stephen Colbert set to air Tuesday. "I've got to become an independent."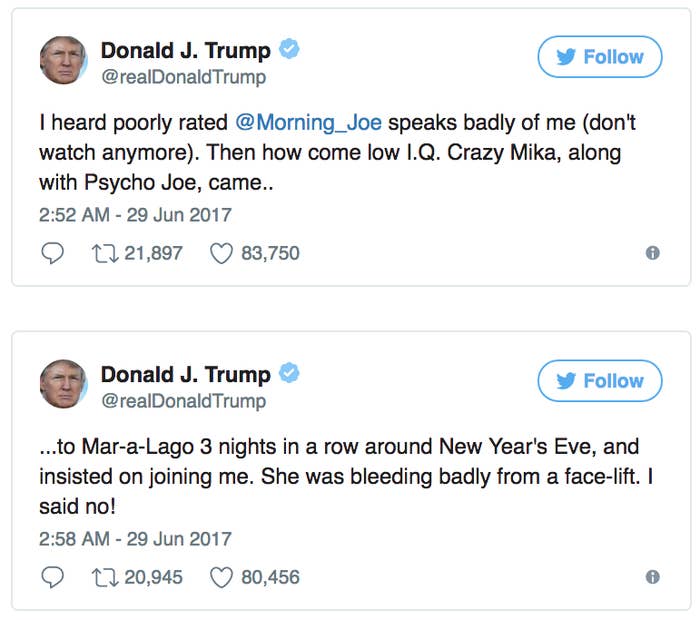 In the interview, Scarborough expressed his disappointment with the Republican Party, insisting that it predated his feud with Trump.
"This was well before Donald Trump was elected president that my party has betrayed their core values," he said, noting the lack of opposition from the GOP to Trump's statements during the campaign, including his proposed Muslim ban, and his tepid denunciation of white nationalist and former Klu Klux Klan leader David Duke.
"You didn't have Republicans coming out, saying 'I can never support Donald Trump because he's racist.' They would have a thousand other excuses why," Scarborough said. "Time and time and time again, they turned the other way. And they're doing the same thing now and it's actually disgusting."
The statements cap off a protracted back-and-forth between the Morning Joe host and the president that began during the presidential race. Early on in his campaign, Trump was on good terms with Scarborough and Brzezinski, and appeared regularly on Morning Joe — the MSNBC hosts even faced criticism for being too close to the candidate. But the relationship eventually soured over the following months, with the hosts criticizing Trump on their show and Trump responding with tweeted insults.
The latest incident occurred last month, after Scarborough and Brzezinski discussed the fake Time magazine covers that were discovered hanging at several of his golf resorts. The episode appeared to enrage Trump, prompting a series of tweets in which he attacked Brzezinski for her physical appearance, and said the couple had "begged" for access to the president.
The following day, Brzezinski and Scarborough penned a Washington Post op-ed claiming that White House officials had threatened them with a negative National Enquirer piece unless they stopped criticizing Trump, and accusing the president of having an "unhealthy obsession" with their show.
"For some reason he always goes after Mika," Scarborough said. "He attacks women because he fears women."