Hillary Clinton Used Her Own Internet Server To Send Email
The server that transmitted her email while she was Secretary of State was run out of her New York state home -- an unusual step, the AP reported. The revelation comes after the Times reported that Clinton used a personal email account to conduct official business despite federal law requiring correspondence be retained by the government.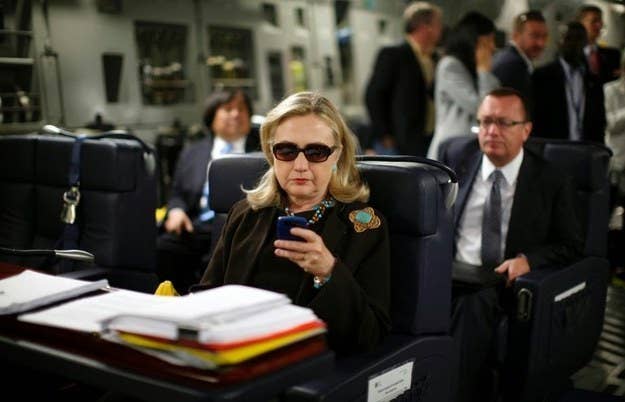 Updated on March 4:
Hillary Clinton used a computer server registered to her New York state home to send an receive email while she was Secretary of State, the Associated Press reported Wednesday.
The revelation comes after the New York Times reported that Clinton used a personal email address – hdr22@clintonemail.com – to conduct official business when she was the nation's top diplomat, despite a federal records retention law that said she needed to use her official government email account.
As the AP reported:
The highly unusual practice of a Cabinet-level official physically running her own email would have given Clinton, the presumptive Democratic presidential candidate, impressive control over limiting access to her message archives. It also would distinguish Clinton's secretive email practices as far more sophisticated than some politicians, including Mitt Romney and Sarah Palin, who were caught conducting official business using free email services operated by Microsoft Corp. and Yahoo Inc.

...

In most cases, individuals who operate their own email servers are technical experts or users so concerned about issues of privacy and surveillance they take matters into their own hands.

...

Operating her own server would have afforded Clinton additional legal opportunities to block government or private subpoenas in criminal, administrative or civil cases because her lawyers could object in court before being forced to turn over any emails. And since the Secret Service was guarding Clinton's home, an email server there would have been well protected from theft or a physical hacking.
Clinton hired Eric Hoteham to run the server, though the AP said that name does not appear in public documents and record searches.
Original report from March 2:
Hillary Clinton used a personal email account exclusively while serving as secretary of state, the New York Times reported Monday, a move that may have broken federal law requiring official communications be retained by the government.
During her four years at the State Department, Clinton did not have a government issued email address, agency officials told the Times. There was also no attempt made to archive her emails, as required by the Federal Records Act.
Federal law considers most letters and emails written and received by officials to be government records that should be preserved, so that congressional committees, reporters, and historians can access them in the future.
Nick Merrill, a spokesman for Clinton, defended her use of personal email, telling the Times that Clinton was complying with the "letter and spirit of the rules" and that she expected her emails to officials using government accounts would be retained.
The National Archives and Records Administration required at the time Clinton was in office that all personal emails be recorded, however Clinton and her aides did not comply with the requirement.
Ranking Member of the Committee on Oversight and Government Reform and the Select Committee on Benghazi Elijah Cummings said that Clinton's use of her personal email account had been public for several years, "apparently following the pattern of previous Secretaries of State."
"Although Secretary Clinton has produced her emails to the State Department, it is unclear from press reports whether previous Secretaries have done the same," Cummings said. "Last month, the Committee received Secretary Clinton's emails relating to Benghazi, and now that we have them, I believe Chairman Gowdy should join with me to make them available to the American public so they can read their contents for themselves."
Other government officials have had personal email accounts, but their use is restricted to emergency situations, such as when an agency's server is not working. If personal email is used, it must be "captured and managed in accordance with agency record-keeping practices," the rule states.
In October, the State Department asked all former secretaries dating back to the late 1990s to turn over records of correspondences in an effort to improve record keeping.
Clinton's advisers reviewed her emails on the personal account and decided which ones to turn over. It is not clear now many emails there were, but 55,000 pages were handed over to the State Department.
A spokeswoman for potential Republican 2016 candidate Jeb Bush called on Clinton to release her emails in a statement given to BuzzFeed News Monday night.
"Hillary Clinton should release her emails," Kristy Campbell said. "Hopefully she hasn't already destroyed them. Governor Bush believes transparency is a critical part of public service and of governing. That's why he recently launched www.jebemails.com."
In 2013, an email account belonging to Clinton adviser Sidney Blumenthal was hacked, revealing his communication with an account that appeared to belong to Clinton and registered to the domain "clintonemail.com."
Registry information for the domain said it was created on January 13, 2009, the same day Clinton's confirmation hearings began before the Senate, the Washington Post reported.