Here Are The Victims Of The Baton Rouge Attack
Three police officers were killed on Sunday in an attack by shooter Gavin Long.
Three police officers were killed and three were injured in a shooting in Baton Rouge on Sunday.
Two of the officers killed were identified as Officer Montrell Jackson, 32, and Officer Matthew Gerald, 41, of the Baton Rouge Police Department, the department confirmed in a statement.
"Both of these men were assigned to the Uniform Patrol Bureau and were great examples of what it means to protect and serve – a mission they demonstrated through their work at the department and in their daily lives," the Baton Rouge Police Department said.
Brad Garafola, a 45-year-old with the East Baton Rouge Sheriff's Office, was identified as the third person killed.
The East Baton Rouge Parish Sheriff's Office spokesperson Casey Rayborn Hicks told the Associated Press that two of the injured are deputies: 41-year-old Nicholas Tullier, an 18-year veteran, and 51-year-old Bruce Simmons. He said Tullier is in critical condition while Simmons has non–life threatening injuries.
The shooter has been identified as Gavin Long.
This is what we know so far about the victims.
Montrell Jackson, who has been with the Baton Rouge Police Department for 10 years, was killed Sunday during the attack, his cousin told The Advocate.
The 32-year-old officer recently had a baby son with his wife. The child was 4 months old, State Rep. Ted James told the AP.
Jackson's uncle, Charles Cavalier, told WAFB his nephew was "one of the best guys you'd ever want to know" and loved his wife and son very much.
Cavalier also said Jackson loved the New Orleans Saints and had season tickets for the Pelicans. He said Jackson had been planning to see a game with his nephew in the next few weeks.
"He was a wonderful person," Jackson's sister Joycelyn said to the Washington Post. "A wonderful person."
Joycelyn Jackson said she understands the anger some feel toward police, but that "God gives nobody the right to kill and take another person's life."
"It's coming to the point where no lives matter," she said, "whether you're black or white or Hispanic or whatever."
As an academy director, Baton Rouge Police Chief Carl Dabadie Jr., said he was Jackson's instructor for 20 weeks, testing him physically, mentally, and emotionally.
"Montrell stood tall everyday. He never wavered, he never quit," Dabadie said at a press conference. "His heart was in service to this community."
A couple of days before Jackson was killed, Dabadie said he went to the Third District Police Station in Baton Rouge to liven up spirits. But it was Jackson who ended up giving Dabadie a pep talk.
"That was the last time that I spoke to Montrell and I'll never forget it," Dabadie said. "He is a true hero."
Dabadie read a statement from his wife Tarnisha, who described Jackson as an amazing husband, outstanding father, and loyal friend.
"I know without a shadow of a doubt he loved his job and his city knowing this is what gives me a little peace and comfort," Tarnisha wrote. "I know he made the ultimate sacrifice and paid the ultimate price in doing what he loved, protecting and serving a city that he loved."
Just a week before he was killed, Jackson wrote a Facebook post about how the distrust and hatred he received was making him tired. "In uniform I get nasty hateful looks and out of uniform some consider me a threat," Jackson wrote.
I'm tired physically and emotionally. Disappointed in some family, friends, and officers for some reckless comments but hey what's in your heart is in your heart. I still love you all because hate takes too much energy but I definitely won't be looking at you the same. Thank you to everyone that has reached out to me and or my wife it was needed and much appreciated. I swear to God I love this city, but I wonder if this city loves me. In uniform, I get nasty hateful looks, and out of uniform some consider me a threat. I've experienced so much in my short life and these last 3 days have tested me to the core. When people you know begin to question your integrity you realize they don't really know you at all. Look at my actions they speak LOUD and CLEAR. Finally I personally want to send prayers out to everyone directly affected by this tragedy. These are trying times. Please don't let hate infect your heart. This city MUST and WILL get better. I'm working in these streets so any protesters, officers, friends, family or whoever, if you see me and need a hug or want to say a prayer. I got you.
Fred Jackson, the former University of Michigan running backs' coach and current Ypsilanti High School football head coach, paid tribute to his nephew, saying he was a "great father and husband."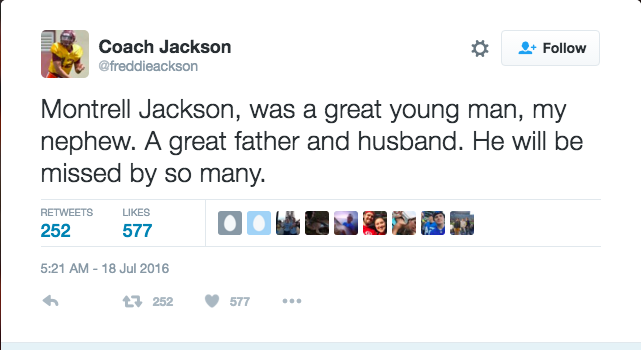 Fred Jackson's son, Josh Jackson — a freshman quarterback at Virginia Tech — tweeted about his cousin's death.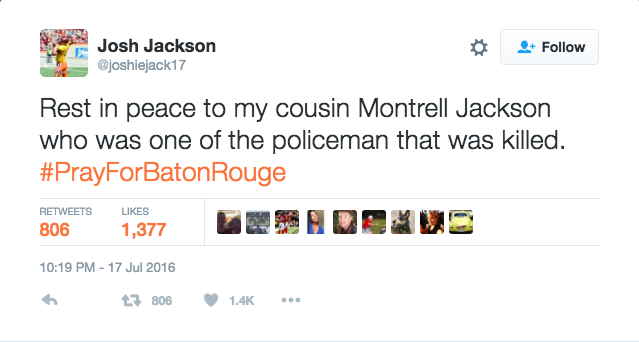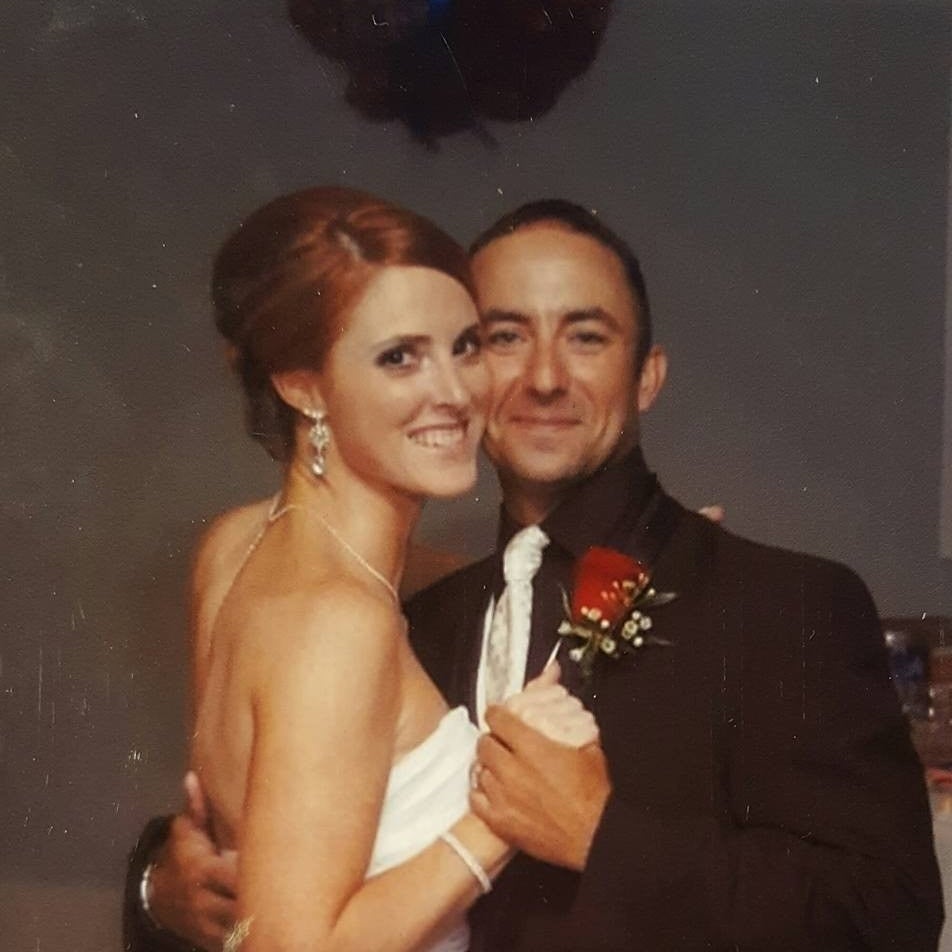 Matthew Gerald was married and the father of two girls, according to Fox 8 New Orleans. He was a former Marine and Black Hawk Crew Chief in the Army, WAFB reported. He had been with the Baton Rouge Police Department for less than one year, Chief Carl Dabadie said.
Dabadie said the 41-year-old served his country proudly and with honor.
"His sense of service drew him to law enforcement when he got out of the military," Dabadie said. "He spent his whole life serving this country and our city and he's a hero for everything that he's done."
"He was one of the true Americans that lived to be a patriot," his friend Nick Lambert, who served with him as a Black Hawk crew chief, told CNN. After serving in the Marines and the Army, including three tours to Iraq, Gerald decided to become a police officer, his friend and fellow officer Ryan Cabral told CNN.
"Instead of slowing down at 40 years old, he said 'hell no, give me more,'" Cabral said. "Matt was born to protect those who needed protection," he said.
In a Facebook post remembering his friend, Cabral wrote: "Rest Easy brother. Your sacrifice to this country will not be forgotten. I promise you that for as long as I am around, your family will be looked after. We have the watch brother. Love you."
Gerald's wife, Dechia, posted a link on Facebook to a live story about the Baton Rouge attack, writing, "Everyone please pray!!! My husband along with others is out there."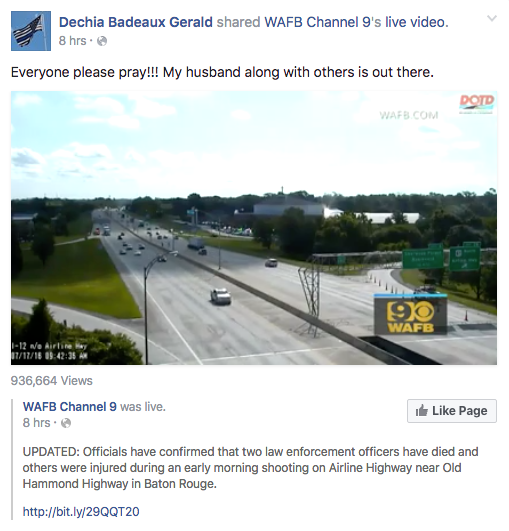 She followed up about an hour later by changing her profile picture to a version of the U.S. flag, which is meant to represent the courage of police officers and be a reminder of fallen brother and sister officers.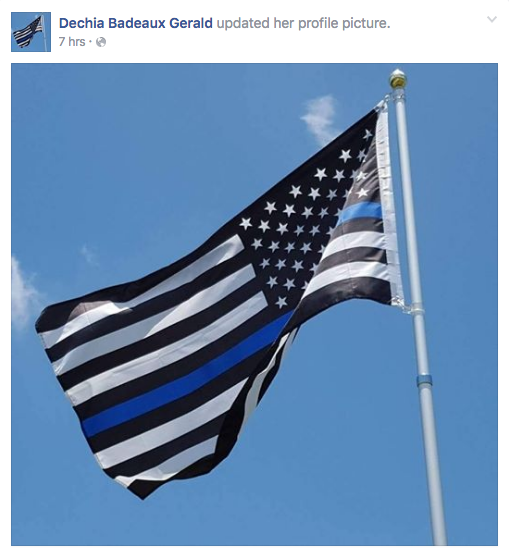 Brad Garafola had worked for the East Baton Rouge Parish Sheriff's Office since 1992 and was working extra duty when he was killed on Sunday, The Advocate reported.
His wife, Tonja, told The Advocate she had gone to meet her husband when his shift ended and instead found out he had been killed during the shooting.
She said that more than anything else he was a family man. He had four children: a 21-year-old son who lives in Texas, a 15-year-old daughter, 12-year-old son, and a 7-year-old daughter.
"He loved us so much," she said. "He was always bragging about his family."
He was working on two cars in the garage, and one was meant for when his 15-year-old daughter started driving.
"He was a great guy," she said. "Not just a great law enforcement, he was a great husband and a great father."
In a Facebook post, Garfola's brother, Brett Garfola said, "He leaves his wife and 4 kids behind in which he loved so much. I know a lot of you know Brad and his family. Please keep them and all of my family in your prayers..., Brad, I love you very much my brother. I respect and appreciate everything you did for us, this city, and your job to protect and serve. To the rest of my family and other officers please watch your 6 and God please watch over them."
"Deputy Garafola has a mantra of 'People First,'" said an EBRSO newsletter from November 2015 that also named him Civil Deputy of the Month. "He takes this seriously and it shows throughout his dealings with co-workers as well as the public. He is willing to go beyond the call of duty."
At a press conference, East Baton Rouge Sheriff Sid Gautreaux III said Garafola died while trying to get to another officer to render aid.
Garafola was taking cover behind a dumpster when he saw an officer lying wounded on the ground. The deputy moved along the side of the building to get to the injured officer, but was killed when the shooter returned to the area and began to shoot at Garafola.
"My deputy went down fighting. He returned fire to the very end." Gautreaux said. "Deputy Garafola died as a hero, protecting and serving, so did the other officers."