President Donald Trump comments Friday that football players who protest during the national anthem should be fired, have had a domino effect among critics, with people across the country kneeling — both in real life and online — to show their solidarity.
The whole saga started Friday during a campaign rally in Alabama, when Trump said that NFL owners who have players who "disrespect our flag" should say "'get that son of a bitch off the field right now.'"
Trump was referring to protests begun by former San Francisco 49ers player Colin Kaepernick, who started kneeling during the national anthem in 2016 to protest police treatment of minorities.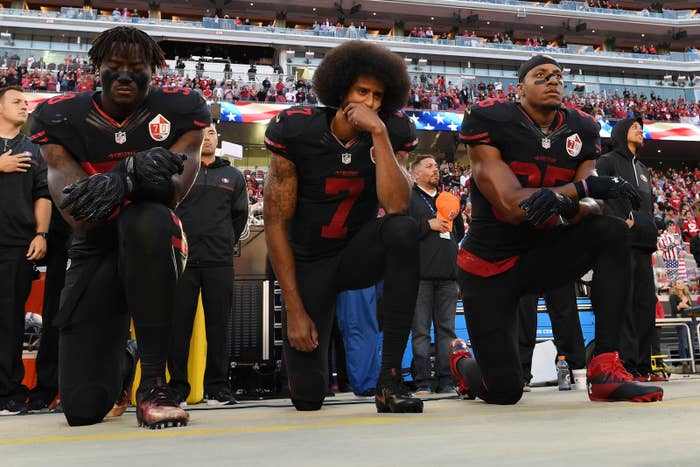 As people started expressing their distaste for Trump's comments, the president only dug in deeper, tweeting over the weekend that players who "disrespect" the flag should be fired and telling reporters that the controversy "has nothing to do with race."
On Sunday, with football games in action all over the US, players and coaches protested by taking a knee, linking arms, and wearing shirts with Kapernick's name on it.
Across the country, others took similar stands of defiance against the president's remarks. During Game 1 of the WNBA Finals on Sunday, the Los Angeles Sparks went to the locker room during the national anthem, while their opponents, the Minnesota Lynx, linked arms.
Some veterans showed their support by taking to social media with the hashtag #VetsForKaepernick.
This was after the president retweeted a tweet Sunday that implied protesters who kneeled or sat during the national anthem were dishonoring veterans.
One veteran said she "wore the uniform" to protect the right for Kaepernick and other NFL players to take a knee.
"Those are the rights we protect," another former soldier tweeted.
Another veteran shared a protest picture of himself, holding a poster that read "I signed up to defend the constitution against all enemies foreign and domestic." He also used the hashtag #VetsAgainstTrump.
This veteran said he served for 23 years and supported all the players who take a knee.
The progressive political action committee Vote Vets also tweeted in solidarity.
The NAACP connected the protests to previous civil rights activism by black athletes, tweeting pictures of Tommie Smith and John Carlos during their medal ceremony at the 1968 Summer Olympics, of pro-boxer Muhammad Ali leading a march, and of Jacksonville Jaguars team owner Shad Khan linking arms with his players on Sunday.
The American Civil Liberties Union also tweeted support.
Stevie Wonder took a knee at a concert Saturday night in New York's Central Park.
Jesse Jackson tweeted a photo of himself "kneeling for justice."
Supermodel Naomi Campbell tweeted a picture of Marin Luther King Jr., and used the hashtag #TakeAKnee to show her support with the NFL protesters.
Public Enemy's Chuck D also used the hashtag.
So did the band Pearl Jam.
Actress Mia Farrow also tweeted her support.
NFL fans and their families also shared photos of themselves taking a knee together to show their support.