30 Heartbreaking Photos From The Aftermath Of The Deadly Tornado Outbreak
Dozens of tornadoes slammed communities in the central and southern states, killing at least 30 people on Sunday and Monday.
1.
Justin Shaw (left) helps Nick Conway erect a flag pole at his home that was destroyed by a tornado in Vilonia, Ark.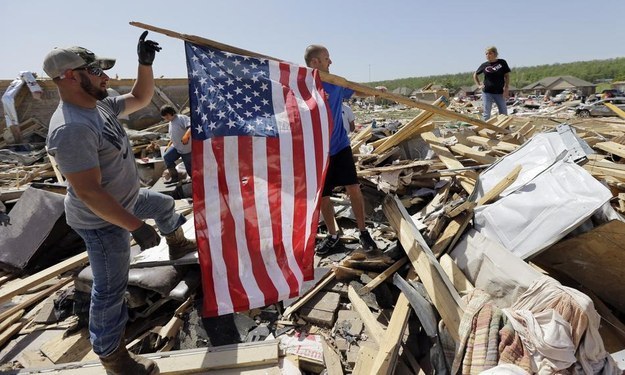 2.
Vilonia was hit hard Sunday evening when a series of tornadoes ripped through several states in the central U.S., leaving up to 14 dead in a violent start to this year's storm season.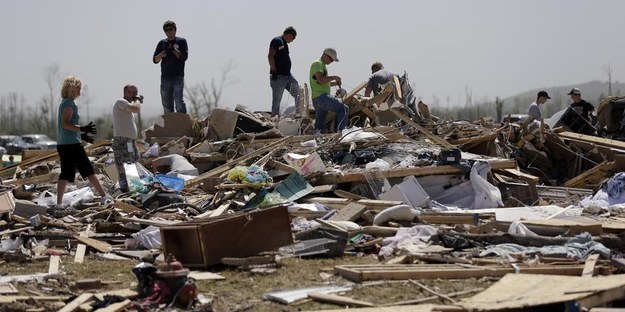 3.
Residents and friends sift through debris in Vilonia.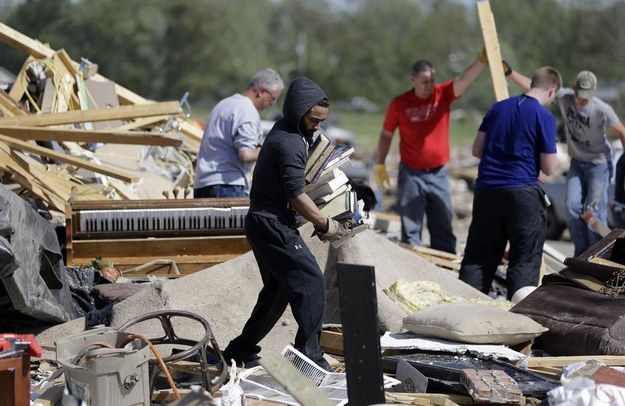 4.
A row of lightly damaged houses adjacent to destroyed homes in a Vilonia, Ark.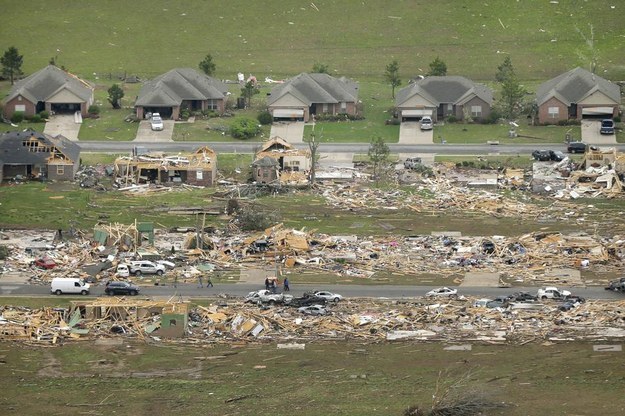 5.
Jeremy Ball carries a bag of rescued items as he looks through the debris after a tornado destroyed his uncle's home in Vilonia, Ark.

6.
Connie Krehel looks through debris after her home was hit by a tornado in Vilonia, Ark.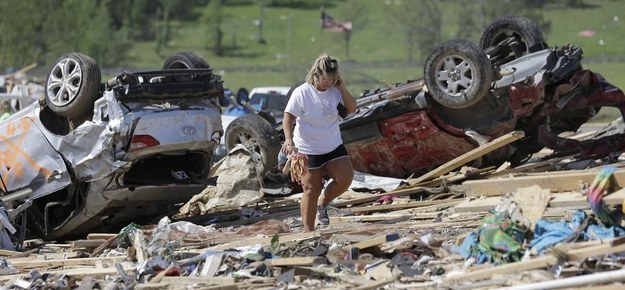 7.
Scott Berrier surveys the damage to his home off Naylor Road in Vilonia, Ark. Berrier said his home was damaged in the 2011 tornado, but it was destroyed with this tornado.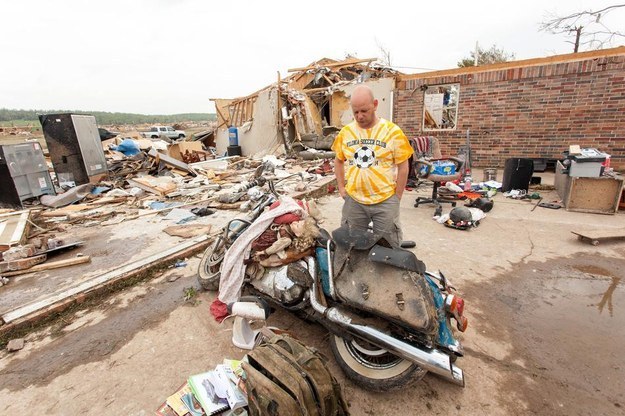 8.
The 2011 tornado took nearly the same path as Sunday's tornado through Arkansas and killed at least four people.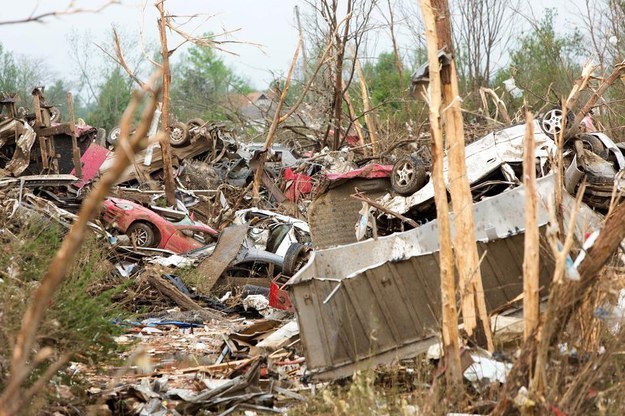 9.
Sherry Lee (left) and her daughter-in-law Amanda Lee react after finding family photos among the ruins of Sherry Lee's home after a tornado struck Vilonia, Ark. Amanda Lee lost her brother Jeff Hunter in the storm.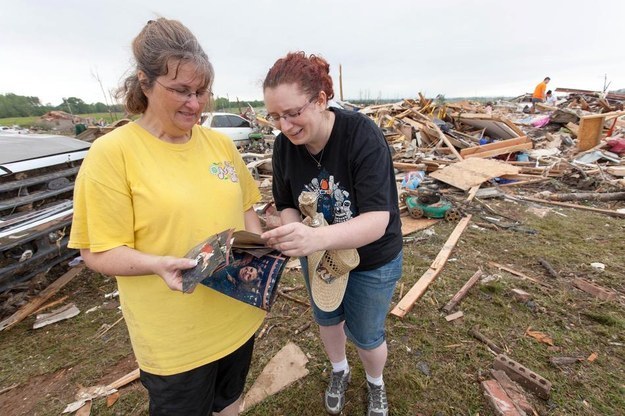 10.
Sherry Lee hugs her brother-in-law Andy Lee on Monday, after a tornado destroyed her home Sunday.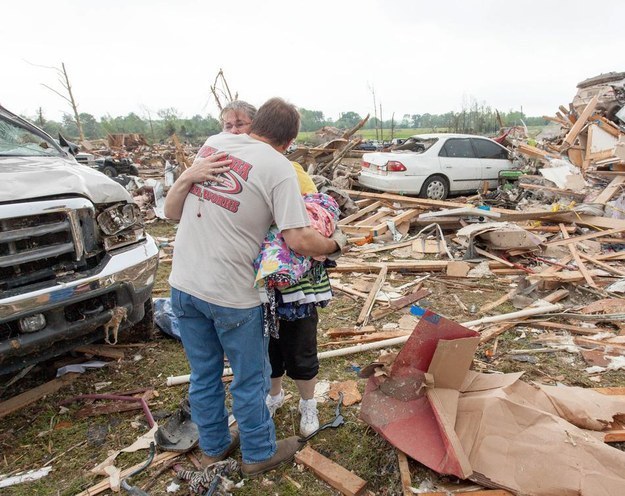 11.
Nicholas Lee surveys the damage at his parents home off Cemetery Street in Vilonia, Ark.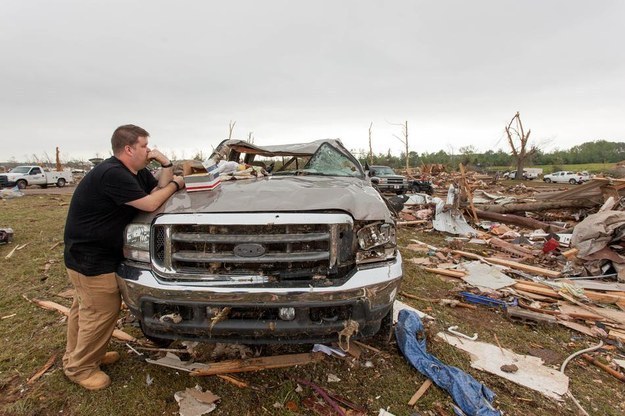 12.
Bob Van Byssum walks through his home in Little Rock, Ark. A half-mile-wide tornado carved an 80-mile path of destruction through the Little Rock suburbs Sunday evening.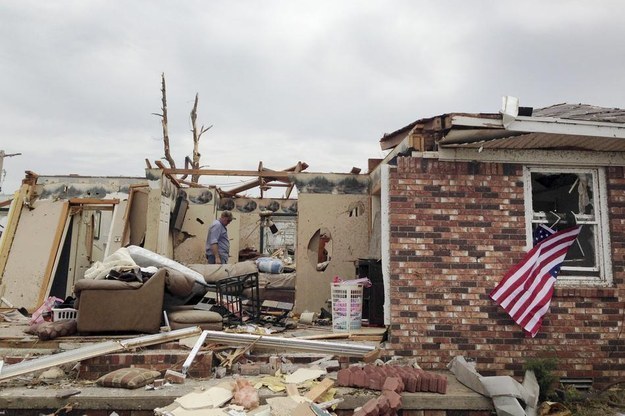 13.
In Vilonia, Raella Faulkner (left) and Bobby McElroy picked through their demolished home, searching for family photos and a bow-and-arrow kit belonging to McElroy's son.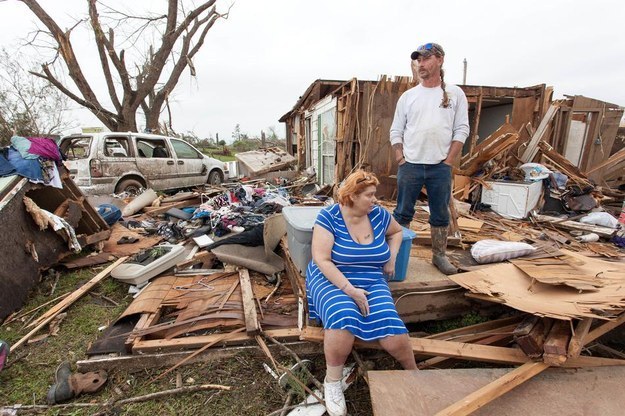 14.
The two had taken refuge from the storm in an underground storm shelter about 10 feet from their home.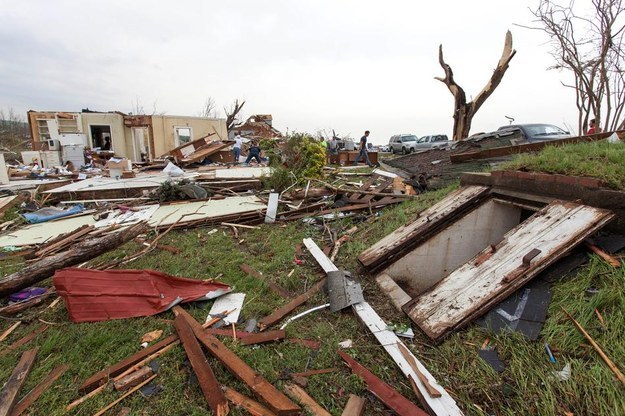 15.
Most of the dead in Arkansas were killed in their homes in and around Vilonia, population 3,800.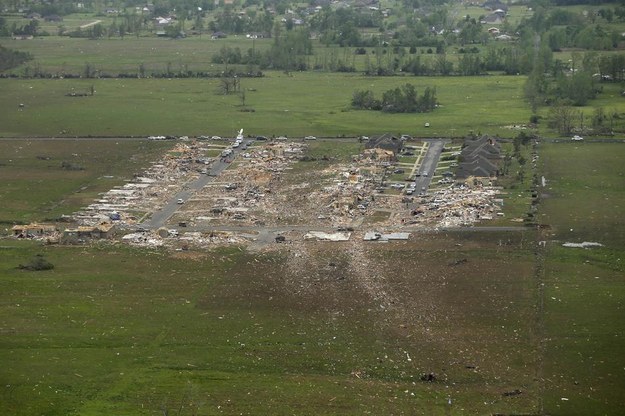 16.
The tornado that hit Mayflower, Ark., was probably the nation's strongest so far this year with winds greater than 136 mph, National Weather Service meteorologist Jeff Hood said.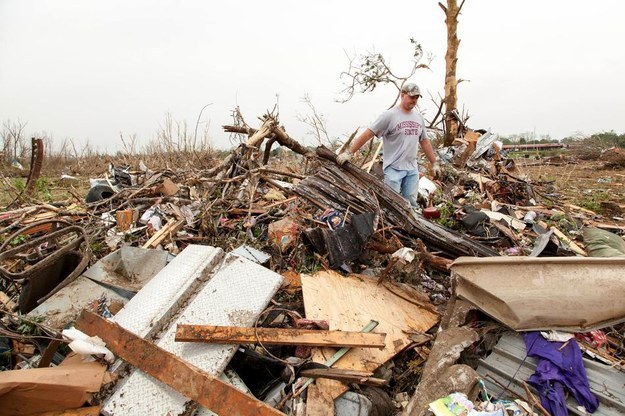 17.
Firefighters searched for anyone trapped amid the piles of splintered wood and belongings strewn across yards on Monday.
18.
The storms destroyed cars along Interstate 40 north of Little Rock, Ark.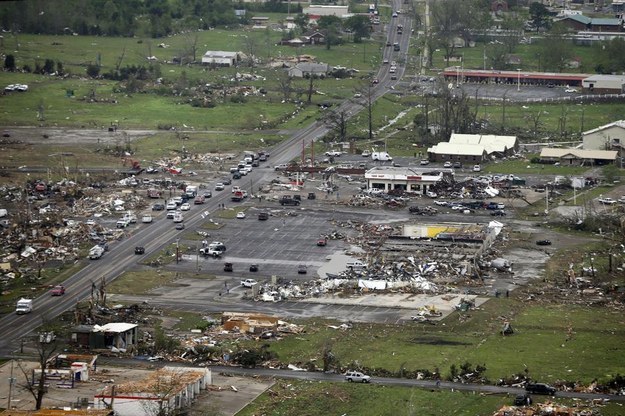 19.
John Smith reacts after seeing what's left of his auto repair shop in Mayflower, Ark.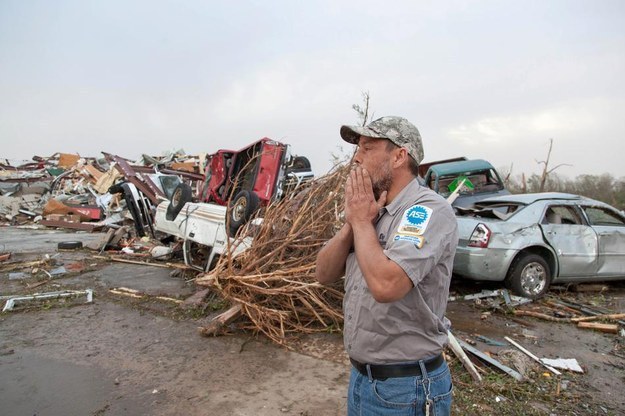 20.
Arkansas Gov. Mike Beebe (third from right) surveys the tornado damage along Aspen Creek Drive in the Parkwood neighborhood off Naylor Road in Vilonia, Ark.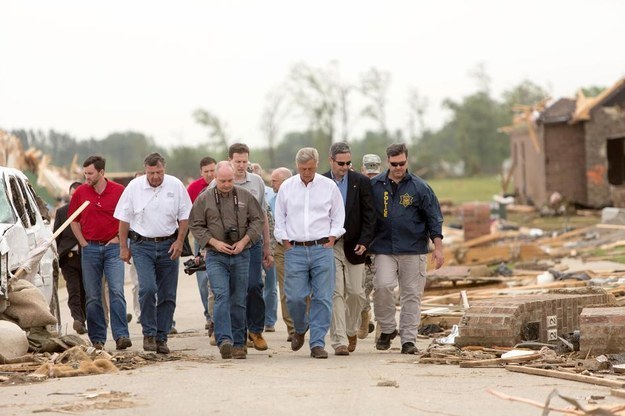 21.
Many homes in the South are built on concrete slabs, without basements because it's cheaper and easier, and the need to protect pipes from freezing by putting them below ground is not as great as in colder areas.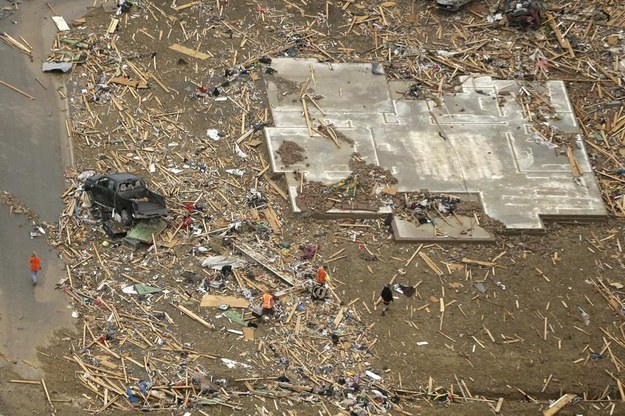 22.
Many people have holes dug into the ground for storm shelters, but these tend to only be in the older homes.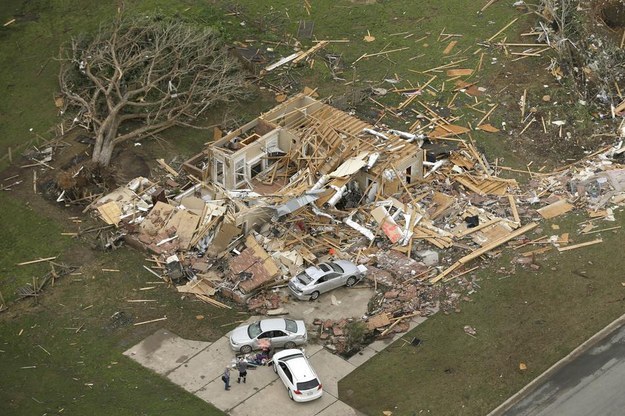 23.
The tornado that hit Arkansas was part of a storm series across the Midwest and South that killed 17 people on Sunday.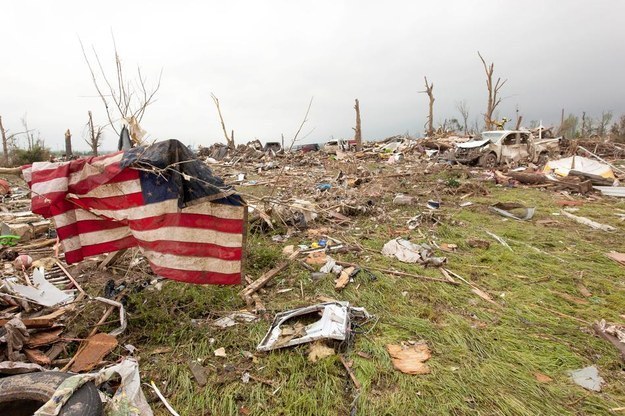 24.
A separate twister that was part of the same storm series killed one person in Quapaw, Okla., on Sunday evening.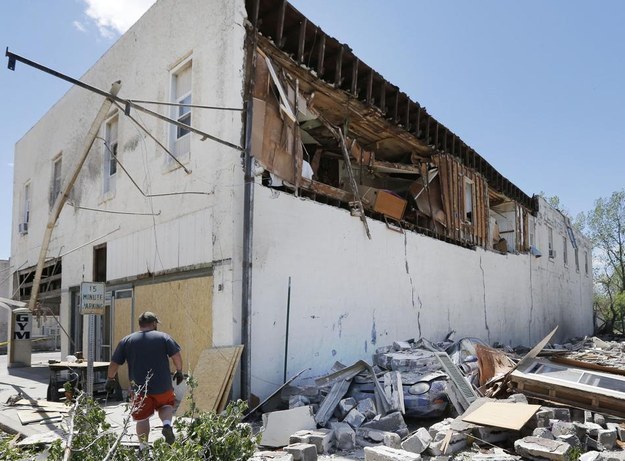 25.
The twister crossed into Kansas, where it destroyed more than 100 homes and businesses and injured 25 people in the city of Baxter Springs.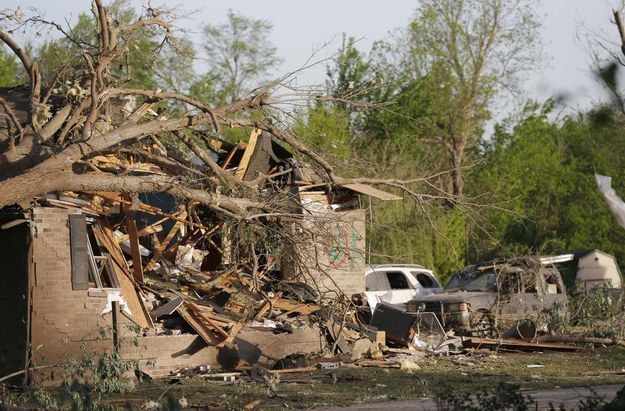 26.
At least one death was also reported in Kansas.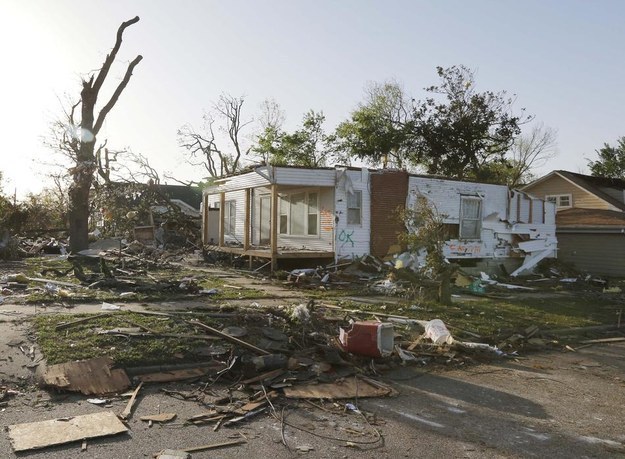 27.
Tornadoes flattened homes throughout the South on Monday, killing at least seven people in Mississippi.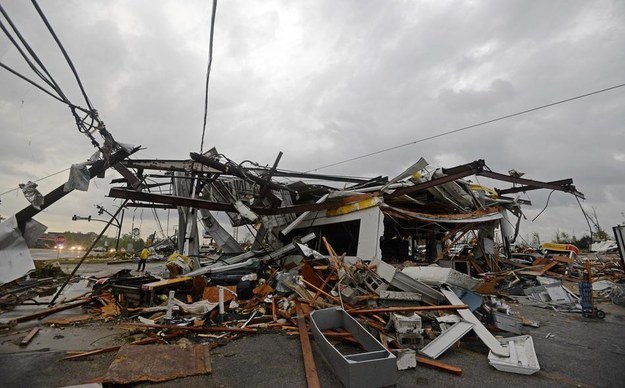 28.
Local officials also reported six deaths in Alabama from a tornado.
29.
The National Weather Service posted tornado watches and warnings around Mississippi, Tennessee, Alabama, and Georgia that were in effect through Monday night.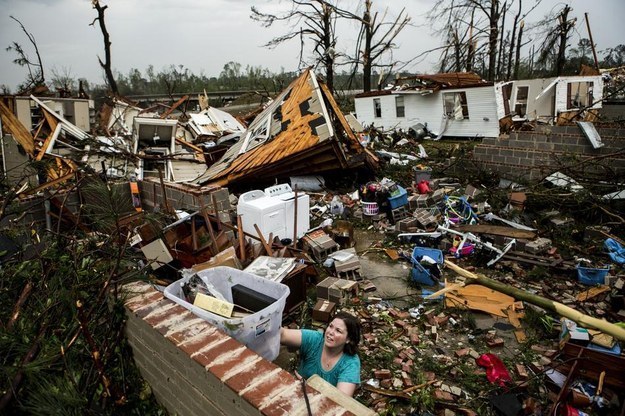 30.
Constance Lambert embraces her dog after finding it alive when returning to her destroyed home in Tupelo, Miss.