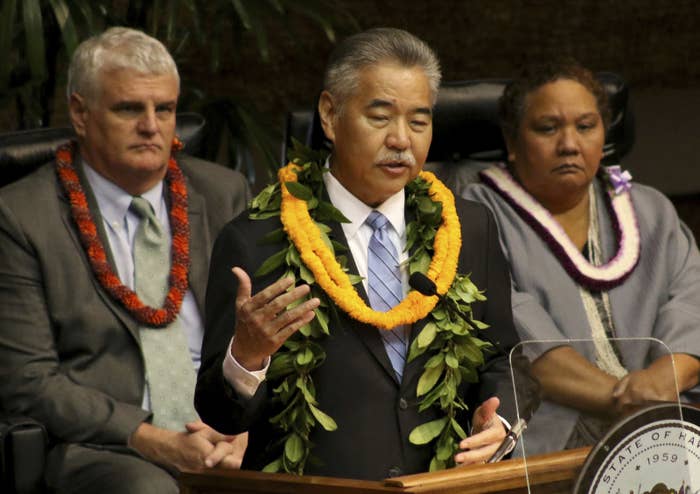 HONOLULU — Hawaii Gov. David Ige said Monday that he was delayed in notifying the public about a false inbound missile alert because he did not know the password to his Twitter account.

Though Hawaii recently became the first state since the Cold War to enact preparedness plans for a missile attack, state officials have appeared less than ready for such an event after the alert was accidentally sent out on the morning of Jan. 13, terrifying residents and visitors. A full 38 minutes passed before officials sent another alert clarifying it was a false alarm.

At a hearing at the Hawaii State Capitol on Friday, it was revealed that Ige was informed that the alert was false two minutes after it was pushed to phones across the state. But Ige did not tweet that information to the public for another 15 minutes.
By then, other state officials and even a high school student, who simply called the Hawaii Emergency Management Agency to ask if it was a mistake, had already shared the news that it was a false alarm.

Ige addressed the delay in comments to reporters Monday following his State of the State speech, in which he did not address the false missile alert. Asked why he had not shared the news about the false alarm earlier, Ige said he had been making calls to the Hawaii Emergency Management Agency and that he could not log in to his Twitter account.
"I was in the process of making calls to the leadership team both in Hawaii Emergency Management as well as others," Ige said, according to the Star Advertiser.

"I have to confess that I don't know my Twitter account log-ons and the passwords, so certainly that's one of the changes that I've made," he said. "I've been putting that on my phone so that we can access the social media directly."
Asked why he did not mention the false alert during his State of the State address, Ige said he did not think it was appropriate to bring it up, and noted that he has already made several press statements about the subject.
Ige's communications director, Cindy McMillan, told BuzzFeed News Friday that after learning the alert was false, the governor had to track her down to prepare a message, since her team handles his social media accounts.


McMillan said that the governor's Twitter and Facebook accounts will continue to be managed by staff, except in emergency situations.

"Going forward, he will be able to log in on his phone to post in an emergency situation," McMillan said. "However, staff will continue to post to and manage both accounts on a day-to-day basis."

McMillan did not respond to two specific inquires from BuzzFeed News asking whether the governor knows his password now.