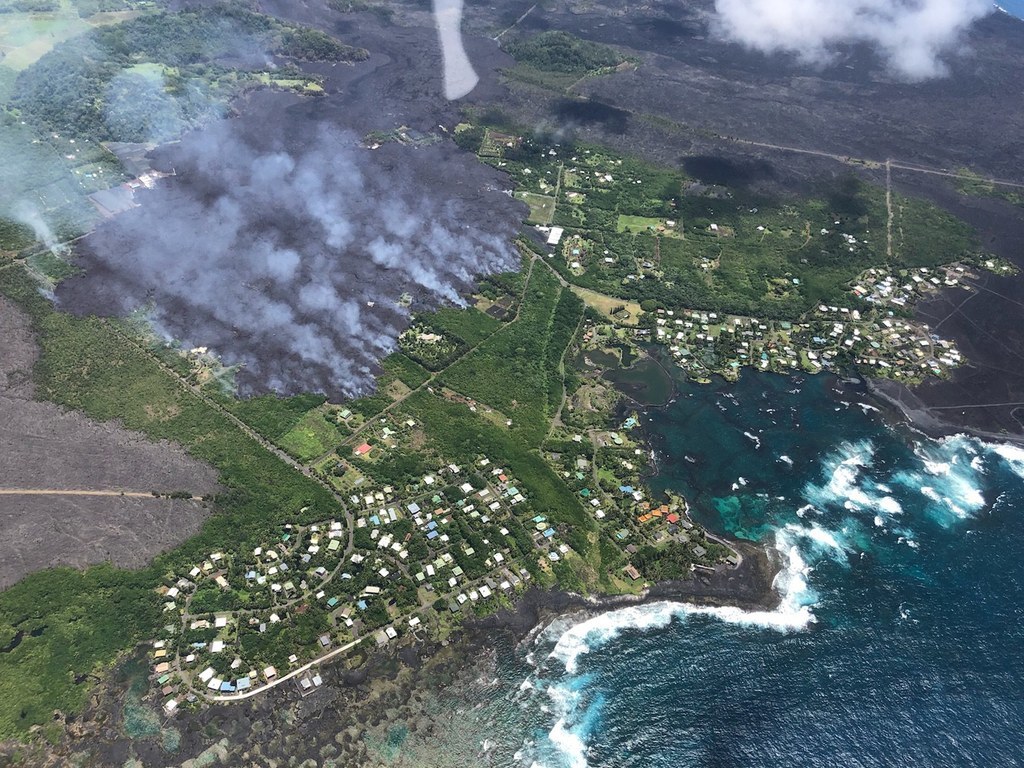 Lava from Hawaii's Kilauea volcano has destroyed hundreds more homes on the Big Island as it continues to pour into coastal communities, officials said Tuesday.
The full extent of damage was still being assessed, but lava has now almost entirely covered two coastal subdivisions, Kapoho Beach Lots and Vacationland, which together had 500 homes, including one belonging to Hawaii County Mayor Harry Kim.
Kapoho Farm Lots, which had 42 homes, was also inundated with lava, according to Hawaii County Civil Defense Administrator Talmadge Magno, who said at a press conference on Tuesday that he had unofficially counted the homes.

Along with lava destruction in the communities of Leilani Estates and Lanipuna Gardens, the total number of homes destroyed on the island is now believed to be as many as 659.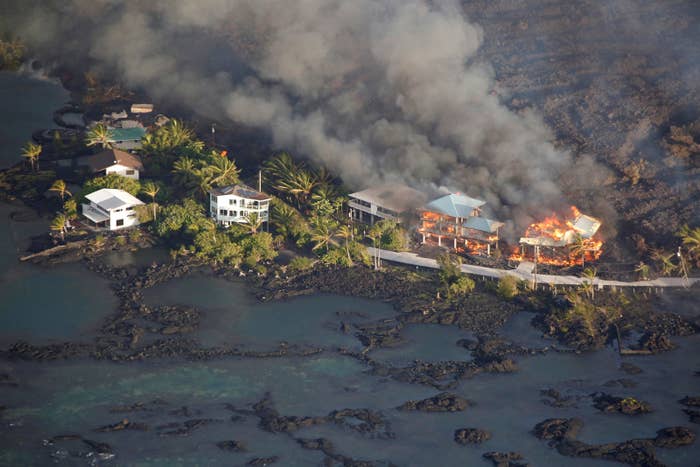 Just a week ago, a new channel of lava seemed to be heading downslope in the direction of Kapoho Farm Lots, Kapoho Beach Lots, and Vacationland, sparking evacuations.

The lava channel traveled about six miles and cut across the last major highway to the area. By the time the flow reached Kapoho Farm Lots, it was a half-mile wide.

The flow then crossed into Kapoho Beach Lots before entering Kapoho Bay Sunday night. The coastal area is dotted with anchialine ponds that are interconnected to tide pools — the northern pool is called Champagne Pond because the water was filled with bubbles formed by the volcano's heat.
"It's just pouring out and covering everything in its path. Looks like there's no stopping it," Hawaii County Civil Defense Administrator Talmadge Magno said at a press conference on Monday. "It's just taking out everything — and a lot of memories … that's a pretty precious part of the island for a lot of us."

By Tuesday morning, the lava had already stretched 0.7 miles into the ocean.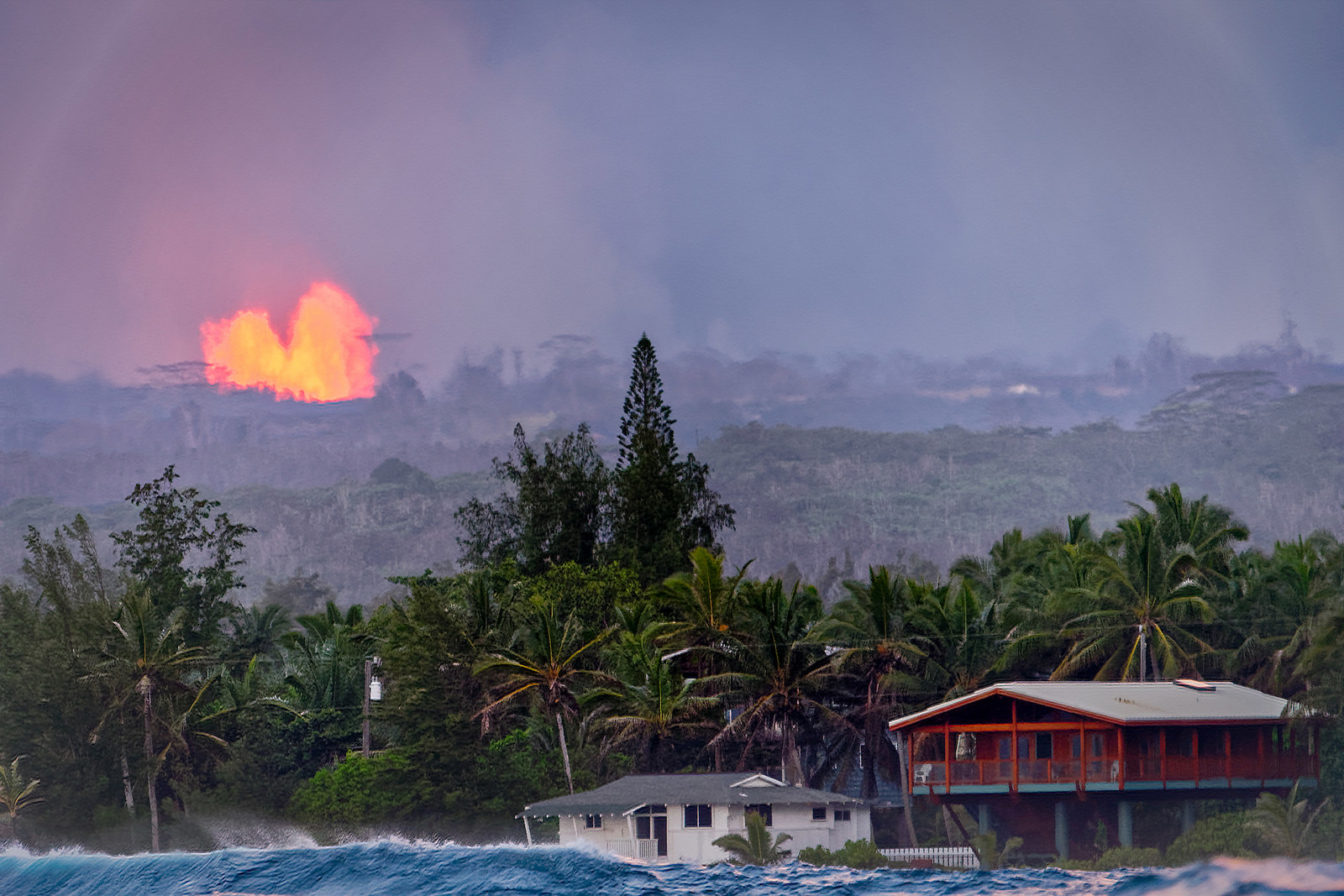 The new destruction comes a month after Kilauea's eruption that started May 3, which sent lava into and covered most of the Leilani Estates and Lanipuna Gardens communities. At least 117 homes in the area were destroyed.

There are three shelters on the Big Island for lava evacuees and by Saturday the number of people staying there had swollen to almost 400, according to Magno. The number includes people from Leilani Estates, Lanipuna Gardens, Kapoho Beach Lots, and Vacationland, although many more are staying with friends, family, or are now renting accommodations.

While most people evacuated and at least 80% of the homes on the waterfront were vacation rentals, Magno said Sunday that more than a dozen people remained in Kapoho. At least four were evacuated by helicopters after insisting on staying, he added. Officials plan to continue flyovers since there is no power or cell service in the area.
Lava from Kilauea has now covered more than 5,000 acres of land since the May eruption and officials say there's no telling how much longer it will continue. A similar type of eruption that hit Kapoho in 1955 lasted three months and covered 3,900 acres of land and destroyed 21 homes, although a lot fewer people lived in the area at the time.
"I don't think any of us are thinking this is winding down," USGS scientist Janet Babb said Monday. "There's still vigorous lava emissions from [the eighth fissure] and the flows are still moving downslope."