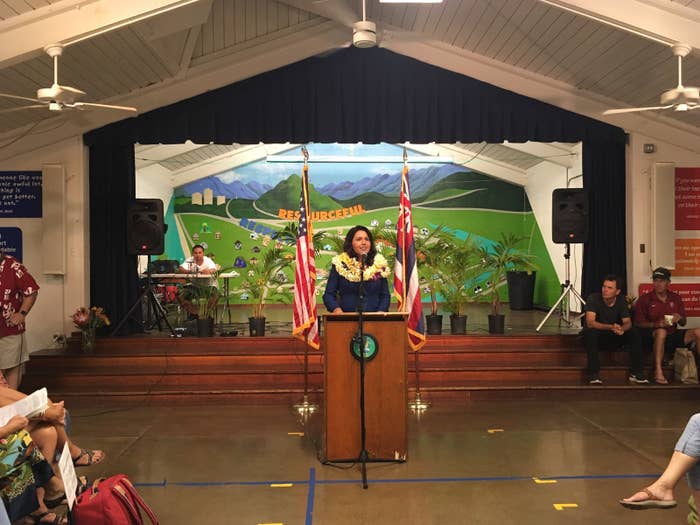 HONOLULU — Hawaii Rep. Tulsi Gabbard has made her name as a national figure as the lonely supporter of Syrian dictator Bashar al-Assad and her suggestion that he may not have committed chemical attacks against his own people, a view that has earned her condemnation from both parties and suggestions from the left that another Democrat should challenge her next year.
"This is a disgrace. Gabbard should not be in Congress," former Democratic National Committee chairman Howard Dean followed up.
But here in Hawaii, the view seemed to differ drastically from that in Washington. While some DC Democrats have grown increasingly skeptical of the 36-year-old congresswoman, Gabbard was greeted with cheers and applause from roughly 400 constituents at a town hall on Oahu Saturday, with just a few exceptions.
Many stood and vigorously applauded as Gabbard took to the podium at Kainalu Elementary School on Oahu in the neighborhood of Kailua, just a few blocks away from where former President Barack Obama likes to stay when he visits.

Syria was on the mind of people in the audience, as well as Trump, with whom Gabbard met shortly before he took office. Although Gabbard's constituents expressed concern that she met with Assad in secret earlier this year, it wasn't necessarily a deal breaker for those at the town hall.
"She is wonderful," Mary Papish told BuzzFeed News, while holding a "Tulsi = Aloha" sign. "I would like to know what Assad and her might have spoken about," she added.

Doug Smith, another attendee, told BuzzFeed News that he knew that "the Syria thing got a lot flak," but still he thinks that "she's authentic." He added that "she corrected herself on gay marriage." (Gabbard is the daughter of State Senator Mike Gabbard, who built his career in Hawaii around his opposition of LGBT rights, and she agreed with him on his views opposing same-sex marriage until 2012).

Bonnie Pomertz told BuzzFeed News that she hoped Gabbard would become president.
"I think she should be our next president in 2020 or 2024," Pomertz said. "We need a woman in there."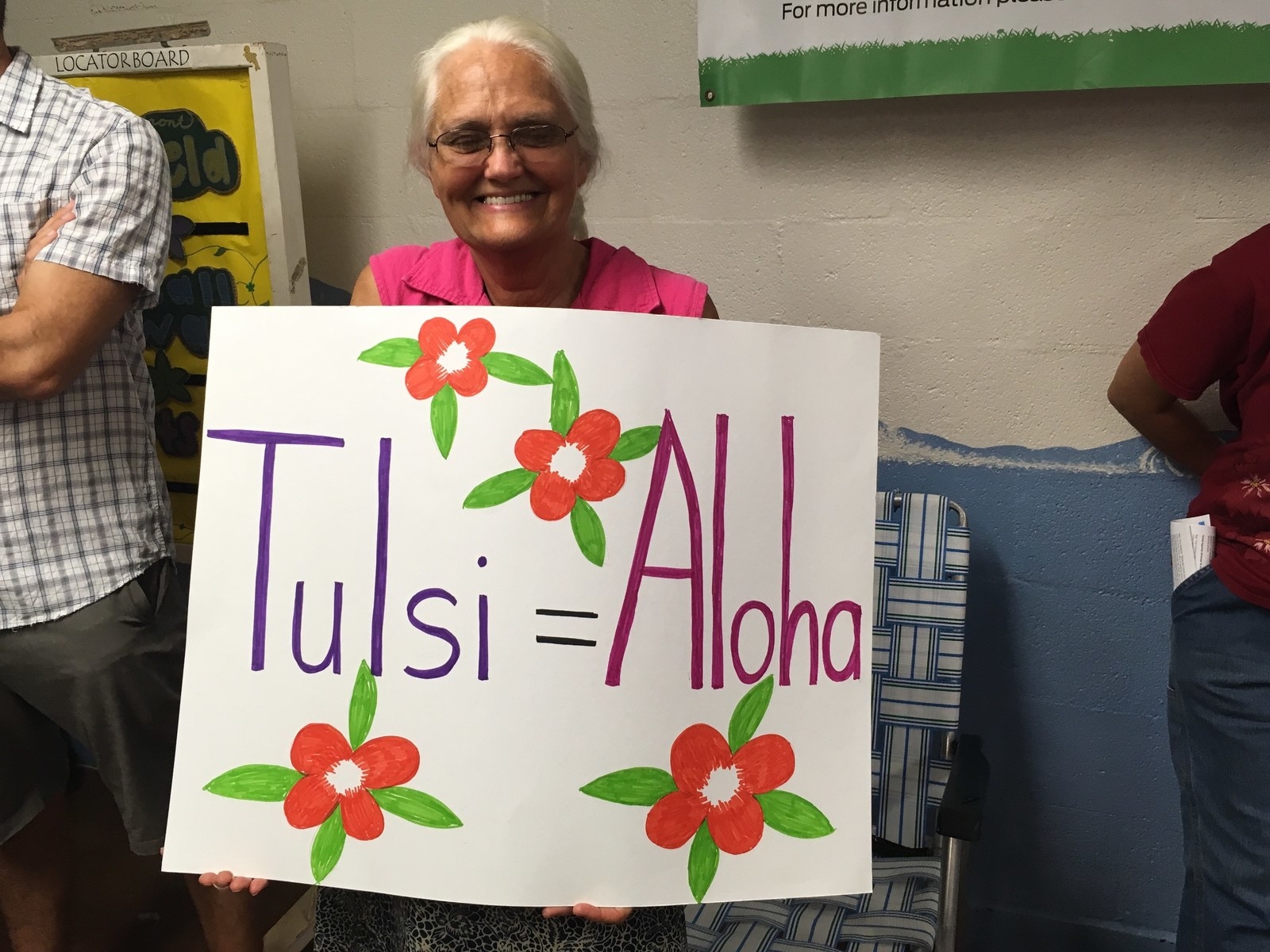 One of the first comments at Saturday's town hall was from a woman who identified herself as the mother of military members, asking Gabbard if should would "continue, despite pressure by other people in Congress, to uphold your values and your support of not having a continued war and continued bombing of Syria?" Several people in the audience cheered after her question.

Many at the town hall Saturday said they still supported Gabbard, while also expressing uncertainty about her take on Syria.
One woman asked Gabbard point-blank why she met with Assad. "What was the goal or intention of being there, particularly in meeting with him?" She asked, "because when you meet with a monster like that you legitimize him."
Her question drew so much applause that it momentarily drowned out her voice.

Gabbard, an Iraq War veteran, said she was concerned about US involvement in conflicts in the Middle East and that she was working towards peace by meeting with a wide variety of people, including Assad, an answer that drew applause from many in the crowd.
"If we want to bring about an end to conflict, then we can't do so just sitting around and meeting with our friends," Gabbard said.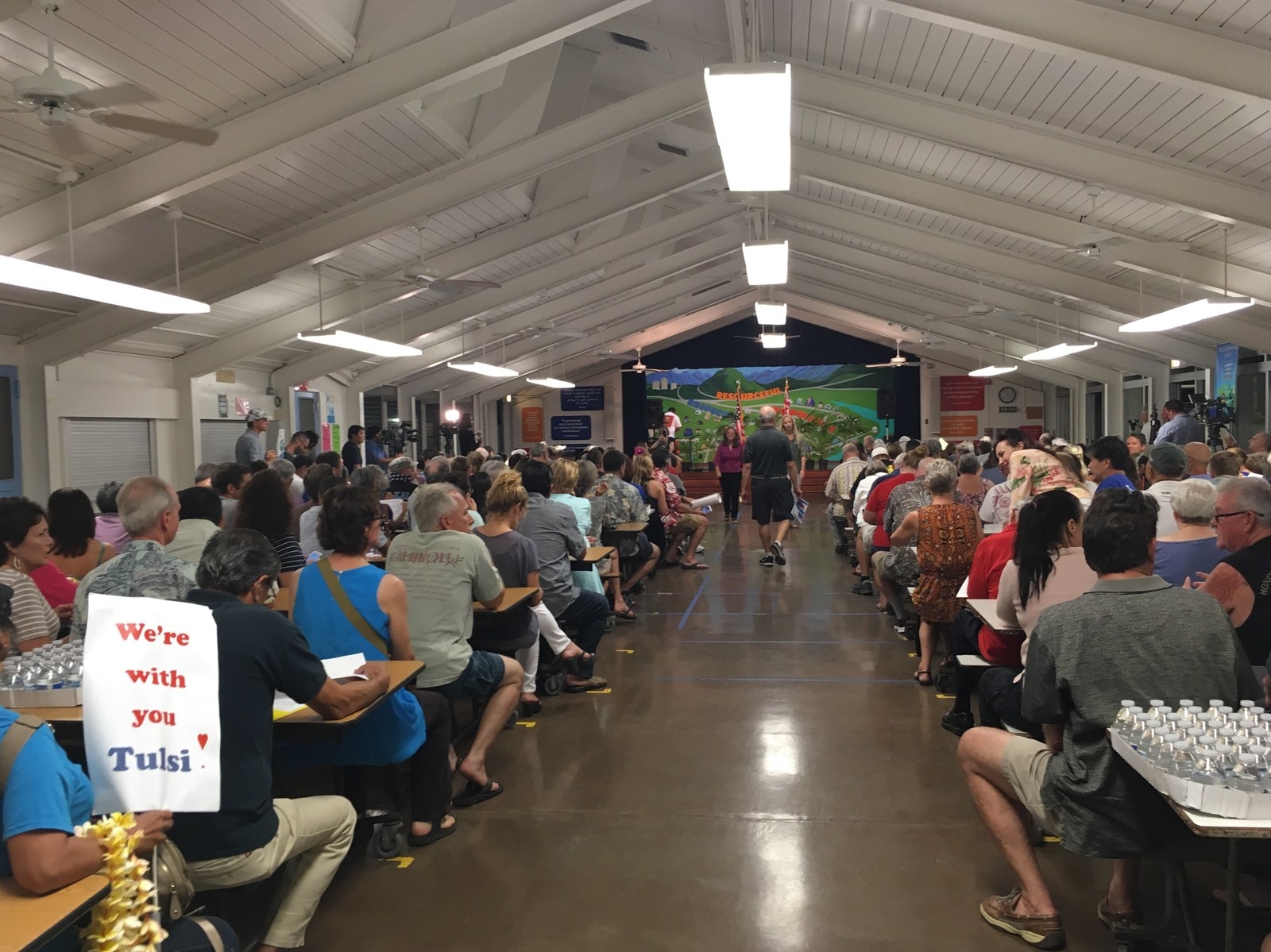 In response to a question about meeting with Trump, Gabbard said that she wished the president would listen to her and that they had not met since.

Gaye Chan, a University of Hawaii professor who has previously supported Gabbard, asked the congresswoman why she hadn't joined more than 150 of her colleagues in signing a letter to denounce White House senior adviser Steve Bannon, whom they accused of promoting white nationalist views and called on Trump to fire him.
Gabbard responded that she was not going to get "into a name-calling game," adding, "I don't see how it accomplishes anything." Her answer was met by applause and whistling, but there was one person who yelled back at her about not denouncing Bannon and had to be silenced by the moderator. Chan later tweeted that Gabbard's answer was "inadequate."
There were some people in attendance who told BuzzFeed News that the verdict was still out on whether they would be voting for Gabbard in 2018.
"I'm not a huge fan. I don't understand why she seems to defending Assad in some sorta weird way," Kim Osborn Mullen told BuzzFeed News. "Her experience on why she went to Syria doesn't ring true or make much sense."
Sheuli Molla described herself to BuzzFeed News as skeptical of Gabbard for having met with Assad and her involvement with the military.
"There's a lot of misinformation," Molla said.
After the town hall was over, Gabbard was crowded by about 30 supporters, who lined up to add just one more lei to the pile around her neck and get a selfie.