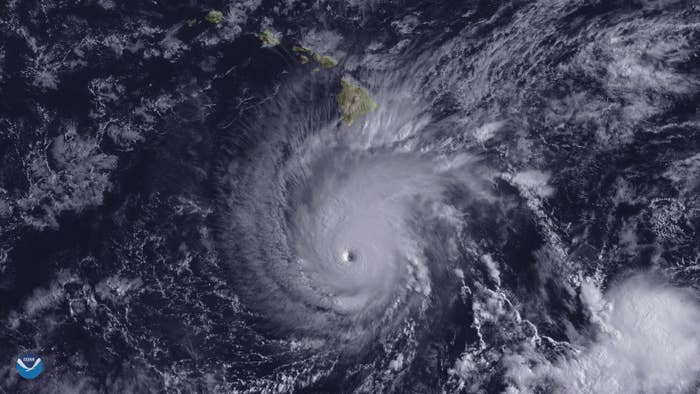 HONOLULU — Hawaii is bracing for a powerful hurricane that forecasters say could deliver a rare direct strike on the islands.

Hurricane Lane was downgraded to a Category 4 storm as it moved west across the warm waters of the Pacific Ocean Wednesday with maximum sustained winds of 155 miles per hour. It is expected to turn north near Hawaii — and its estimated 1.4 million residents — sometime Thursday.
Lane "is forecast to move dangerously close to the main Hawaiian islands as a hurricane later," the Central Pacific Hurricane Center warned, "potentially bringing damaging winds and life-threatening flash flooding from heavy rainfall."
As of Thursday morning, hurricane warnings are now in effect for Oahu, Maui, Molokai, Lanai, and Hawaii's Big Island. Hawaii's governor signed an emergency proclamation Tuesday, in advance of the storm, and has also requested a presidential disaster declaration.
"Even if the center of Lane were to remain offshore, it is important to remember that impacts from a hurricane can extend well away from the center," the Hurricane Center said.

Forecasters predicted waves could reach 25 feet high on the south shore of Oahu, where the ocean is typically calm and beaches are crowded with tourists. Heavy rainfall is also expected, with some areas projected to receive up to 20 inches. Emergency management officials said flooding is likely; high winds, lightning, and tornados may also pose major risks.
Honolulu Mayor Kirk Caldwell strongly urged residents and visitors to prepare.
"This storm — Hurricane Lane — is a dangerous storm, and we got to take it very, very seriously, and we're all working together at this point so that we plan for the worse and hope for the best," he said at a news conference this week.
Hurricanes are rare in Hawaii but have been deadly in the past. The last hurricane to make landfall was Iniki, which hit Kauai in 1992, killing six people and causing billions of dollars in damage.
Oahu, which includes the capital city, Honolulu, and is home to the majority of the state's population, has not seen a hurricane make landfall since Hawaii was granted statehood nearly six decades ago.
At a press conference Tuesday, Hawaii Emergency Management Agency Administrator Tom Travis said there are not enough shelters in the state for accommodate widespread evacuations.
"We do not have enough shelters for everyone. The shelter policy should be that most citizens should remain in their homes," Travis said. "If you are in a flood zone, then you should actively seek shelter elsewhere."
A preparedness report produced earlier this year by state emergency officials after the January false missile alert found that Hawaii does not have enough shelter space for all of its residents in the event of a disaster. The report determined there are only 277,376 shelter spaces available statewide in case of emergencies, despite an estimated population of 1.4 million.

Moreover, most of the shelters "have not been designed or hardened to withstand winds greater than a tropical storm," the agency's deputy director, Hiro Toiya, said Wednesday.
Those who live on the coast or in flood zones have been told to prepare to evacuate to higher ground in the case of storm surges, officials said. People who live in older homes, or along ridgelines, should also be prepared to evacuate in the event of high winds, officials said.

People who live in homes built before 1995 that have not been retrofitted to withstand storm-force winds should consider evacuating, Tolya said. He said those who need to can go to shelters, but recommended that they stay"with friends and families who live in safer areas."
Caldwell, whose mayor's office oversees the entire island of Oahu said that 20 shelters would open across the island starting Thursday at 10 am. However, he said that people should only go to the shelters as a last resort.

With the storm fast approaching, people on Oahu were seen lining up at Costco and other stores to stockpile water, food, toilet paper, and other basics.
Judah Oschner told BuzzFeed News that it took him about 30 minutes to find parking at the Costco in Honolulu on Tuesday. He said he already has an emergency kit prepared because of "all the near misses," but that he wanted to buy more water, flashlights, and canned foods in advance of Lane.
Hawaii News Now reporter Lynn Kawano said the Costco in Kapolei, on Oahu, had already sold out of generators by Tuesday.
Hawaii's Department of Education announced Wednesday that schools across the state would be closed starting Thursday. The Hawaii Red Cross has also put out a call for hundreds of volunteers in preparation for Hurricane Lane.

In Honolulu, the mayor said Tuesday that the city is considering halting bus services, closing public spaces like parks, golf courses, and the zoo, and canceling an upcoming surf contest in Waikiki. He added that the Emergency Operations Center will be staffed 24 hours a day.

"We're going to have a storm that's moving very slowly … so it's going to hang over the islands longer, if it continues that way, with strong winds, a lot of rain … and a lot of surf," Caldwell said. "So we're going to have flooding in all likelihood."