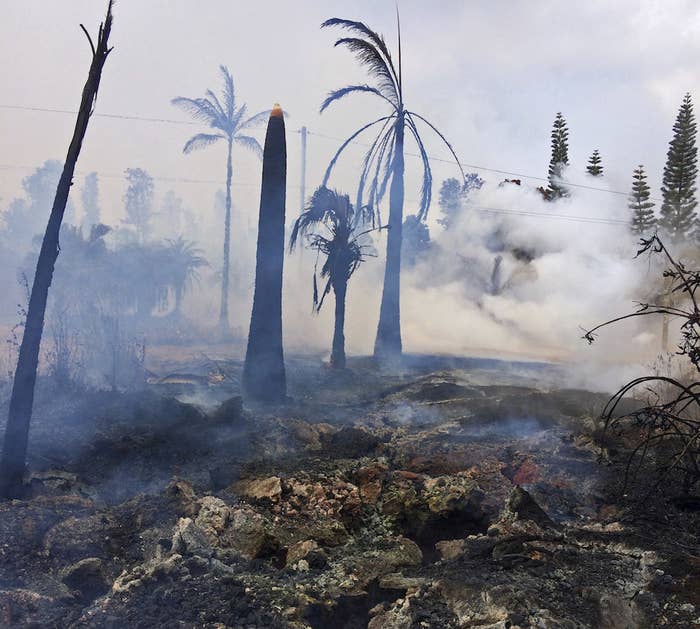 It's been four years since Jerry Baker packed up and moved to Hawaii, leaving behind years of corporate work to carve out a "hippie" existence on a one-acre parcel of land atop Big Island's vast Kilauea volcano.

"When I talked to the realtor, I told him I wanted to live in Leilani Estates," Baker told BuzzFeed News, referring to the subdivision that has been overrun by lava, forcing nearly 2,000 residents in the area to evacuate. Since last Thursday's eruption, the neighborhood has been under assault by molten rock, which has fountained and oozed out of the earth and had destroyed 36 structures as of Tuesday night.
The eruption has drawn attention to the singular community living in this secluded corner of Hawaii's largest island, and it prompted many on the mainland to wonder why so many people chose to live in the path of the state's most active volcano.
To those who live here, though, Leilani Estates offers secluded plots of land and a lush, tropical setting far from the more stereotypical tourist spots and beachside sprawl. There are newcomers, attracted to the strikingly cheap real estate and large lots, but also people who moved to the neighborhood decades ago, when there were only about three houses to a block.
"I don't want the tourists, traffic, and congestion — I've lived with that," Baker said. "I want the peace and quality, the beautiful, lush, tropical environment, and the people."
The affordable prices allowed him to settle into a home shielded from view by a thick grove of strawberry guava trees. His neighbors — a hardy, independent group who check in on one another and respectfully refer to the older residents as "kupunas" — have carved out similarly simple lives, living in mostly one-story houses whose tin roofs are barely visible behind explosions of tropical vegetation.
At the Pahoa Senior Center evacuation shelter, where Baker has lived for the past four days, the 68-year-old has become a source of information for those neighbors, sitting outside with an iPad and refreshing the US Geological Survey's website for the latest updates, and sharing the latest with marooned evacuees anxious for news on whether their homes have been consumed by the lava flow.
"You live on an active volcano, so how surprised can you be when it erupts?" Baker said. "You just pray that it doesn't happen to your house, but I was willing to take that chance and I would do it again."
His new friend, Steve Clapper, lives at the other side of Leilani Estates, closer to the lava flows and near one of the new fissures that opened up on Tuesday. Though Clapper, 70, had never met Baker before the evacuation, he acts like his oldest friend in the world. Both show off long hair they haven't cut in years.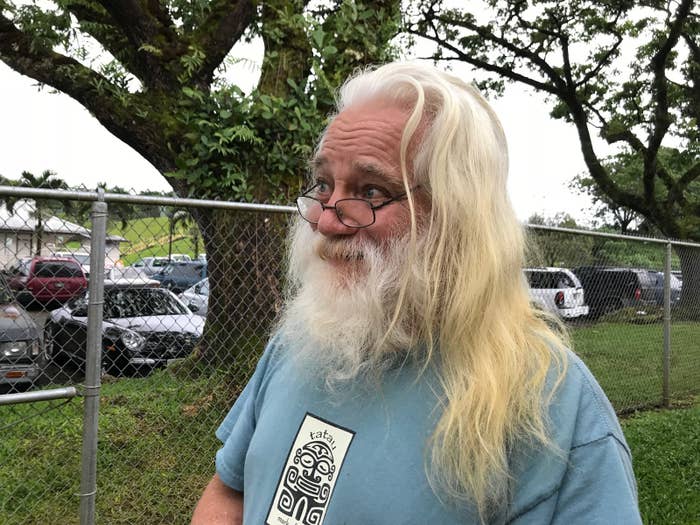 Clapper and his wife moved to the Big Island two years ago, he said, after talking about it for years. "We searched thousands of homes in Hawaii and that's the first one that we loved," Clapper said of their property in Leilani Estates.

Comparing a map with his property lines and a recent map showing where the new eruption was taking place, he was, momentarily, optimistic. "The house may still be there."
Residents are, to varying degrees, aware of the risk that comes with living on the volcano. Both Leilani Estates and the smaller Lanipuna Gardens subdivision, which also recently evacuated, are located in "lava zone 1," the most hazardous of the nine zones mapped out by USGS scientists. The map — which assesses the varying volcanic risk across the Big Island based on proximity to eruption sources, past lava flows, and topography — was last updated in 1992.
Lava zone 1 covers the main eruption sites of Kilauea and Mauna Loa, the two volcanoes on the island that have erupted in the past half-century. These are the areas with "the highest probability of new eruptions happening," said Erik Klemetti, a geology professor at Denison University.
Kilauea, the more active of the two volcanoes, has repeatedly erupted in recent decades along its so-called rift zone, the arm of the volcano that extends out for miles from its main crater, destroying more than 200 homes and the Waha'ula Visitor Center in Hawai'i Volcanoes National Park, according to the USGS. And yet, after each eruption, residents keep moving back and new people keep coming in. As recently as last week, local realtors were showing off properties for sale in Leilani Estates.
Klemetti noted that some of the high-risk zones around Leilani Estates and Pahoa are more than 20 miles from Kilauea's summit, making it less obvious that they sit atop a volcano. "If you didn't know you were on a volcano, you wouldn't have guessed," he said — the volcano "is just that big."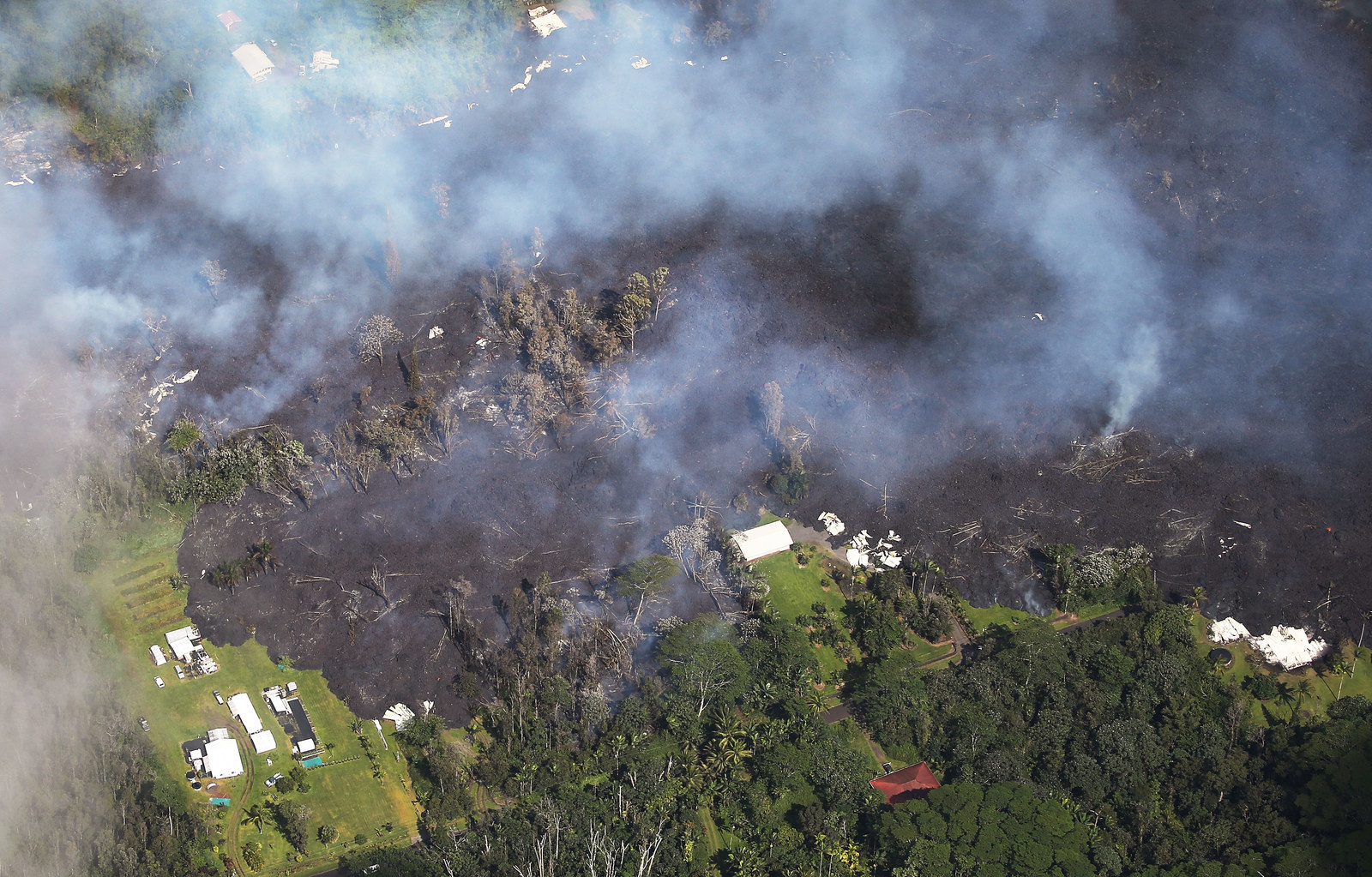 Chris Baezely moved to the Big Island with his family this past November, following through on a decision he and his wife made after visiting Hawaii for a vacation in 2014. "It sounds cliche," he said, "but we wanted to make it a life, not a trip."
The 38-year-old father from Alberta, Canada, visited the state four times to figure out where the family would live and settled on Leilani Estates, a community of about 1,600 residents where "the land was cheap." Though he was aware their new property sat in lava zone 1, he said, "the neighborhood looked so old, so I assumed it had been a while" since the last eruption.
"We knew there was a risk but thought it would be a while before something happened," Baezely told BuzzFeed News.
Still, for prospective buyers, the risk posed by the volcanoes should come up several times in the process of buying property in the riskiest lava zone. Realtors in the area often warn people directly about Kilauea's lava zones, including when their future homes are in zone 1, but they aren't required to. (It's also mentioned on the Leilani Estates subdivision website.) And buyers have to sign off on a version of something called the Hawaii disclosure form, which mentions the volcanos and associated risks and recommends they do additional research.
"I forewarn them," Winston Churchill, a realtor from Hilo Bay Realty who has listings in Leilani Estates, told BuzzFeed News. "Leilani has always been in lava zone 1. I always tell them there's a chance of an outbreak or steam in that subdivision."
Some realtors also warn prospective clients that financing and homeowner's insurance can be difficult to come by — and expensive — in the riskiest areas. Bill Parecki, a realtor for Elite Pacific Properties, told BuzzFeed News that insurance rates in lava zone 1 are at least three times higher than the rates for lava zone 3, and said he's heard of residents with insurance rates of at least $5,000 a year for property in lava zone 1.
When asked by BuzzFeed News this week, Lloyd's of London and State Farm confirmed that they have offered insurance in lava zone 1, but would not disclose how many policyholders they currently have there or their average policy rates. Realtors told BuzzFeed News that Island Insurance and Allstate also offered such policies, but neither company responded to questions about their Hawaii coverage.
For those who can obtain them, the private policies appear to cover volcano damage. But at a community meeting to address the eruptions Monday, Hawaii Gov. David Ige warned residents to choose their words carefully when talking to insurers. "Don't ask him about lava," Ige said. "Ask if you have coverage for fire."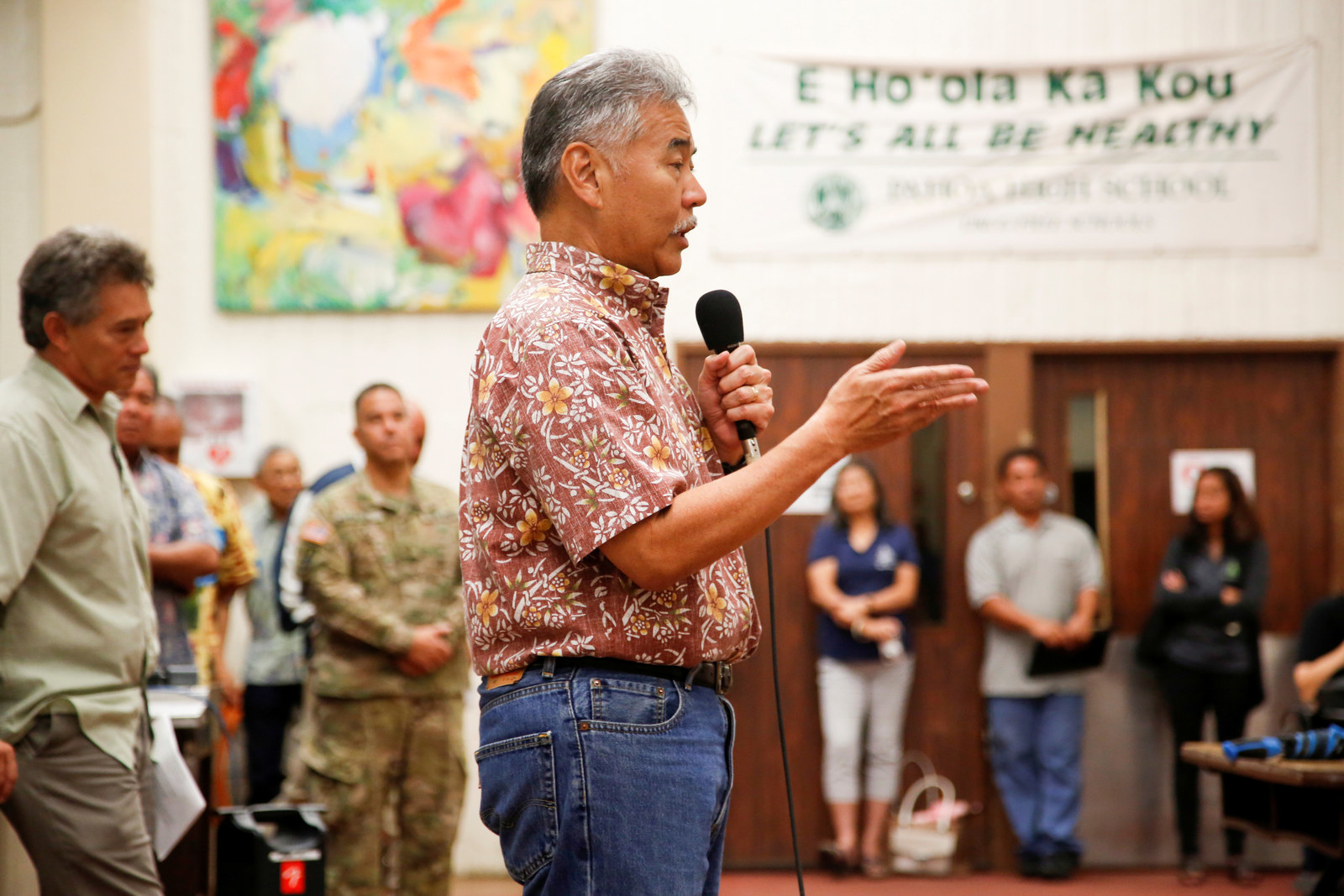 "It's really up to an insurance company whether they want to write policies and whether they want to assume risk in certain areas," Hawaii Insurance Commissioner Gordon Ito told BuzzFeed News.

If private insurers aren't offering coverage, he said, the state has an insurer of last resort: the Hawaii Property Insurance Association. It was created by state lawmakers in 1991 to provide basic insurance to people living in lava zones 1 and 2, and was made available statewide after Hurricane Iniki hit in 1992. Those policies are more limited than standard homeowner's insurance, however, with coverage maxing out at $350,000, according to the HPIA website.
Asked if he thought insurers were enabling people to live in high-risk areas by providing coverage there, Ito said, "We're not the one determining the zoning and allowing where people build homes; we're just trying to protect people against losses."
With 36 structures destroyed and geologists warning that Kilauea could soon erupt in a major explosion, many residents are anxiously grappling with the uncertainty of what comes next, wondering when they will be allowed to return home — and how, or where, they will rebuild their lives if they don't have a home to return to.
While many are determined to go back, others are openly questioning whether they should still be living in the path of Hawaii's most active volcano. "It creeped me out going back there," said Carol Ersbak, 70, after returning to her evacuated home for her belongings this week. "I don't know if I'd move back there."
The questions — and doubts — aren't unique to Kilauea, or even Hawaii. Across the US, and worldwide, homeowners, city planners, and insurers are wrestling with similar issues as they try to mitigate the risk of living in areas prone to hurricanes, earthquakes, floods, and wildfires. Climate change has added a new urgency to these discussions: Extreme weather events are already becoming more intense, more frequent, or both, and the price tag of rebuilding keeps getting higher.

"It's freaking out and scaring a whole bunch of people, as you can imagine," said Parecki, the Big Island realtor, who evacuated his home in the Kapoho Vacationland neighborhood in recent days. "There's something visceral about losing your home or seeing your friend lose their home."
"Anyone who is buying property in Leilani, needless to say, has canceled their contract," he said. He even recommended that one of his clients cancel.
"Whenever we get a lava flow that gets national attention, we get cancelation for property all over the island," he added, even in areas far from the eruption site. "Generally speaking, it takes about two years after a flow rolls through an area, or close to an area, for interest to return."
Still, Parecki noted, compared with other disaster-prone areas — including in California, his home state — "we really don't lose that many homes in the totality of it."
"Any year in California, you lose more houses to forest fires than we lose to lava," Parecki said. Besides, he added, he wouldn't want to live anywhere else. "I was on the Big Island a week and I bought property and I've never regretted it," he said.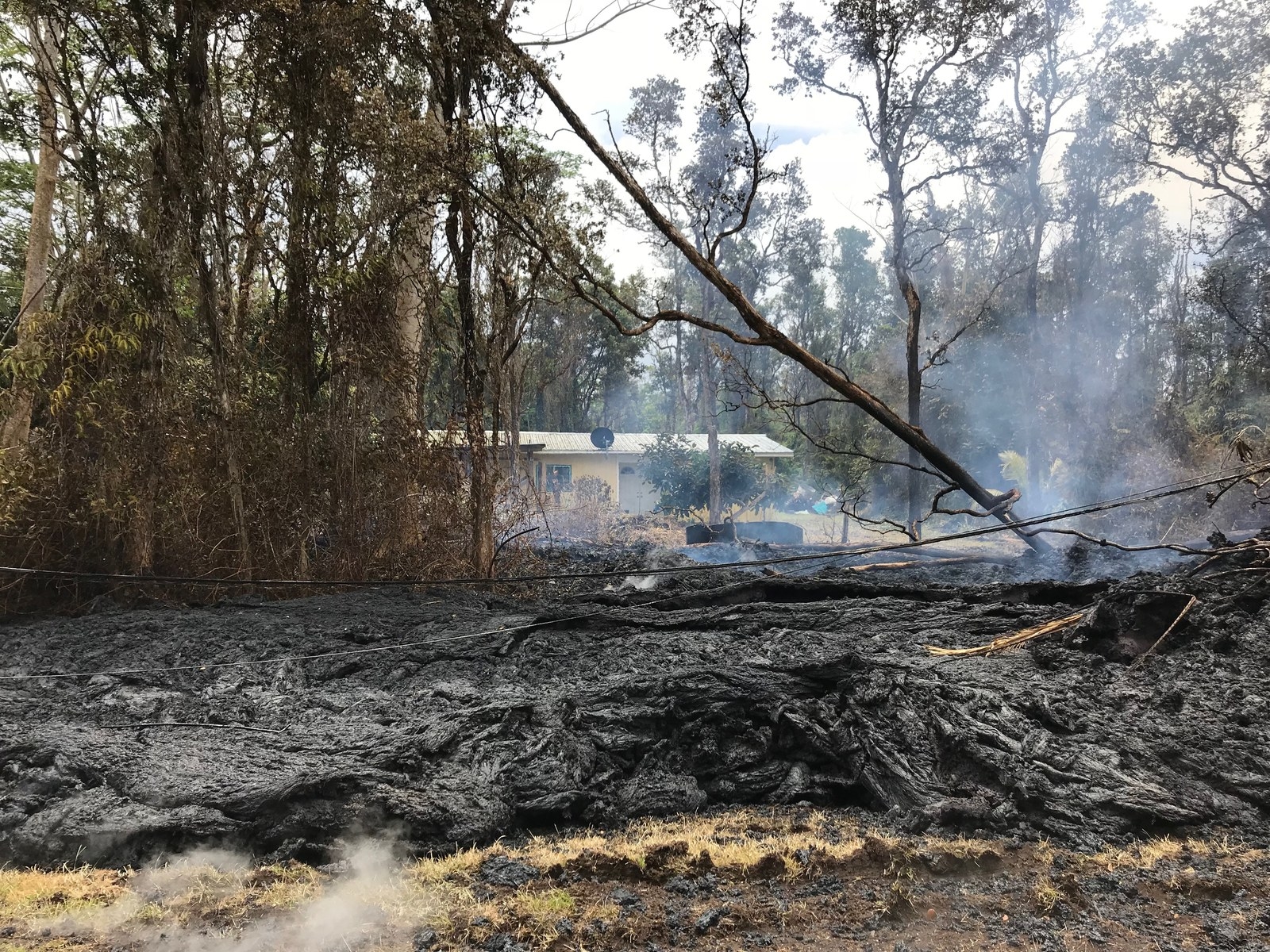 While some residents seemed to be reconsidering their settlement choices, many see lava as a fact of life. In fact, some appeared resigned this week to let Mother Nature — and the ancient Hawaii volcano goddess Pele — take her course.

"I love this neighborhood," said Julie Leialoha, a 54-year-old biologist who moved to Leilani Estates after her first home was destroyed in the 1990 lava flow that covered the town of Kalapana. "You know the risk and you make up backup plans."

Unlike many of her neighbors, Leialoha has insurance for her home, which as of Wednesday, was still standing. But like everyone else on Kilauea, she doesn't know what will happen as the earth continues to erupt.
"I just graveled my driveway and filled my freezer full of food," she said. She managed to get everything done, she added, just in time for "Auntie Pele to visit."
Outside the Pahoa Senior Center shelter, Clapper, who does not have insurance, was more circumspect. "It's always a concern," he said. "But it's a take-it-or-leave-it situation."
"We hope Pele will save us," he said. "We were praying for at least 20 years here. Who knows when it will erupt? Don't mind losing all that money if we had it for 20 years."
But regardless of what happens to their dream home now, Clapper said, he and his wife are determined to return.
"Even if we get burned, we're going to stay," he said. "Come hell or high water we're staying in Hawaii — even if we have to get jobs."