Hawaii Congressman Mark Takai Dies At 49
US Rep. Mark Takai died in Honolulu just months after he was diagnosed with pancreatic cancer.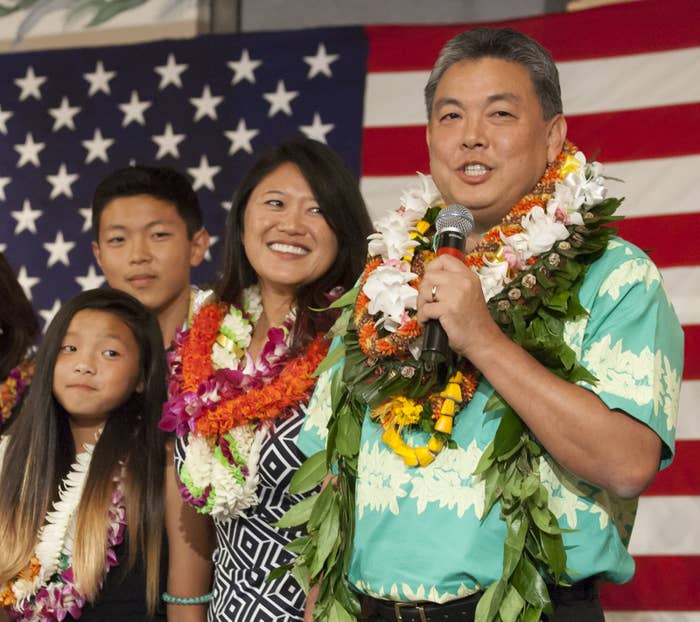 US Rep. Mark Takai, a first-term Democrat from Hawaii, died Wednesday after a months-long battle with pancreatic cancer, his office confirmed. He was 49.
"The Takai family thanks the people of Hawaii for their support during this difficult time," Takai's office said. "The Takai family politely asks for the continued respect of their family's privacy."
The Oahu congressman's death comes after he revealed in October he had been diagnosed with pancreatic cancer. Takai had initially said in February he would campaign for re-election, but in May he announced he would not seek another term in office because his cancer had spread.
Takai served in the state House of Representatives for 20 years before his election in 2014 to Congress. He was an Iraq War veteran who served in the Middle East in 2009, according to his website.
Takai was born on Oahu and graduated from the University of Hawaii at Manoa. He won his first seat at the age of 27, representing the district of Aiea and Pearl City.
President Barack Obama released a statement Wednesday saying Takai "was always a fighter" and said "he leaves a legacy of courage, of service, and of hope."
Michelle and I were saddened to learn of the passing of Representative Mark Takai today. Mark was always a fighter. It's the spirit he brought to more than two decades of public service on behalf of the people of Hawaii. He stood up for America's most vulnerable. He championed our troops and veterans, and proudly wore our nation's uniform. And his relentless push for cancer research inspired countless Americans fighting the same battle as him. Simply put, our country is better off because of Mark's contributions. He leaves a legacy of courage, of service, and of hope. Our thoughts and prayers are with Mark's wife, Sami, their two children, and his many friends and family.
Hawaii Gov. David Ige released a statement offering his condolences to the Takai family.

Today, the people of Hawai'i mourn the passing of U.S. Rep. Mark Takai. He proudly served his country in uniform, including 17 years with the Hawai'i Army National Guard. Mark humbly and effectively served the people of his state House and Congressional districts. In the often tumultuous world of politics, he has been a shining example of what it means to be a public servant.

While we will deeply feel the loss of Mark Takai in the public arena, we cannot forget that he was a family man first. His wife, children and extended family will miss him every moment from this day on. Dawn and I extend our deepest sympathies to Sami, Matthew and Kaila. Your husband and father was a man of principle and goodwill. Thank you for sharing him with the citizens of Hawai'i.
Presumptive Democratic presidential nominee Hilary Clinton released a statement on Takai that thanked him for his life in service.
The loss of Congressman Mark Takai will be felt keenly from Washington to Honolulu. Mark was everything a public servant should be. He spent his entire life in service of his state and his country—from the Hawaii Army National Guard to the Hawaii State house to the House of Representatives—fighting to make sure veterans and their families are supported, supporting ambitious steps to protect his state and our plant from the perils of climate change, and championing the rights of Asian American, Pacific Islander, and Native Hawaiian communities. I am grateful to Mark for his friendship and deeply honored to have earned his support. My thoughts and prayers are with Mark's family and friends, and especially with his wife Sami and his children Matthew and Kaila.
US House Speaker Paul Ryan described Takai as "an exemplary soldier, public servant and beloved member of the House of Representatives."
Honolulu Mayor Kirk Caldwell sent condolences to Takai's family and said he was lucky to have worked with him in the State House.
Hawaii Congresswoman Tulsi Gabbard said in a statement that she was "deeply saddened at the passing of my friend."

I'm deeply saddened today as we mourn the passing of my friend, colleague, and fellow soldier, Congressman Mark Takai. I'm grateful to have known and worked with Mark for over a decade. With a servant's heart, full of aloha, he dedicated his life to serving the people of Hawaiʻi and our nation, in the Hawaiʻi State Legislature, in the Hawaiʻi Army National Guard, and in Congress. I had the good fortune of serving with Mark in all three of these capacities, and saw firsthand that no matter where he was, he always kept his service to Hawaiʻi's people at the forefront of his actions. Mark's smiling face and ready laugh will truly be missed, but the impact that he made through his life of service to the people of Hawaiʻi will always be remembered. My heart and prayers are with Sami, Matthew, Kaila, and all of Mark's family and loved ones during this difficult time.
Hawaii Senator Brian Schatz tweeted that "Congrassman Mark Takai was one of the most hard working, passionate and kind public servants I've ever known."
Hawaii Senator Mazie Hirono released a statement that said "I affectionately called Mark my younger brother. We shared so many of the same values and supported each other during challenging times. Mark's passing is a tremendous loss for all of us who loved him, and for the state of Hawaii."
MSNBC political talk show host Rachel Maddow tweeted her condolences and highlighted Takai's work for the first responders of Sept. 11.
The University of Hawaii athletics director released a statement acknowledging Takai's swimming legacy at the school and his continued support as an alumni.
Former Congresswoman Colleen Hanabusa, who is currently running to fill Takai's seat, tweeted her condolences and thanked Takai for his service to the people of Hawaii.
Takai's congressional seat will remain vacant until a November election.

He is survived by his wife, Sami, and two children, Matthew and Kaila.