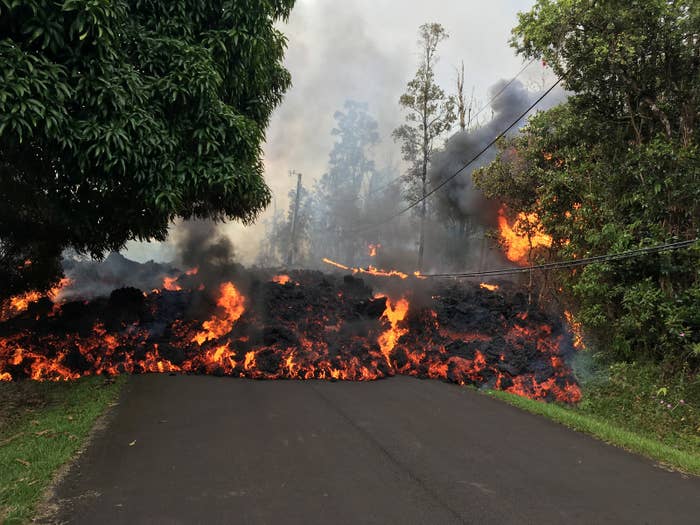 Three weeks after lava burst through the ground on Hawaii's Big Island, residents are still trying to get their lives back on track, even though no one knows when the eruption will stop or how much ground the lava will cover.
Nearly 2,000 people had to evacuate from Leilani Estates and Lanipuna Gardens as fissures spewed lava and threatened to cut off access routes. More than 20 fissures have since opened, 50 structures have been destroyed, and 1,700 acres have been covered by lava as 245 people continue to use three evacuation shelters. And while no one has been killed, a 57-year-old man was injured when lava sent into the air hit his leg.
After having to evacuate her Leilani Estates home of nearly 30 years in about 30 minutes, Julie Leialoha said she and her 79-year-old mom have "sort of landed on [their] feet," staying with a friend until last week when they moved into a month-to-month rental. She added that "people are doing what they can to help each other."

Leialoha, 57, was born on the Big Island and lost her previous home in Kalapana in 1991 when a lava flow covered the whole neighborhood.
"This is just a little bit different because of the size of the area," she said of the lava flow this time around. "You are talking about multiple communities being heavily affected by this."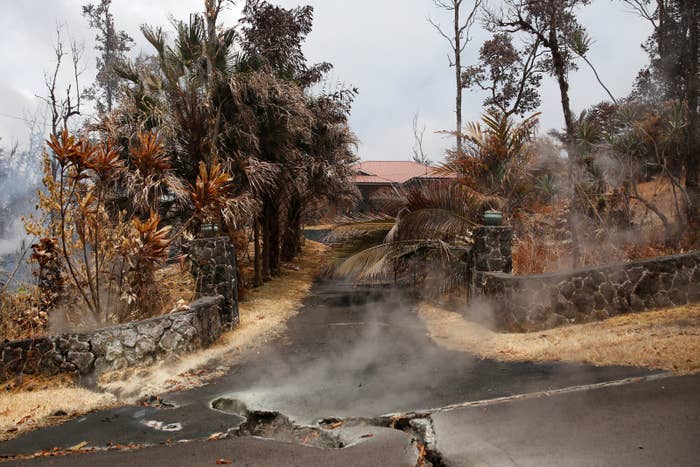 A week ago, she went back into Leilani Estates to retrieve her washer, dryer, refrigerator, and bed frame but said she had to leave bedding and mattresses behind because "it is just saturated" with sulfur dioxide.
It turned out to be her last trip, because her home burned down along with three other houses on Thursday morning — exactly three weeks after the eruption started.
"A pilot friend of mine ... sent me a text that my home went up in flames around 7 a.m. this morning," she said. "It was there when he flew over yesterday evening."

Leialoha's home of almost 30 years was destroyed after a fissure that had been quiet started releasing lava, which flowed down and covered everything in its path.

The Big Island is her home and she would never consider leaving, but Leialoha said her next property might be farther away from the Kilauea volcano.
Carol Ersbak, a retired 70-year-old, said she "freaked out" after evacuating her home because of all the unanswerable questions: "What am I going to do? Where am I going to go? What about the money? What about paying off my house?"
Now she is feeling "stronger" after leaving the Big Island for Kauai to go on a previously planned Mother's Day trip to visit her twin daughters and granddaughter.
"It couldn't be a better place to be to get rid of my anxiety," Ersbak said. She fills her time by enjoying nature, babysitting her 7-month-old granddaughter, and calling the bank about her mortgage payments.
When Ersbak spoke to BuzzFeed News two and a half weeks ago, she had said she wasn't sure that she would ever move back to Leilani Estates because it "creeped" her out. But now she has made plans to return in two weeks and stay with her neighbor, Eszter Kreisz, who built a geodesic dome in a part of Leilani Estates that is north of the fissures on a street that is still "pretty much the way we left it" — besides the sulfur dioxide and ashfall.
"I feel like I should be there," Ersbak said. "And help do this process."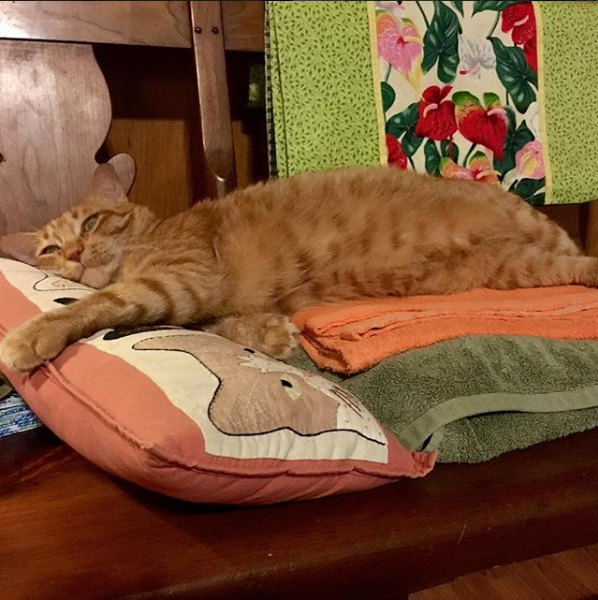 Still, she said, she had no illusions that her "house would be fine" and understood that at any moment, a new fissure could "pop up in [her] backyard." Still, she is hoping to move back, because she will still have to make her mortgage payments.

Leialoha had five cats who ran away because the lava spooked them and hasn't been able to relocate them since evacuating, she said. But Ersbak said one silver lining was finding her cat, Sammy, a week later when she went back to collect more clothing and kitchen items.

"It was raining and he comes out of the bushes," she said. "I was just so amazed."
Kreisz, 53, said the sulfur dioxide and ash from the eruption made her nose bleed and her dog vomit. She also had two birds and adopted an elderly neighbor's parrot who couldn't take care of the pet after evacuating. The birds, she said, have been stressed and started to pull out their own feathers.
She is renting a house with insurance just 20 minutes from Leilani Estates and has gone back every day to check on her geodesic home that she moved into two years ago.
"It's just very depressing ... everybody is misplaced," Kreisz said. "We are trying to go back to the house almost every day just to support the house ... just to be around."

Kreisz said she hopes to move back into her home, but the plants in her yard have all turned yellow and the power is off. Hawaiian Electric Light Company has said crews are no longer fixing downed poles because of safety concerns.
Kreisz said she would wait for officials with the US Geological Survey and Hawaii County Civil Defense to say it is safe to return, but neither she nor scientists know when that will be. New fissures are still possible and scientists have no idea when the current volcanic activity will end.
Kreisz noted the last time a similar fissure eruption occurred in 1955, lava flowed for three months.
"All of our geophysical and seismic data is telling us that we will probably continue to see lava erupt on the surface," USGS scientist Wendy Stovall said Thursday. "It's probably going to do this for a little while," although she could not quantify how long that might be.

Michael Hale, who lost his home to the lava in the first days after the fissures broke open, has been living on land he has owns in Pahoa, just north of Leilani Estates — but there was no house, electricity, or running water.

Two weeks after evacuating, he finally has running water turned on and used a propane water heater that he had salvaged to take a hot shower. For electricity, he uses a single solar panel to charge his phone and to run a light.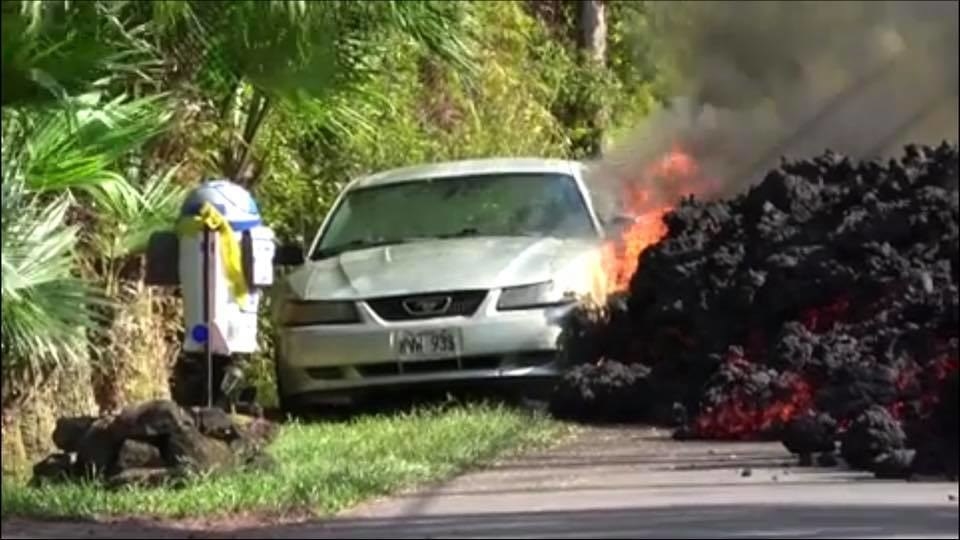 Hale owns and operates a car rental business and despite having lost a car to the lava, he has rented out other vehicles, although it's been hard for him to focus on his business.
"I've been able to make a few sales in the month while trying to do everything else," he said, "although this time of year I should be making a sale every day."
Hale has been sleeping in a tent on his Pahoa property, but just spent about $6,000 that was raised for him through a GoFundMe started by a friend on lumber and plans to construct an open-air dwelling.
"That will give me some degree of protection from the elements — the rain and the sun," Hale said.
Eventually, Hale added, he would like to build a more sturdy and permanent home on the property, but said "that's way down the road."
"At one point, when the lava fountain had opened up on my street ... I was thinking 'What am I doing here? Do I want to leave, too?' Because there's a lot of people who have left," he said. "But I thought about it and decided this is a good project for me, and it's something to move forward on."