Massive Explosion In Texas Kills Up To 15, Leaves 160 Wounded
An unfolding disaster in the town of West, Texas, where a fertilizer plant explosion has destroyed entire city blocks.
What We Know So Far:
1. At around 8:00 p.m. on Wednesday night, a massive explosion ripped through the West Fertilizer Company in West, Texas. West is a small community of about 2,800 residents, 20 miles north of Waco, Texas.
2. Police say five to fifteen have been killed and nearly 160 have been injured. Officials expect the casualty list to climb as they conduct searches. Earlier figures from an EMS director on the scene and reported by local news put the death toll much higher, between 60 and 70.
3. Among the confirmed dead are six firefighters and two paramedics. Seven nursing home patients and a city official are missing.
4. The explosion leveled a four-block area surrounding the plant, destroying or severely damaging up to 75 houses, an apartment complex with 50 units, a middle school, and a nursing home. Multiple house fires broke out in the wake of the explosion. There were 133 patients successfully evacuated from the nursing home.
5. The explosion was triggered by a fire at the plant, which the West Fire Department responded to at 7:29 p.m., almost a half hour before the blast. A building containing ammonium nitrate was photographed in flames before the explosion.
6. The cause is still unknown, but investigators say they have no evidence it was anything other than an industrial accident. The U.S. Chemical Safety Board has deployed a team of investigators to the scene, and The Bureau of Alcohol, Tobacco, Firearms and Explosives (ATF) is aiding in the investigation.
7. The main fire was extinguished last night around 11:00 p.m., but fear of further explosions and noxious chemicals have prevented firefighters from completely dousing the smoldering remains of the fertilizer plant.
8. Texas Governor Rick Perry and President Barack Obama have declared McLennan County a disaster area. Obama called Perry from Air Force One en route to Massachusetts for a prayer service held in honor of those killed and injured at the Boston Marathon on Monday.
Images of the explosion first appeared on Facebook and Twitter: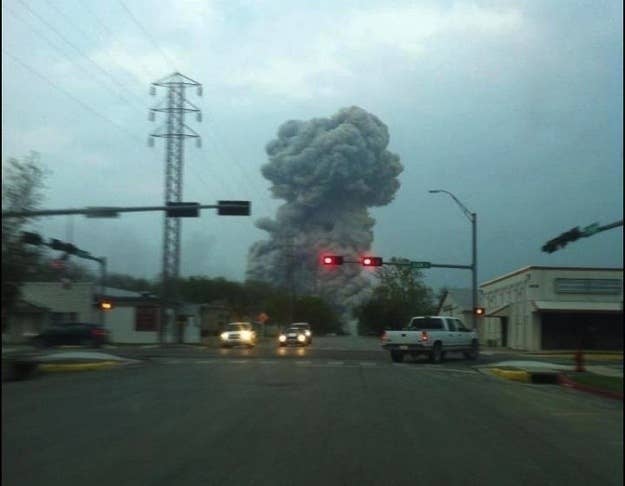 BELOW ARE LIVE UPDATES FROM OVERNIGHT AS THEY CAME IN — April 17, 2013, 11:02 p.m. EDT: Reuters reports hundreds of people were likely injured and that the nearby nursing home collapsed from the explosion.
Local high school football field is being used to treat the wounded.
Entire town being evacuated:
Update - 11:24 p.m EDT: Gov. Rick Perry today released the following statement regarding the explosion in West, Texas:
"We are monitoring developments and gathering information as details continue to emerge about this incident. We have also mobilized state resources to help local authorities. Our thoughts and prayers are with the people of West, and the first responders on the scene."
Update - 11:35 p.m. EDT: EMS director says as many as 60 or 70 dead.
West EMS Director Dr. George Smith says as many as 60 or 70 people died and hundreds were injured Wednesday night in a fertilizer plant explosion in West.
A rescuer earlier said he knew of five deaths.
Meanwhile, emergency crews were pulling back late Wednesday night because of concerns about the possibility of a second explosion.
[Source KWTX]
UPDATE — April 18, 2013, 12:10 a.m. EDT: Mayor talks with reporters about devastating explosion.
UPDATE — April 18, 2013, 12:35 a.m. EDT: Pictures of the damage.
Update - 12:41 a.m. EDT: WacoTrib reports the explosion injured several firefighters.
Several firefighters and dozens of others were injured in a fertilizer plant explosion in West shortly before 8 p.m. Wednesday night.
Multiple buildings caught fire, including West Intermediate School, 1212 N. Reagan St., after the explosion at West Fertilizer Co., 1471 Jerry Mashek Drive, and a dispatcher calling for ambulances said "we do have a lot of injured here."
Some of the buildings that caught fire were near the 1300 block of North Reagan Street, and a dispatcher said people were trapped in a nearby apartment building.
Firefighters were trying to put out a fire at the plant when the explosion occurred, said West Mayor Pro-tem Steve Vanek, who was on his way to help when the blast took place. Officials said anhydrous ammonia and other components at the plant contributed to the explosion once the fire started.
[Source WacoTrib]
Update - 12:48 a.m. EDT: Listen to the scanner audio from the first 5 minutes after the explosion.
Update - 1:02 a.m. EDT: Chemical Safety Board en route to the explosion.
Update - 1:18 a.m. EDT: Department of Public Safety Trooper DL Wilson says many homes are damaged.
Update - 7:22 a.m. EDT: Waco Police Sgt. Says Updated Estimates Leave Between Five and 15 Dead
"They are still getting injured folks out and they are evacuating people from their homes," Waco police Sgt. William Patrick Swanton said early Thursday morning. "At this point, we don't know a number that have been killed. ... I think we will see those fatalities increase as we get toward the morning."
Swanton said authorities believe that between five and 15 people were killed in the blast, but stressed that is an early estimate as search and rescue operations remain under way. There is no indication the blast was anything other than an industrial accident, he said.
Correction: An earlier version of this article contained photos of a fire that was actually from England earlier this year, not of the fire in Texas. They have since been removed.