New Greek PM Sworn In, Vowing To End Austerity Program
Alexis Tsipras, whose leftist party won Greece's parliamentary election Sunday on an anti-bailout platform, was sworn in as prime minister on Monday.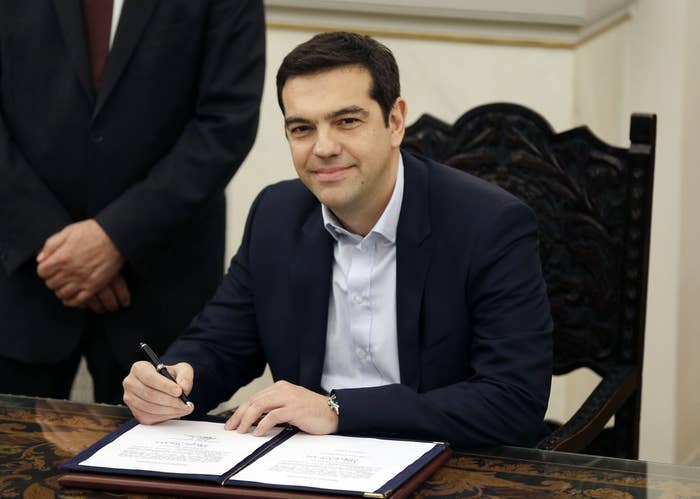 Alexis Tsipras — head of the leftist, anti-austerity Syriza party — was sworn in as Greece's prime minister Monday, leading a new government that is determined to challenge the country's European lenders.
After years of crippling economic austerity imposed by Greece's creditors, voters in Sunday's election handed Syriza a decisive victory, with the party winning 149 seats in the 300-seat parliament. Just two seats shy of forming government in its own right, Syriza has made a coalition deal with the center-right Independent Greeks party, which is also anti-austerity.
Tsipras was sworn in by President Karolos Papoulias in at a ceremony at Athens' presidential palace. He defied tradition by taking a secular oath, rather than using a bible, although he did meet with Archbishop Ieronymos, head of the Greek Orthodox Church, prior to the ceremony.
"We have an uphill road ahead," Tsipras told President Papoulias. His election marks the first time a nation in the 19-member Eurozone has been led by an overtly anti-austerity party.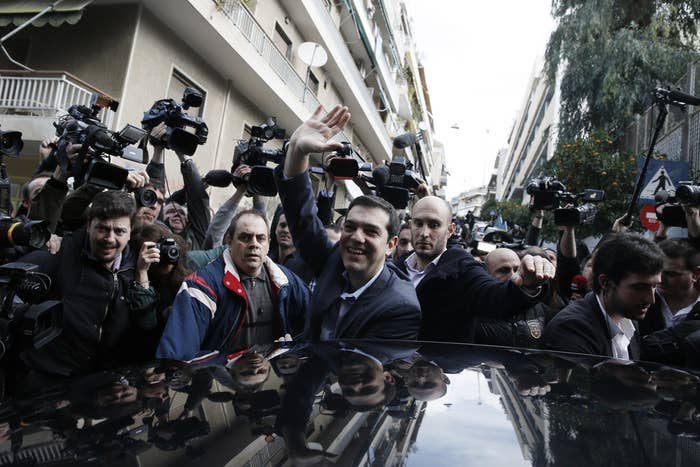 The White House sent its congratulations to the new Greek government, promising to work closely with Tsipras: "The Greek people have taken many difficult but important steps to lay the groundwork for economic recovery," Press Secretary Josh Earnest said in a statement. "As a longstanding friend and ally, the United States will continue to support their efforts and those of the international community to strengthen the foundation for Greece's long-term prosperity."
However, elsewhere in Europe, the reaction was somewhat more reserved, with many fearful of what the Greek result may mean for the Eurozone.
"It is a common rule and common sense that the Commission has to work closely together with whatever government a country has and that is what we are doing with Greece," European Union Commission President Jean-Claude Juncker told reporters in Brussels.
"We are going to see what the demands of the new Greek government will be, we will discuss them as we discuss them with all governments," Juncker said. "Independently of its composition, the choice of the Greek electorate is not the responsibility of the Commission, but the Commission works with all governments which are put in place. I am not particularly nervous."
Writing on Twitter, British Prime Minister David Cameron signaled that his belief that the new Greek government would cause "economic uncertainty" in Europe, vowing to stick to his own austerity plans.
After his victory Sunday, Tsipras promised to end the "five years of humiliation and pain" the country has endured since an international bailout saved it from bankruptcy in 2010.
Former Prime Minister Antonis Samaras accepted defeat and called to congratulate Tsipras Sunday night, the BBC reported. He said he had received a country "on the brink of disaster" in 2012 when he was elected, and was close to moving Greece out of the crisis.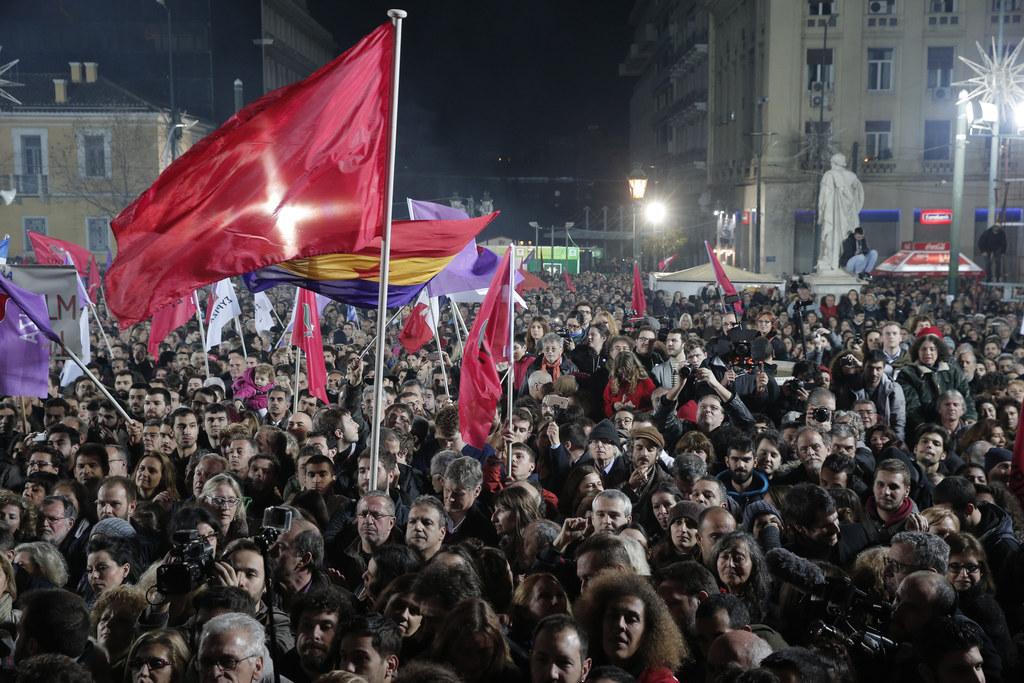 Tsipras has said he would demand debt forgiveness from collectors and have the country's 240-billion-euro ($270 billion) bailout from 2010 renegotiated with the European Commission, the European Central Bank, and the International Monetary Fund.
In order to meet demands to qualify for the bailout money, Greece has had to impose cuts in public spending, wages, and pensions, while increasing taxes.
Tsipras' rhetoric appealed to many in the country, who have had to endure a 25% unemployment rate and increased poverty.
Greece's creditors insist the country must fulfill its side of the deal to continue receiving financial support. Germany's Bundesbank warned Greece it needed to solve its economic problems, Reuters reported.
Belgian Finance Minister Johan Van Overtveldt said there may be some flexibility in the bailout deals, but not much.
"We can talk modalities, we can talk debt restructuring, but the cornerstone that Greece must respect the rules of monetary union — that must stay as it is," Van Overtveldt told the VRT network.