Grand Jury Decides Not To Indict Anyone For Sandra Bland's Death
The attorney representing Bland's family told BuzzFeed News they were "disappointed to find that their suspicions came to fruition."
A grand jury agreed that no one should be indicted for the death of 28-year-old Sandra Bland, who died inside a Texas jail cell this summer, a special prosecutor said Monday.
No one at the Waller County Jail, including officers, guards and jailers, will be indicted for the death of the 28-year-old. The grand jury will convene in January to review whether misdemeanor charges should be brought against the trooper that arrested Bland, Prosecutor Darrell Jorden said, according to the Associated Press.
Bland was pulled over by a state trooper on July 10 after allegedly failing to signal before changing lanes. Police dashcam showed Bland became confrontational with the trooper and was arrested for assault on a public servant.
Three days after her arrest, Bland was found dead inside her jail cell. The Harris County Institute of Forensic Sciences ruled her death a suicide.
Cannon Lambert, the attorney representing Sandra Bland's family, on Tuesday told BuzzFeed News that after hearing the decision, they were all "disappointed to find that our suspicions came to fruition."
Lambert said he was surprised that the footage from the dashcam recording of Bland's arrest was not enough to convince the grand jury of any wrongdoing.
"If he [officer Encinia] was going to charged, you'd think he'd be charged already," Lambert added. "The evidence that they need is flat out on the videotape."
Waller County sheriff officials said in July they believed Bland wanted to kill herself and died in her jail cell by asphyxiation from a trash bag. Assistant District Attorney Warren Diepraam told reporters that there was "no evidence to indicate this is a homicide" but authorities said they would investigate the death as a murder.
While getting booked into the jail, Bland told authorities she used pills to attempt suicide in 2014 after losing her baby, according to documents obtained by BuzzFeed News.
When asked, "Are you thinking about killing yourself today?" the jailer checked her response as "No."
In a video posted on Facebook in March, Bland also said she was suffering from depression and post-traumatic stress disorder.
The case gained national attention as Bland's family publicly questioned whether the woman's death was a suicide. Public interest increased after a video of a hostile arrest was released, with officers holding Bland down as she yelled.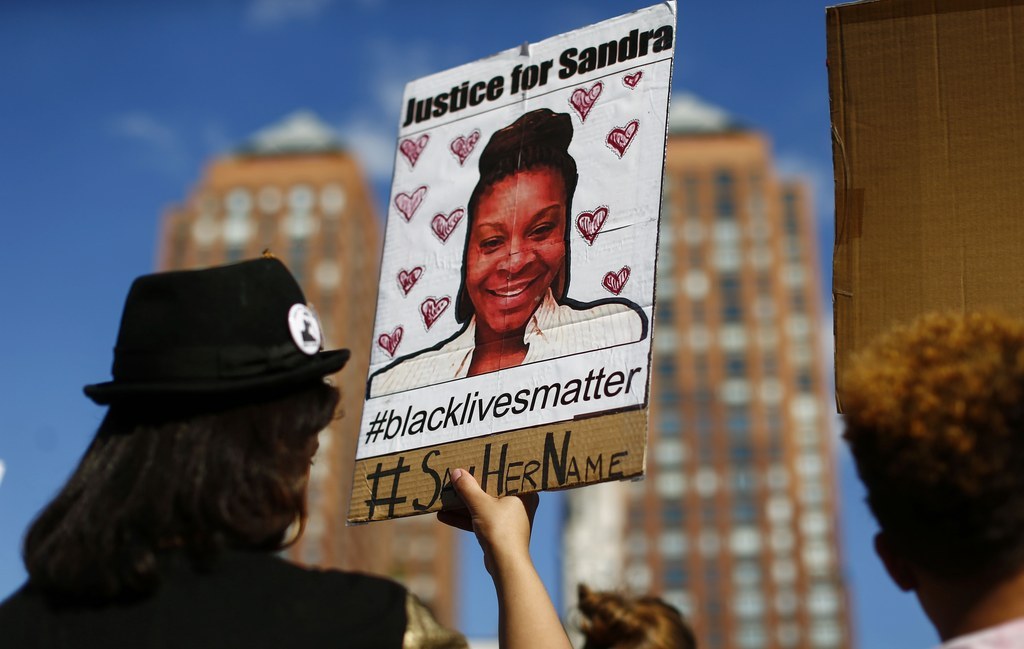 Earlier on Monday, Bland's family held a press conference in Chicago to voice their concerns over the secrecy of the grand jury proceedings.
"It's the secrecy of it all. I can't even begin to tell you what's going on because I, myself don't know what's going on, to not have my counsel be privy to any of this evidence that's being presented," Bland's mother, Geneva Reed-Veal said.
Reed-Veal also said in particular she wanted to see a Texas Rangers report that has been withheld from the public because it's grand jury evidence.
The grand jury met with five special prosecutors to go over the evidence, including the Texas Rangers report, the Associated Press reported. The grand jury met for 11 hours on Monday before agreeing not to indict anyone.
Lambert said Monday that the decision to have the grand jury meet again in January was a tactic to delay releasing the findings of the Texas Rangers report.