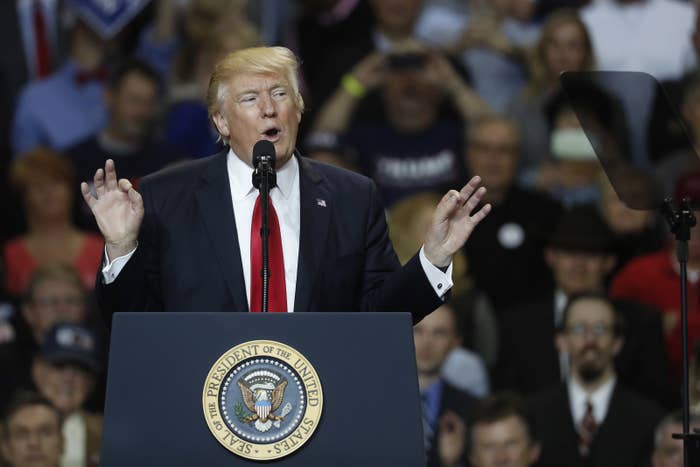 The Fox News judicial analyst who became embroiled in controversy last week after making unsubstantiated claims that Britain wiretapped Trump Tower on behalf of former president Barack Obama has reportedly been pulled from the air.
Judge Andrew Napolitano, who is a regular on the Fox News Channel as a senior judicial analyst, has not appeared on air since Thursday, and was notably absent from the channel on Monday during the network's coverage of Supreme Court nominee Neil Gorsuch.
Sources told the Los Angeles Times and CNN that Napolitano has been removed from the air indefinitely following the claim, which was later denied by the network's own reporting. A Fox News spokesperson didn't return a request for comment to BuzzFeed News.
The decision to bench Napolitano follows a series of tweets from President Trump on March 4, where he claimed without any evidence that Obama had wiretapped him.
Trump's accusation has been discredited, with multiple government agencies having said there's no evidence, but just last week Napolitano stoked the fire by saying the British intelligence agency, the Government Communications Headquarters, "most likely" gave Obama transcripts of Trump's calls.
"By bypassing all American intelligence services, Obama would have had access to what he wanted with no Obama administration fingerprints," the former New Jersey superior court judge wrote in a column on Fox News' website.
Last Thursday, White House press secretary Sean Spicer repeated Napolitano's claim from the White House briefing room when asked why Trump continued to make the accusation.
In response, Britain's spy agency broke with protocol to make a public statement on the accusations, calling them "utterly ridiculous."
"Recent allegations made by media commentator Judge Andrew Napolitano about GCHQ being asked to conduct 'wire tapping' against the then-president-elect are nonsense," the agency said. "They are utterly ridiculous and should be ignored."
Still, Trump repeated the claim again on Friday, when he met with German Chancellor Angela Merkel, saying the alleged wiretapping meant the two had something "in common." Merkel did not laugh at Trump's attempt at a joke.
"By bypassing all American intelligence services, Obama would have had access to what he wanted with no Obama administration fingerprints," said Trump. He went on to describe the judge as being a "very talented legal mind."

Not long after Trump repeated the accusation, Fox News distanced itself from the claims.
"Fox News knows of no evidence of any kind that the now-president of the United States was surveilled at any time, in any way — full stop," Shepard Smith said on air Friday.

Still, Napolitano again defended his claims in a statement read on a Fox News program on Sunday. He said he "reported what the sources told me, reported it accurately and I do believe the substance of what they told me."