Florida Police Officer Charged With Shooting Unarmed Man Who Had His Hands In The Air
The man, a behavioral therapist, was trying to calm an autistic adult when the cop shot him.
Florida prosecutors charged a North Miami police officer with attempted manslaughter Wednesday in the shooting of an unarmed black man who had been working with an autistic adult.

The incident took place in July 2016, when Charles Kinsey, a 47-year-old behavioral therapist, was shot in the leg while trying to calm down an autistic adult in his care. Though Kinsey survived, a bystander's video of the incident went viral, sparking widespread public outcry.
On Wednesday, the Miami-Dade State Attorney's Office announced that Jonathan Aledda, the police officer who shot Kinsey, would be charged with attempted manslaughter, a third-degree felony, and one count of culpable negligence, a first-degree misdemeanor. An arrest warrant was also issued.

Kinsey's patient, 27-year-old Arnoldo Soto, is described in the arrest warrant as nonverbal and prone to displays of physical violence and aggression. As a result, he receives 24-hour, one-on-one care at the Miami Achievement Center for the Developmentally Disabled, where Kinsey works as a behavioral therapist.
Prior to the shooting, Soto had apparently run away from the group home while holding a silver toy truck, which Kinsey told investigators was not uncommon. According to the arrest warrant, Kinsey followed, and Soto eventually "plopped" down on the road, where the therapist attempted to convince him to return to the group home. Kinsey then heard sirens, and seeing officers armed with assault rifles, put his hands in the air.

The officers were responding to a call from a passing motorist who thought Soto might have been holding a gun and suicidal. Though other officers determined that Soto did not have a gun, it is not clear if Aledda was aware of this at the time of the shooting. But he had asked the officer standing next to him, indicating he wasn't sure whether Soto had a gun or not.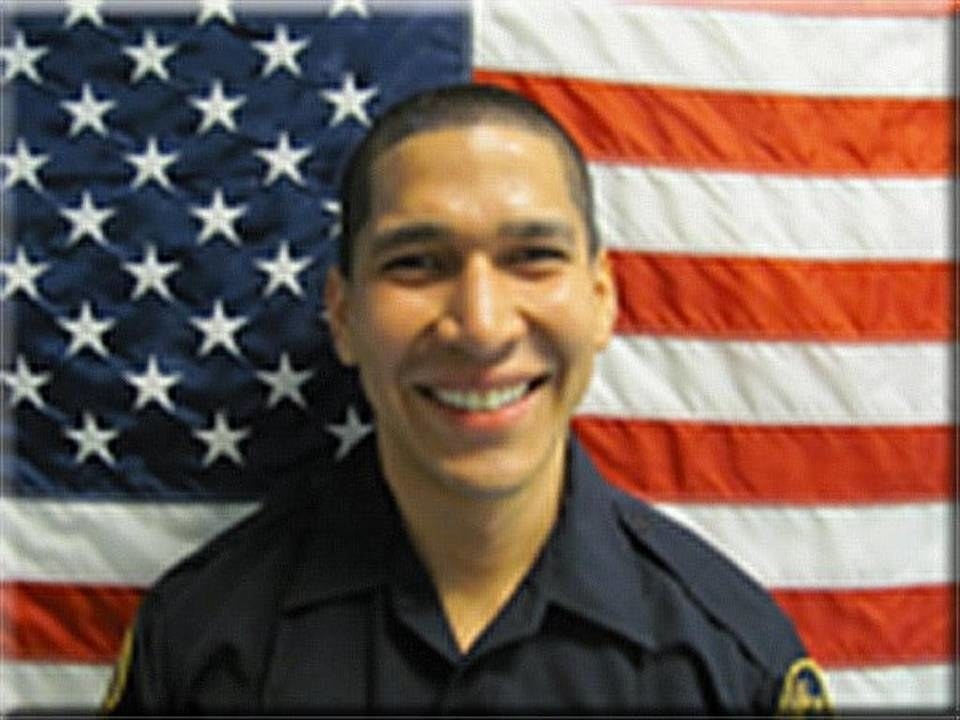 The state attorney's office found that Aledda "was not in a position to correctly assess the situation or in a position to accurately fire," noting that he was more than 150 feet away when he fired three shots at Kinsey, while two other officers were only 20 feet from the scene.
Aledda, a four-year veteran of the North Miami Police Department and member of the SWAT team, was placed on administrative leave after the shooting, while the Florida Department of Law Enforcement investigated the incident.

Following the incident, Miami-Dade Police Benevolent Association President John Rivera told reporters that Aledda was trying to protect Kinsey from Soto.

"This is not a case of police brutality," Rivera said. "This is not a case other than an officer who was trying to save the life of Mr. Kinsey and feels horrible that his aim missed and struck Mr. Kinsey."
After charges were brought Wednesday, Rivera, whose police union is representing Aledda, criticized the decision.
"In this case, we're going to be able to show how politically motivated, vindictive and incompetent that the state attorney is," Rivera told the Miami Herald. "The law is a very simple thing — intent. They're never going to be able to prove that this guy acted maliciously or recklessly in any way."
Soto's lawyers applauded the decision to bring charges, and told the Miami Herald their client is still traumatized by the shooting.

"To this day, he suffers from night terrors and wakes up and screams 'Police! Police!' and screams about blood," said Matthew Dietz, a lawyer with the Disability Independence Group.
In a statement Wednesday, the American Civil Liberties Union of Florida said it hoped the charges will prompt the North Miami Police Department to continue reviewing its polices regarding the use of force.

"While charges against police officers who use excessive force are rare, we hope that the North Miami police don't see this as the end of the story. In recent years, great strides have been made in tactics for police dealing with situations involving individuals with mental and developmental disabilities. If the police department doesn't also use this as an opportunity to thoroughly review trainings and procedures, including policies governing the discharge of a weapon and the use of deadly force, it is only a matter of time before something like this happens again."
Aledda is the first police officer charged by the Miami-Dade State Attorney Katherine Fernandez Rundle, who has held the office since 1993. In Palm Beach Gardens, Florida, a cop was charged last June for fatally shooting a black musician who had been waiting on the side of the road after his car broke down.