19 Firefighters Die Battling Arizona Blaze
Updated: An elite team of firefighters died Sunday while fighting a fast-moving wildfire northwest of Phoenix.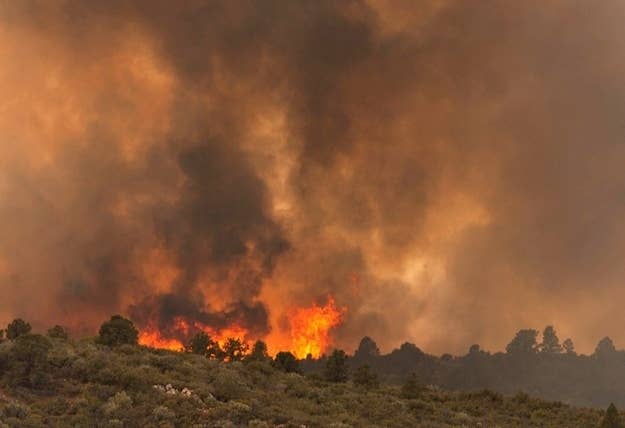 Prescott Fire Department spokesman Wade Ward said Monday that the exact cause of the deaths are unknown and are under investigation.
"We don't know exactly what happened," Ward said on NBC's "Today" show. "I can tell you that this is a very elite group of men. I can tell you that it had to be the perfect storm in order for this to happen."
Mike Reichling, Arizona State Forestry Division spokesman, said the 19 firefighters were found in area that also had 19 fire shelters deployed. Some of those found were inside a shelter; some were not.
Some 200 firefighters are battling the fast-moving wildfire, reports Arizona Central.
Reichling said federal authorities will be brought in to help Monday morning.
Arizona Gov. Jan Brewer said Sunday was "as dark a day as I can remember."
When a tragedy like this strikes, all we can do is offer our eternal gratitude to the fallen and prayers for the families and friends left behind. God bless them all."
President Barack Obama issued a statement as he was ending his visit to South Africa and flying to Tanzania:
Yesterday, nineteen firefighters were killed in the line of duty while fighting a wildfire outside Yarnell, Arizona. They were heroes -- highly-skilled professionals who, like so many across our country do every day, selflessly put themselves in harm's way to protect the lives and property of fellow citizens they would never meet. In recent days, hundreds of firefighters have battled extremely dangerous blazes across Arizona and the Southwest. The federal government is already assisting, and we will remain in close contact with state and local officials to provide the support they need. But today, Michelle and I join all Americans in sending our thoughts and prayers to the families of these brave firefighters and all whose lives have been upended by this terrible tragedy.