Erica Garner, who became an activist following her father's death after he was arrested by a cop who put him in a chokehold, died on Saturday after having a heart attack at the age of 27.

Her political director Reggie Harris shared the news on Garner's Twitter account, tweeting, "She passed away this morning. The reports are real. We didn't deserve her."

At his weekly telecast, Rev. Al Sharpton said that Garner's mother, Esaw Snipes, called him around 6:15 a.m. on Saturday morning to say she died.
"The media will say Erica died of a heart attack, but that's only partially true because her heart was already broken when she couldn't get justice for her father," Sharpton said. "In her memory we will keep fighting for justice."
Activist Shaun King, who had been in touch with the Garner family, said, "We're less because of this loss."

"When you were her friend, you her friend through all adversity," said King. "She was a fierce protector of her friends and family. A truth teller. As genuine and authentic of a soul you'll ever encounter."
The mother of two and oldest daughter of Eric Garner had a heart attack last week and was hospitalized over the weekend. Her official Twitter account had said that she was in a coma.

Garner became an advocate and organizer following her father's death in 2014 in Staten Island after a New York City police officer put him in a chokehold for about 15 seconds while arresting him.

A NYPD officer in plainclothes had approached Eric Garner on suspicion of selling untaxed single cigarettes. The incident was filmed by a witness, and the 43-year-old man, who had asthma, could be heard saying "I can't breathe" 11 times while being held on the ground. The video was widely shared and sparked nationwide protests, with Garner's last words becoming a rallying cry for Black Lives Matter activists.
A case against the arresting officer, Daniel Pantaleo, who is white, went to a grand jury, but he was not indicted, leading to even more protests.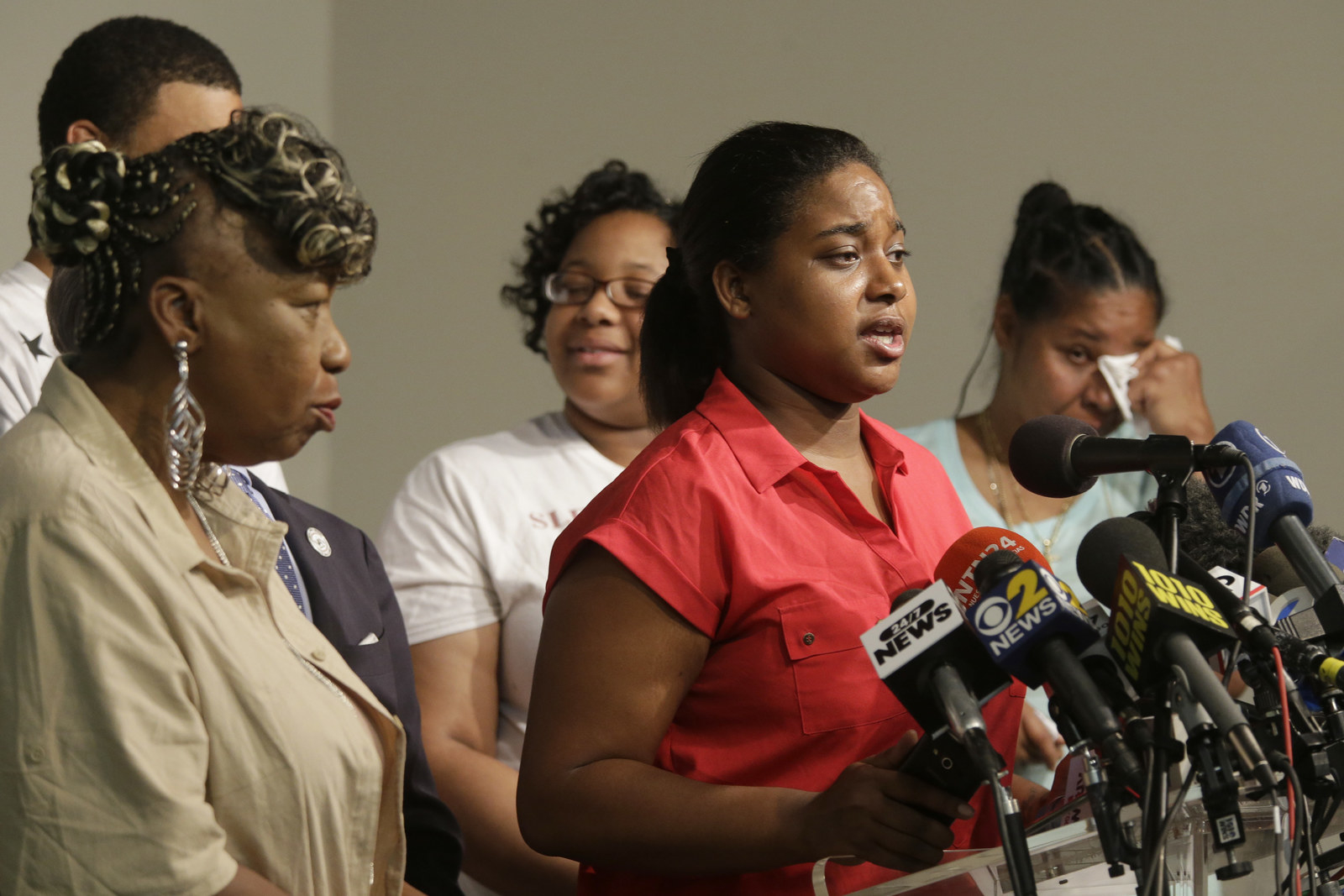 Following her father's death, Erica Garner became an outspoken activist fighting against police brutality. She held vigils and twice-a-week "die-ins" on Staten Island in memory of her father, in which protesters marched to the spot where he was put in the fatal chokehold.
"I feel the love and energy from around the world, but on Staten Island it's been emotionless," Erica Garner told the New York Daily News in 2014 after a biweekly demonstration in front of the store where cops had approached her father.

"I felt his spirit when I was walking down to the spot," she said. "I've been doing this every Tuesday and Thursday since my father's death. I do it without cameras there. I do it with cameras there, and I'm going to keep doing it."
Erica Garner criticized New York Gov. Andrew Cuomo for not doing enough, writing in a Huffington Post blog post on the one-year anniversary of her father's death that Cuomo would likely not keep up the battle for civil rights.

She also criticized Staten Island's then-district attorney Daniel Donovan for giving immunity to the other officers involved in her father's death, as well as noting that the borough's new district attorney, Daniel Master, could convene another grand jury to indict Pantaleo, but had no intentions to do so.
After the grand jury decided not to indict Pantaleo, the Department of Justice launched an independent investigation, which is ongoing.

On Saturday, New York City Mayor Bill de Blasio tweeted that Erica Garner's death is a "horrible tragedy."

"I am praying for her family, who have already been through so much. This city will miss her unshakable sense of justice and passion for humanity," de Blasio tweeted.
Earlier on Saturday, Erica Garner's Twitter account criticized de Blasio: "de Blasio ... explain how she died with no justice."

"De Blasio to justice is sugar to saccharin," her account said. "got the look and the feel of the real thing, but when used something about it aint quite right."

During the 2016 presidential race, Erica Garner endorsed Bernie Sanders in a campaign video.

"Martin Luther King died for this. Malcolm X died for this. And who were they? They was protestors," Garner said in the video. "I'm behind anyone who is going to listen and speak up for us. And I think we need to believe in a leader like Bernie Sanders."
In a series of tweets on Saturday, Sanders called Garner an "exceptional young woman" and sent his condolences to her family and everyone she had an impact on.

"Though Erica didn't ask to be an activist, she responded to the personal tragedy of seeing her father die while being arrested in New York City by becoming a leading proponent for criminal justice reform and for an end to police brutality," said Sanders.

"I had the honor of getting to know Erica and I was inspired by the commitment she made working towards a more just world for her children and future generations," said Sanders. "She was a fighter for justice and will not be forgotten."