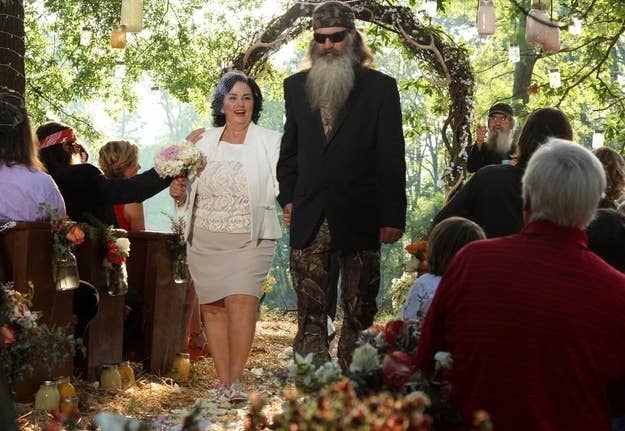 The wildly successful A&E reality show Duck Dynasty, about a family that has built its wealth on a hunting whistle, is in major turmoil after the show's star and family's patriarch was quoted in GQ making controversial comments about the LGBT community. In response, A&E announced Wednesday it will suspend Phil Robertson from the show for an indefinite period. The rest of the family will continue filming.
UPDATE — Dec. 19, 9 p.m. ET: The Robertson Family released a statement:
We want to thank all of you for your prayers and support. The family has spent much time in prayer since learning of A&E's decision. We want you to know that first and foremost we are a family rooted in our faith in God and our belief that the Bible is His word. While some of Phil's unfiltered comments to the reporter were coarse, his beliefs are grounded in the teachings of the Bible. Phil is a Godly man who follows what the Bible says are the greatest commandments: "Love the Lord your God with all your heart" and "Love your neighbor as yourself." Phil would never incite or encourage hate.We are disappointed that Phil has been placed on hiatus for expressing his faith, which is his constitutionally protected right.We have had a successful working relationship with A&E but, as a family, we cannot imagine the show going forward without our patriarch at the helm. We are in discussions with A&E to see what that means for the future of Duck Dynasty. Again, thank you for your continued support of our family.
In the GQ article, Robertson responded to the question: "What, in your mind, is sinful?"
"Start with homosexual behavior and just morph out from there. Bestiality, sleeping around with this woman and that woman and that woman and those men," he says. Then he paraphrases Corinthians: "Don't be deceived. Neither the adulterers, the idolaters, the male prostitutes, the homosexual offenders, the greedy, the drunkards, the slanderers, the swindlers—they won't inherit the kingdom of God. Don't deceive yourself. It's not right."
Later in the article, Robertson continued:
"It seems like, to me, a vagina—as a man—would be more desirable than a man's anus. That's just me. I'm just thinking: There's more there! She's got more to offer. I mean, come on, dudes! You know what I'm saying? But hey, sin: It's not logical, my man. It's just not logical."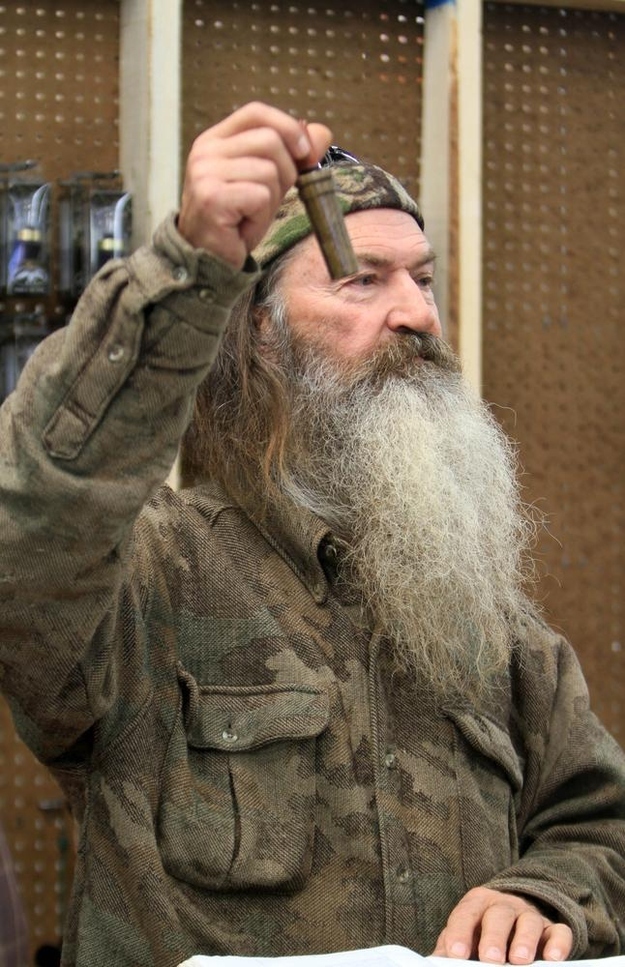 In response to the interview, A&E issued the following statement to Entertainment Weekly:
"We are extremely disappointed to have read Phil Robertson's comments in GQ, which are based on his own personal beliefs and are not reflected in the series Duck Dynasty. His personal views in no way reflect those of A+E Networks, who have always been strong supporters and champions of the LGBT community. The network has placed Phil under hiatus from filming indefinitely."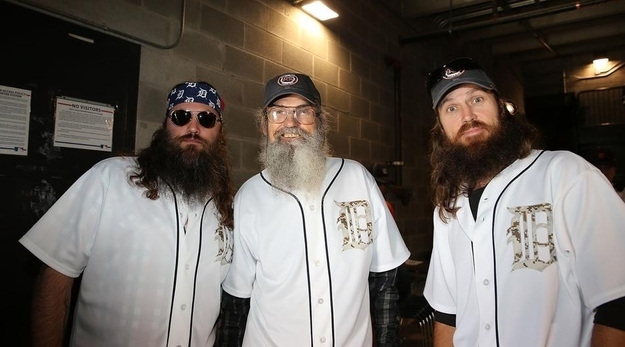 A&E previously released a statement from Phil Robertson on his comments:
"I myself am a product of the 60s; I centered my life around sex, drugs and rock and roll until I hit rock bottom and accepted Jesus as my Savior. My mission today is to go forth and tell people about why I follow Christ and also what the Bible teaches, and part of that teaching is that women and men are meant to be together. However, I would never treat anyone with disrespect just because they are different from me. We are all created by the Almighty and like Him, I love all of humanity. We would all be better off if we loved God and loved each other."
In response, GLAAD spokesperson Wilson Cruz condemned Robertson's remarks:
"Phil and his family claim to be Christian, but Phil's lies about an entire community fly in the face of what true Christians believe. He clearly knows nothing about gay people or the majority of Louisianans – and Americans – who support legal recognition for loving and committed gay and lesbian couples. Phil's decision to push vile and extreme stereotypes is a stain on A&E and his sponsors who now need to reexamine their ties to someone with such public disdain for LGBT people and families."
Louisiana Gov. Bobby Jindal released a statement criticizing A&E for Robertson's suspension:
Phil Robertson and his family are great citizens of the State of Louisiana. The politically correct crowd is tolerant of all viewpoints, except those they disagree with. I don't agree with quite a bit of stuff I read in magazine interviews or see on TV. In fact, come to think of it, I find a good bit of it offensive. But I also acknowledge that this is a free country and everyone is entitled to express their views. In fact, I remember when TV networks believed in the First Amendment. It is a messed up situation when Miley Cyrus gets a laugh, and Phil Robertson gets suspended.