Dozens Of Protesters Arrested During Black Lives Matter Rallies Across The U.S.
Protests took place in more than a dozen American cities Tuesday as racial tensions continue to mount in the wake of deadly police shootings.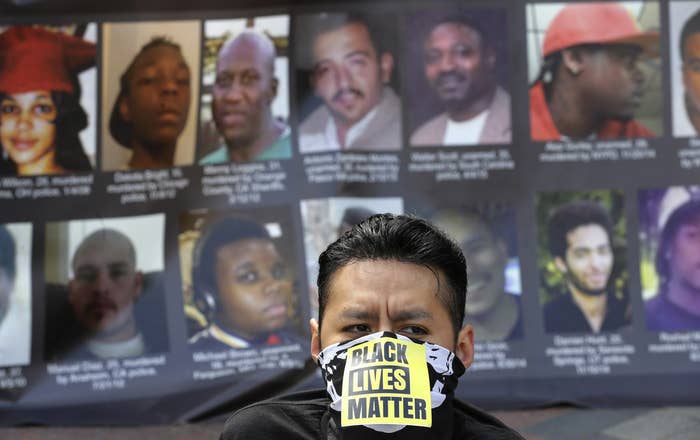 Protesters rallied Tuesday against police violence in a number of cities across the U.S.
The heightened atmosphere comes in the wake of the death of Walter Scott, a black South Carolina man shot multiple times in the back by white police officer Michael Slager. Video of the incident shot by a witness forced North Charleston police to charge Slager with Scott's murder last week.
Over the weekend, Eric Harris was accidentally shot and killed in Oklahoma when a volunteer deputy confused his handgun for his Taser. On Monday, the reserve deputy, Robert Bates, was charged with second-degree manslaughter.
Racial tensions in the U.S. were heightened last year after grand jury decisions in Ferguson, Missouri, and New York City not to file charges against white police officers who had killed unarmed black men.
Demonstrations took place Tuesday in more than a dozen cities across the U.S. from New York City to Cleveland to Birmingham to Oakland.
In New York, several hundred protesters rallying against police brutality clogged traffic on the Brooklyn Bridge: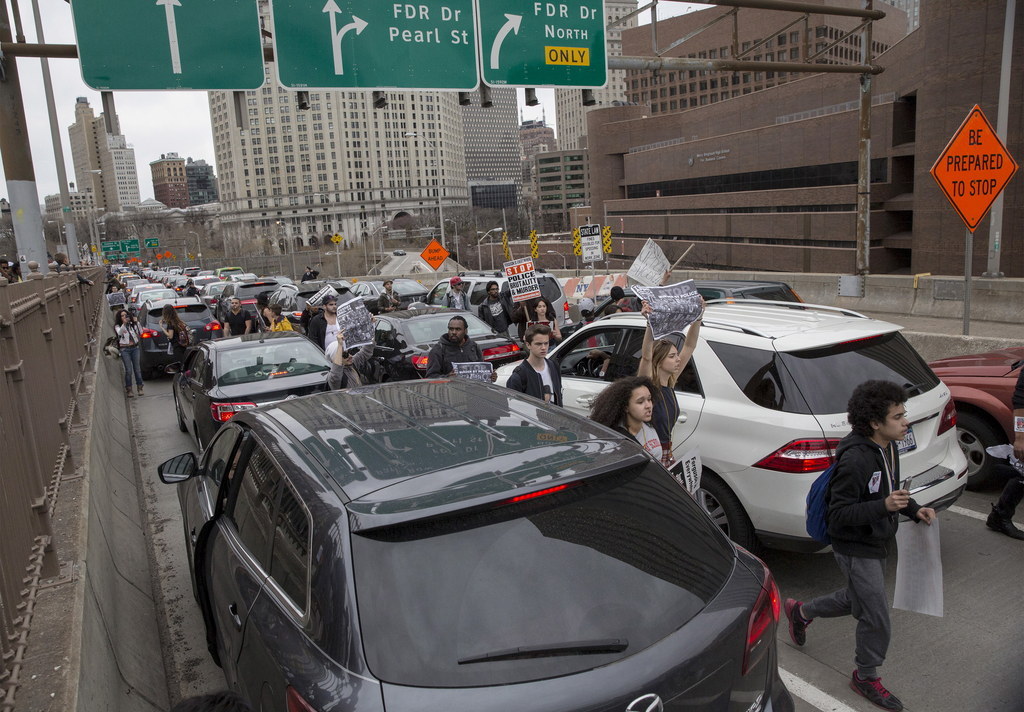 Protesters were reportedly arrested on the bridge:
Stephen Davis, the New York Police Department's chief spokesman, said 34 people had been arrested, according to the New York Times.
Davis said the arrest count was expected to rise as precincts in Brooklyn and Manhattan continued to report their figures.
Reports this evening that two of our NYPD officers were assaulted by protestors reminds us that here in New York City, violence or threats of violence against the police are unacceptable and will absolutely not be tolerated. These attacks will be thoroughly investigated, and we will urge the full prosecution of the perpetrators. And any other person who might use the right to peaceful protest as cover to initiate violence, cause mayhem or incite disorder – whether against the police, the people or property of our great City – should consider themselves on notice that New York City will not stand for it. Anyone who decides foolishly to engage in such destructive acts can expect a swift arrest and aggressive prosecution. As I have said before, such activity is beneath the dignity of New York City.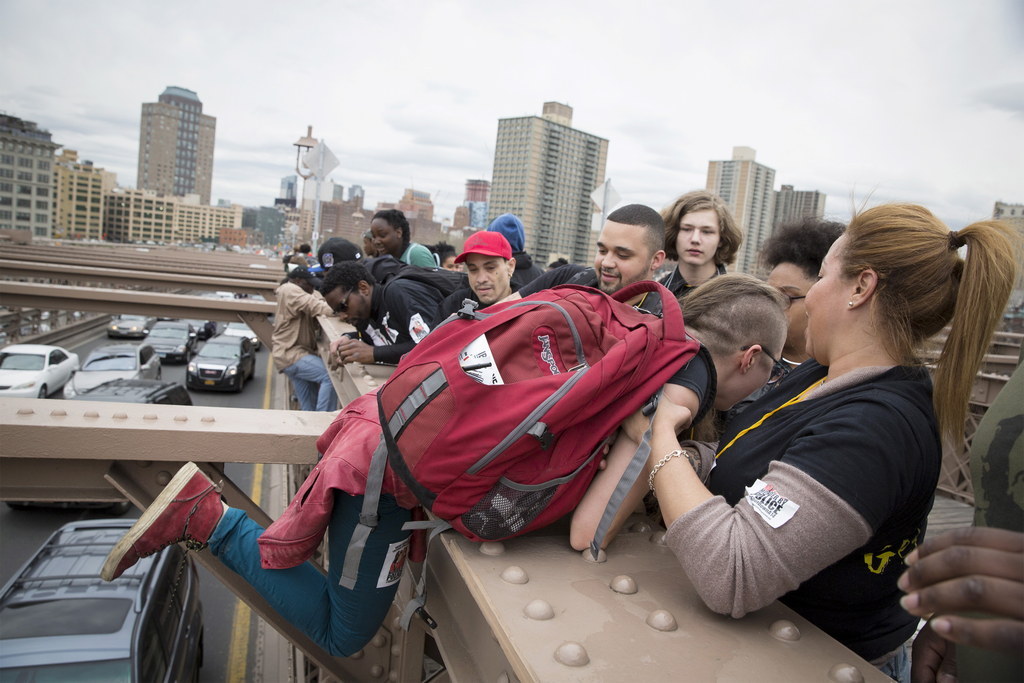 Activist Cornel West spoke at a rally in New York:
In Cleveland, protesters marched through the streets carrying signs that read "Stop Murder By Police."
In Springfield, Massachusetts, police reportedly arrested 15 protesters, according to MassLive.com.
Protesters also took to the streets of Los Angeles, blocking streets and a train line.
After calls to disperse were ignored, about 20 protesters were arrested at the scene.
Six protesters were arrested by the California Highway Patrol:
And demonstrators marched to City Hall:
About 50 demonstrators marched through Oakland to protest: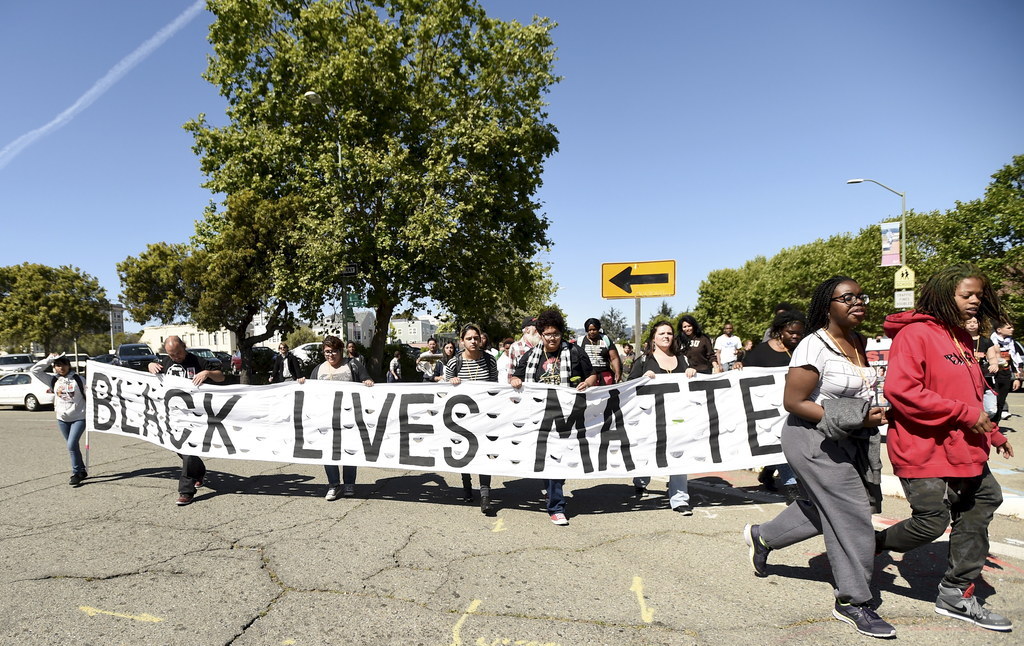 Protesters in Oakland rallied outside City Hall and then moved inside.
Protesters also blocked traffic on a freeway in Oakland: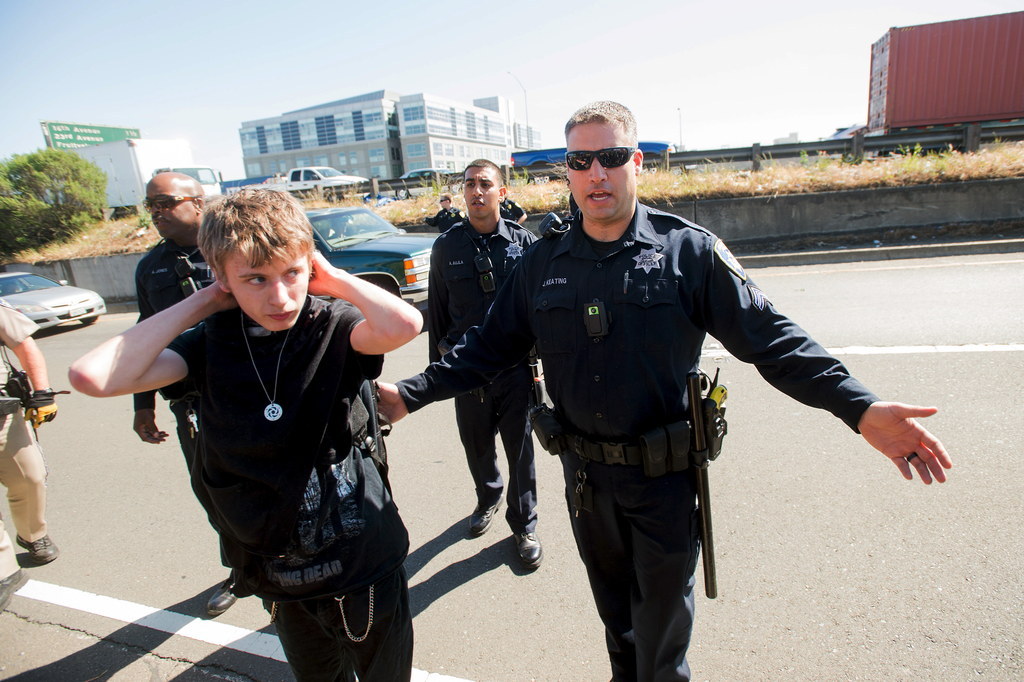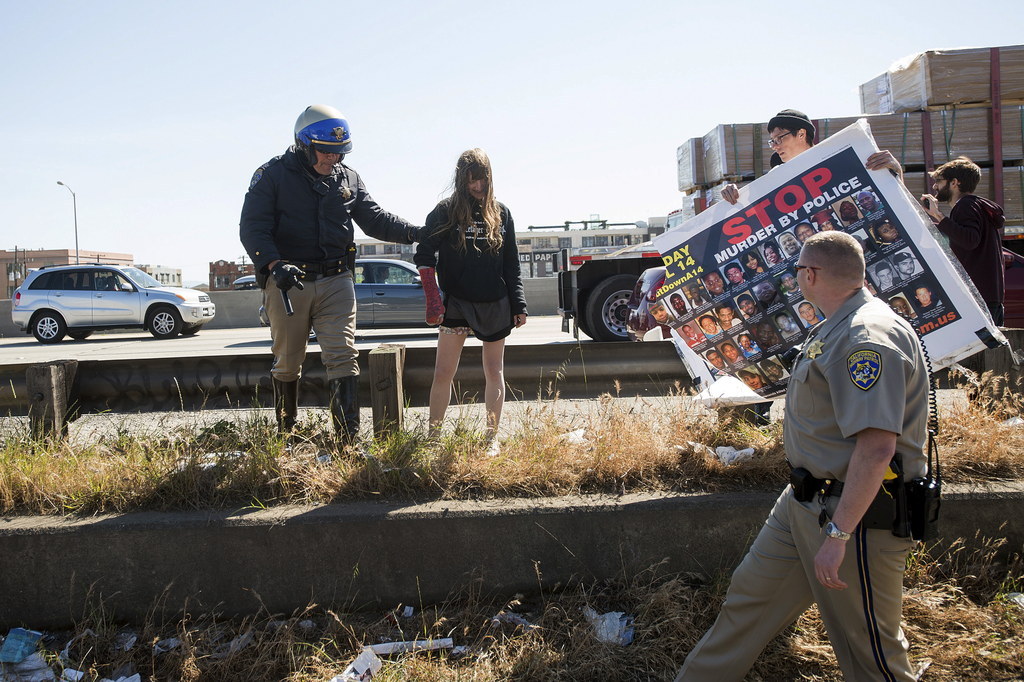 Some protesters wrote anti-cop messages in chalk on the police headquarters after briefly shutting down the freeway on-ramp.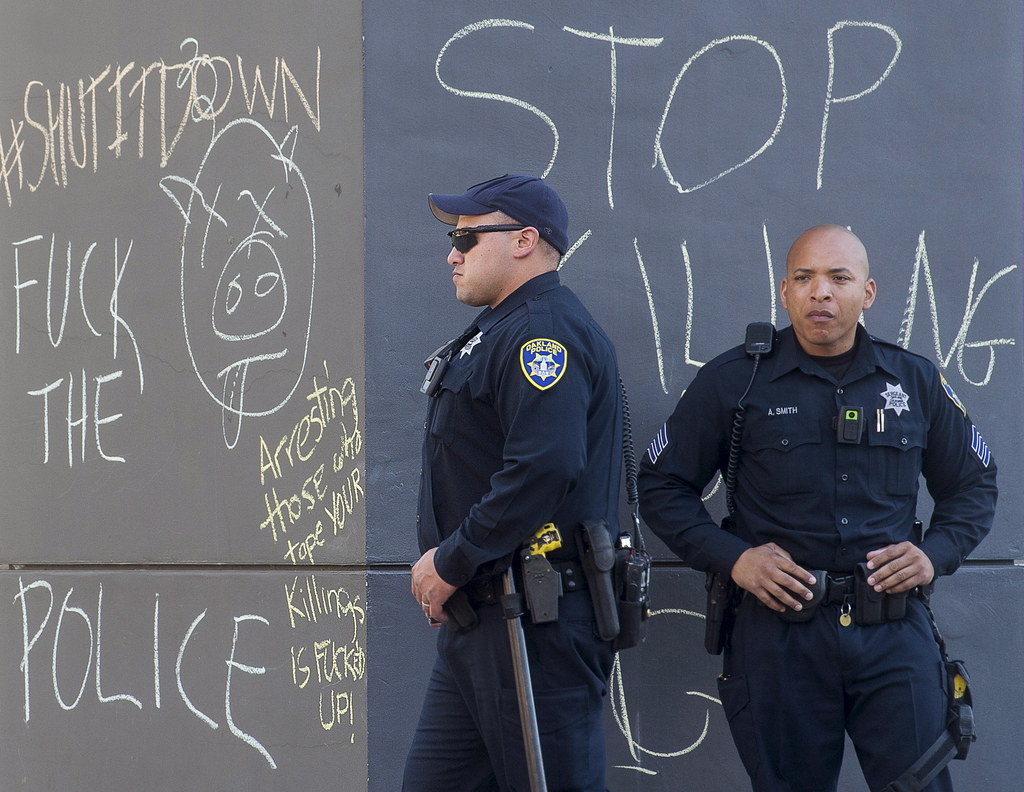 In Atlanta, protesters came together against police shootings and rallied in particular for Kevin Davis, who was shot and killed in his home by a DeKalb County police officer last December.
Davis' girlfriend, April Edwards, told BuzzFeed News that their roommate had stabbed her, and Davis helped her call 911. When police arrived, Davis' pit bull charged and Officer Joseph Pitts shot the dog.
According to reports, Davis came out of his bedroom after the first round of gunshots were fired at the dog. When Davis emerged, he was holding a gun and Pitts shot him.
The fatal shooting immediately sparked protests in the community, but Pitts does not face charges, according to Fox 5 News.
In Birmingham, Alabama, at least three protesters were arrested after blocking traffic, AL.com reported.
In Madison, Wisconsin, streets were shut down because of the flood of protesters:
In Chicago, about 200 protesters marched in the streets:
Protesters rallied in front of Pike Place Market in Seattle: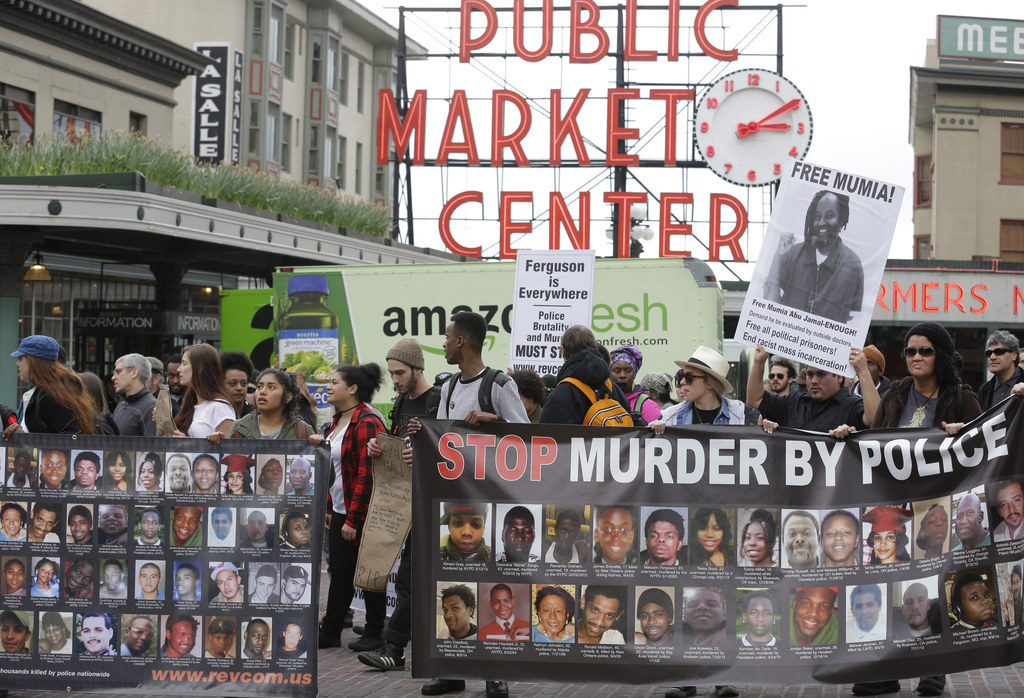 And inside:
And protesters blocked off multiple streets as they marched:
One protester carried a casket-shaped sign honoring Antonio Zambrano-Montes: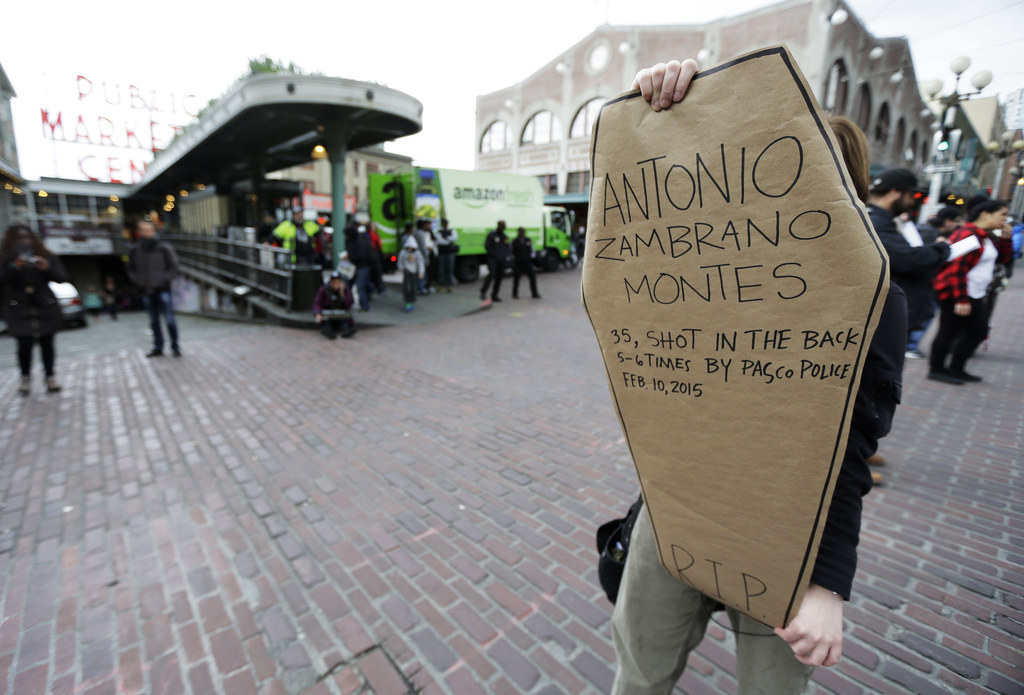 Zambrano-Montes was shot February 10 by police in Pasco, Washington. He was shot by police responding to reports that he had been throwing rocks at passing cars. Video captured Zambrano-Montes running from the police, turning around, and then waving his arms, before being fatally shot by officers.
Following his death, some residents of Pasco protested police brutality.