Donald Sterling, the disgraced owner of the Los Angeles Clippers, broke his silence Sunday in a CNN interview, apologizing for his racist remarks that prompted the NBA to ban him for life while lashing out at Magic Johnson.
"I'm a good member who made a mistake and I'm apologizing and I'm asking for forgiveness," Sterling said in an Anderson Cooper interview that aired Monday. "Am I entitled to one mistake, am I after 35 years? I mean, I love my league, I love my partners. Am I entitled to one mistake? It's a terrible mistake, and I'll never do it again."
Before the latest scandal started, Sterling was sued several times for racially discriminatory practices. Notably Sterling settled a case with the U.S. Department of Justice in 2005 for a record $2.73 million, the largest ever obtained by the government in a discrimination case involving apartment rentals.
"I'm not a racist," Sterling told Cooper. "I made a terrible mistake. I'm here to apologize." In the interview, Sterling said he waited so long to come forward because he was "emotionally distraught."
"The reason it's hard for me, very hard for me, is that I'm wrong. I caused the problem. I don't know how to correct it," he said.
"When I listen to that tape I don't even know how I could say words like that. I'm not a racist. I love people. I always have. But those words came out of my mouth I guess, and I am so sorry and I am so apologetic," Sterling said in the interview.
He said he is apologizing now because he hurt people, especially his family.
Sterling also suggested in the interview that he made the comments to V. Stiviano, because he was "a little jealous" of the men who were around her. He also said he was baited and was reflecting the racial language used by Stiviano, who he said would declare she was going to bring some "beautiful black men" to his games.
When asked about Magic Johnson's comments on the matter, Sterling said: "Here's a man I don't know if I should say this, he acts so holy. He made love with every girl in every city in America, and he had AIDS, and when he had those AIDS, I went to my synagogue and I prayed for him. I hoped he could live and be well."
In the interview, Sterling suggested Magic Johnson has been a bad role model for kids.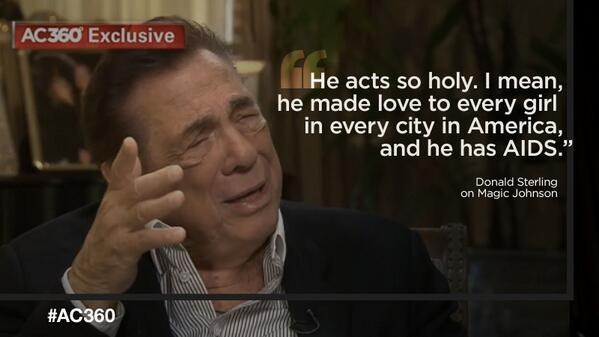 "Here's a man I don't know if I should say this, he acts so holy. He made love with every girl in every city in America, and he had AIDS, and when he had those AIDS, I went to my synagogue and I prayed for him. I hoped he could live and be well," Sterling said.
"I didn't criticize him. I could have. Is he an example for children? You know, because he has money, he's able to treat himself. But Magic Johnson is irrelevant in this thing. He didn't do anything harmful to anybody and I respect him and I admire everything that he does. I'd like to help even more if he would offer me an opportunity to help. I like to help minorities," he continued.
Sterling also said that he waited to apologize because Johnson called him and told him to remain silent.
"He just said 'Wait, be patient, I'll help you, we'll work it out,'" Sterling said. "He thought the whole thing will be resolved in two weeks. What has he done? Can you tell me? Big Magic Johnson, what has he done? He's got AIDS."
"Well, what kind of a guy goes to every city, has sex with every girl, then he catches HIV? Is that someone we want to respect and tell our kids about?" Sterling said about Johnson during the interview. "I think he should be ashamed of himself. I think he should go into the background. But what does he do for the black people? He doesn't do anything."
Sterling went on to suggest that Jewish people help each other out, while African-Americans turn their backs on one another.
"That's one problem I have. Jews when they get successful they will help their people and some of the African-Americans — maybe I'll get in trouble again — they don't want to help anybody," he said.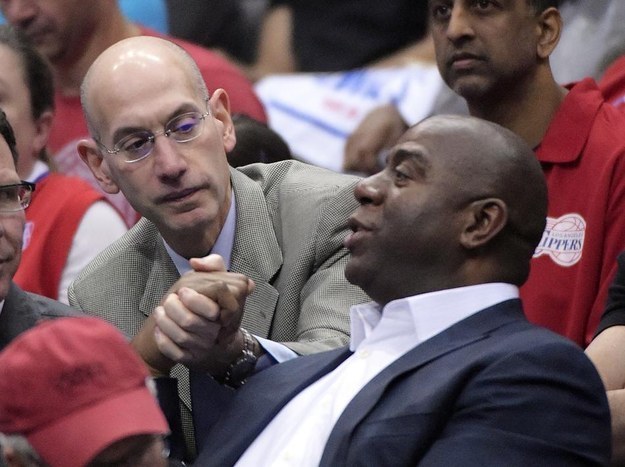 NBA Commissioner Adam Silver issued a statement after Donald Sterling's interview with Anderson Cooper, saying they were continuing with the process to remove Sterling.
"I just read a transcript of Donald Sterling's interview with Anderson Cooper and while Magic Johnson doesn't need me to, I feel compelled on behalf of the NBA family to apologize to him that he continues to be dragged into this situation and be degraded by such a malicious and personal attack. The NBA Board of Governors is continuing with its process to remove Mr. Sterling as expeditiously as possible."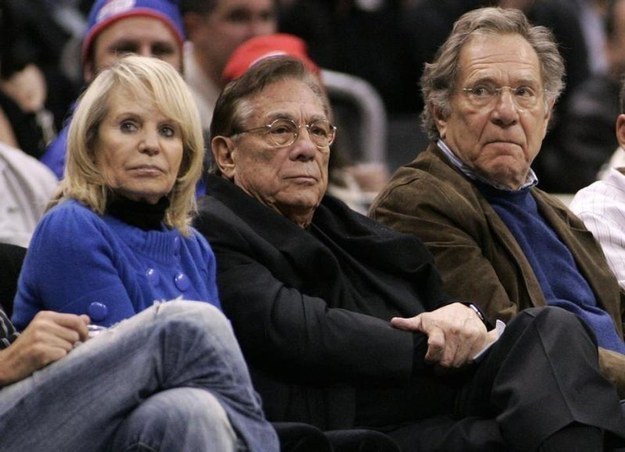 Shelly Sterling, the wife of Donald Sterling, suggested in an interview Sunday with Barbara Walters that her husband is suffering from dementia, which she suggested might explain his racist comments.
The estranged wife also owns half the team through a family trust. Her husband owns the other half, and Shelly said she wants to keep her share of the Clippers. Donald Sterling was banned from the NBA for life. He still owns the Clippers, but may be forced by the NBA to sell the team.
"I was shocked by what he said. And — well, I guess whatever their decision is — we have to live with it," she told Walters. "But I don't know why I should be punished for what his actions were."
She also said the couple has been estranged for more than a year, and she has been considering a divorce for many years.
"For the last 20 years, I've been seeing attorneys for a divorce," she said and laughed. "I signed the petition for a divorce. And it came to almost being filed. And then, my financial adviser and my attorney said to me, 'Not now.'"
"I have never heard him say racial things," the wife said when Walters asked if Donald Sterling is a racist.
More than a week ago, Walters interviewed V. Stiviano, the women in the center of the scandal, who Donald Sterling was speaking to when he said not to associate with black people, including Magic Johnson. Stiviano said in the interview that Donald Sterling feels alone after being banned from the NBA.
When Walters asked Stiviano if Sterling is a racist, Stiviano replied: "No, I don't believe it in my heart."