Super Size Me director Morgan Spurlock admitted to a history of sexual misconduct early Thursday, writing an online post in which he said he was "part of the problem."
The 47-year-old, who is best-known for his 2004 Oscar-nominated film about eating at McDonald's, said he was writing about his own history of sexual misconduct in response to a series of allegations against other high-profile men that have been brought to light in the wake of October reports about Hollywood mogul Harvey Weinstein.
"As I sit around watching hero after hero, man after man, fall at the realization of their past indiscretions, I don't sit by and wonder 'who will be next?' I wonder, 'when will they come for me?'" Spurlock wrote. He then detailed episodes dating back to his time in college, and admitted that, more recently, he paid an assistant who claimed he had sexually harassed her in the office.
"Over my life, there have been many instances that parallel what we see everyday in the news," Spurlock wrote. While in college, he continued, a woman "accused me of rape." He said the woman told him "she didn't want to have sex," but that when they later did have sex, she started crying.
"I tried to comfort her," he wrote. "To make her feel better. I thought I was doing ok, I believed she was feeling better. She believed she was raped."

He also wrote that he settled a sexual harassment claim at his office around 2010.
"I would call my female assistant 'hot pants' or 'sex pants' when I was yelling to her from the other side of the office," Spurlock wrote. "Something I thought was funny at the time, but then realized I had completely demeaned and belittled her to a place of non-existence."
"So, when she decided to quit, she came to me and said if I didn't pay her a settlement, she would tell everyone," he wrote, adding that he "of course" paid her.
Spurlock also described cheating on all of his partners, including both his wives. "I have been unfaithful to every wife and girlfriend I have ever had," he wrote.
Spurlock's ex-wife Alex Jamieson was featured in Super Size Me as his vegan then-girlfriend who helped him recover after eating so much fast food.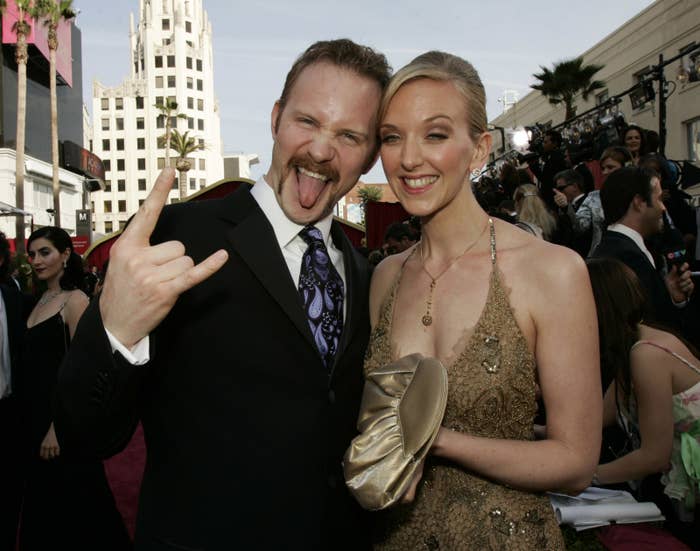 In the post, Spurlock also questioned why he was "part of the problem," saying it might be because he was sexually abused as a boy and teen, or because his dad left his mom when he was a kid, or possibly a result of his depression and addiction to alcohol, which he says started when he was 13.

"By recognizing and openly admitting what I've done to further this terrible situation, I hope to empower the change within myself. We should all find the courage to admit we're at fault," he wrote. He ended by saying he has hope he can repair his relationships with "those I love most," and that he's "finally ready to listen" to others.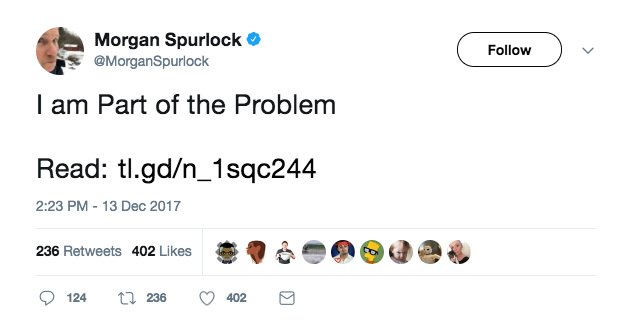 BuzzFeed News reached out to Spurlock's representatives for more information about the post, which was published to the filmmaker's official Twitter page.

After people started to respond to his letter on Twitter, Spurlock replied to two comments, saying that he was "seeking help" and that he "will do everything I can to do better."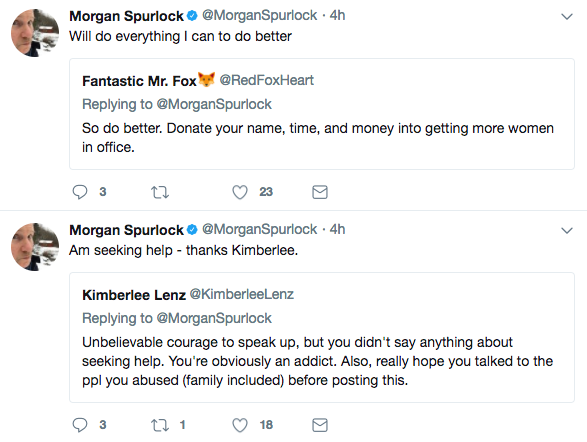 On Thursday, Warrior Poets, the production company co-founded by Spurlock, announced he would be stepping down as CEO "effective immediately."
Warrior Poets helped produce over two dozen documentaries, including Where in the World is Osama Bin Laden? in 2008, Rats in 2016, and most recently a documentary series Who Rules the World? The latter docu-series was set to be released next year on TNT, according to NBC News. Sarah Jessica Parker, who runs Pretty Matches Productions, is an executive producer of the series, which looks at women in the workplace. Refinery29 was also involved in the production, making it the first TV venture, as well as Turner's Studio T.
On Friday, TNT released a statement to Variety saying that production of Who Rules The World has been suspended "until further review."

Refinery29 and Pretty Matches released a joint statement, which was obtained by Variety: "In light of recent revelations, Pretty Matches and Refinery29 are severing ties with Morgan Spurlock We stand in solidarity with the victims. We are suspending production on 'Who Rules the World' (WT) to reevaluate the best path forward for the project, and are more determined than ever to share women's stories through this series."

Super Size Me 2: Holy Chicken, Spurlock's sequel to his famous film, was pulled from the Sunday Film Festival on Friday by the remaining partners at Warrior Poets, Jeremy Chilnick and Matthew Galkin.

The company sent a statement to BuzzFeed News saying that "this is not the appropriate time" to release the documentary. The Hollywood Reporter reported that YouTube Red, which was set to distribute Super Size Me 2, said earlier on Friday that it would not distribute the film.
"We feel for all of the women impacted by the recent statements made by Morgan Spurlock," a YouTube spokesperson said in a statement to THR. "In light of this situation, we have decided not to distribute Super Size Me 2 on YouTube Red."

YouTube Red bought the film for $3.5 million after it appeared at the Toronto International Film Festival, according to THR.
Spurlock was also dropped as the executive producer of the documentary series The Trade, about the opioid epidemic, which was set to premiere at the Sundance Film Festival in January and debut in February on Showtime, Deadline reported.