As US President Donald Trump and North Korean leader Kim Jong Un met for the first time in Singapore, former NBA star Dennis Rodman — one of the few Americans who has ever met Kim — went on CNN to talk about the historic summit. And things got real weird, real fast.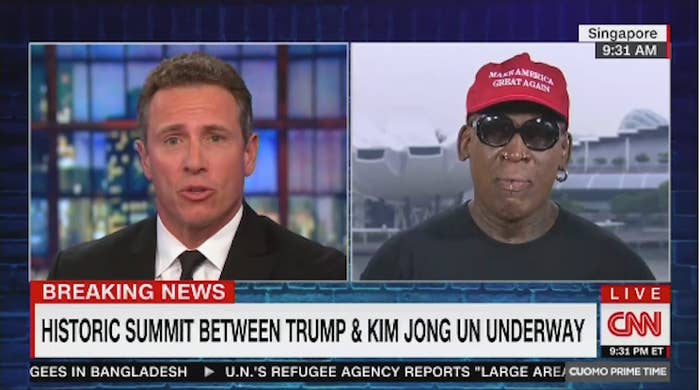 Rodman talked to the network from Singapore, where he's been hanging out on the outskirts of the US–North Korea summit, promoting a cryptocurrency scam called PotCoin and apparently waiting to see if anyone needs him.
Though he doesn't have any official role in — or invitation to — this week's summit, he has a lot of feelings about it.
"We don't need a miracle. We just need the doors to be opened so we can start fresh," he said, telling Chris Cuomo "it's a great day" and exclaiming, "I'm so happy!"
At one point, Rodman — dressed in a PotCoin shirt, a MAGA hat, and giant sunglasses — broke down in tears, talking about the "death threats" he received after returning from his trips to North Korea.
"I couldn't even go home. I had to hide out for 30 days," Rodman said, weeping.
"But I kept my head up high, brother. I knew things were going to change," he continued. "I knew it. I was the only one. I never had no one to hear me. Never had no one to see me. But I took those bullets, I took all that. Everybody came at me and I am still standing. And today is a great day for everybody, Singapore, Tokyo, China, everything, it's a great day."
Though bizarre, Rodman's appearance is Singapore isn't actually that surprising. He is one of the few Westerners who has cultivated a relationship with Kim, over several trips to Pyongyang. He was also a contestant on Trump's reality television show The Celebrity Apprentice and claims to have given Kim a copy of the US president's book The Art of the Deal.
In the interview, Rodman described Kim as "like a big kid even though he is small."
He also avoided answering repeated questions about whether Kim can speak or understand English.
"He loves to have a good time and I was seeing this morning that he was going around and taking selfies," Rodman said. (Weirdly, this was in response to a question about whether Kim speaks English — which Rodman never really answered.)
When CNN host Cuomo pointed out that Kim "is not all selfies and smiles" and has been "responsible for the deaths and hardships of a lot of people," Rodman replied: "He is a good friend to me. I don't see the politics of this whole situation. I don't want to see that."
Rodman also claimed that a "secretary" for Trump reached out to him before the summit and said, "Donald Trump is so proud of you, and he thanks you a lot."
Rodman's lawyer later told reporters that the "secretary" was White House press secretary Sarah Huckabee Sanders.
Rodman ended the interview by thanking a long list of people, including his children, Pearl Jam singer Eddie Vedder, and, of course, PotCoin.
People found the whole thing very, very strange.
"I'm watching Dennis Rodman cry on TV about North Korea and Trump because apparently I died and woke up in crazy land."
"I'm not sure it's possible to capture an entire era in one image, but Dennis Rodman running a cryptocurrency grift on live TV from the North Korea summit while wearing a MAGA is a serious nominee."
People couldn't get over Rodman's attire — and his relentless promotion of PotCoin, which is sponsoring his trip.
One person thought North Koreans "would feel weird" about Rodman's blatant dismissal of Kim's human rights violations — "if they could watch TV."
Former US director of national intelligence James Clapper thought Rodman's comments "had a lot more depth there than I think meets the eye," noting that the former basketball player "understands Kim Jong Un." Clapper said he had long pushed for involving Rodman in US–North Korea relations. "I think there is a potential to engage in a serious way."