Delta hit back at the conservative political commentator Ann Coulter Sunday after she went on a more than 24-hour Twitter rant against the airline.
Delta's response on Sunday came after Coulter had gone on a very long Twitter tirade against the airline for allegedly moving her from her preferred seat without an explanation. During the tirade, she called the customer who was allegedly given her seat a "dachshund-legged woman."
In another tweet, the airline also apologized for moving Coulter from her preferred seat and said it would refund the $30 she paid for the seat.
Delta spokesman Anthony Black told BuzzFeed News that Coulter was moved to a new seat in the same row, so it shouldn't have impacted her leg room. They also said that at the time, Coulter did not ask about the movement or complain.
"At the time, she didn't specifically call it out, she didn't complain about it, she didn't say anything about it," Black told BuzzFeed News. "She didn't say anything the entire flight — not to anyone."
Delta's website says that "seats may be reassigned to passengers with certain categories of disability," but Black told BuzzFeed News that Coulter's seat change was accidental.
"It was inadvertent," Black said, elaborating that the change occurred because a gate agent was trying to seat people together.
Black said Delta hit back at Coulter in their tweet only after it had responded to her on Twitter, through direct message, and by calling her.
He said Delta decided to send the tweet after it felt her insults had escalated and were targeting their crew and customers.
"If you look at her tweets, they go from something very specific to something very general," Black said. "Today's tweets have been ... attacking our people and our employees ... She's basically attacking 80,000 people today versus complaining about a situation that was specific to her."
Delta decided to respond to Coulter because it wanted to stick up for both its employees and its customers.
"Our response ... was to have the backs of our employees as well as to support our customers," Black said.
BuzzFeed News reached out to Coulter for more information, but did not immediately receive a response.
Coulter's saga started on Saturday after she was moved from her prebooked seat to a "less desirable" seat. She called Delta "the worst airline in America" as she began her Twitter tirade.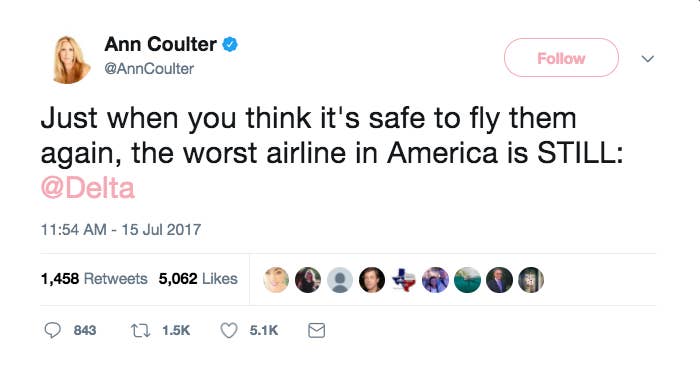 She was very upset that Delta's crew gave her seat away.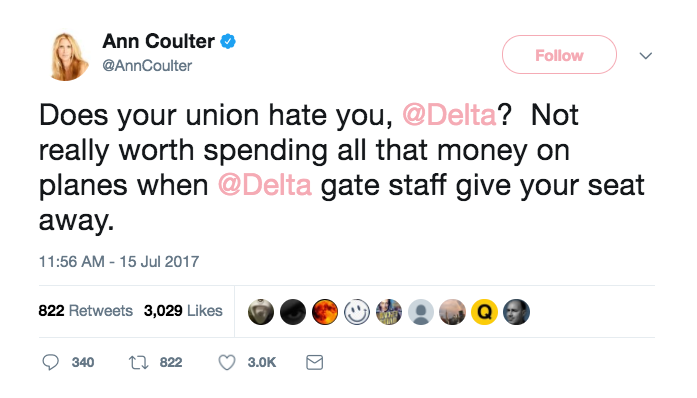 Coulter tweeted pictures of the flight attendant who allegedly asked her to switch seats without a reason.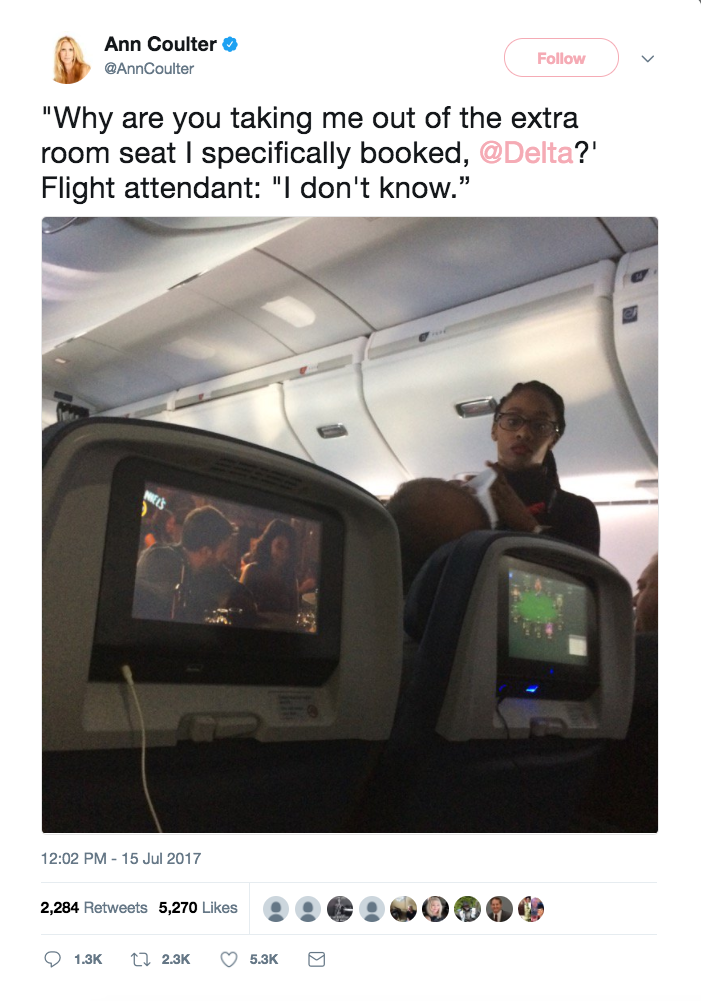 Coulter tweeted questions at the airlines.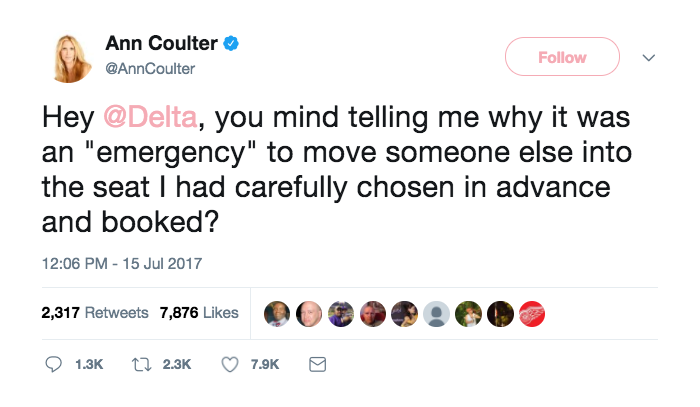 And accused them of not having working in-flight Wi-Fi in order to limit passengers from tweeting about their treatment.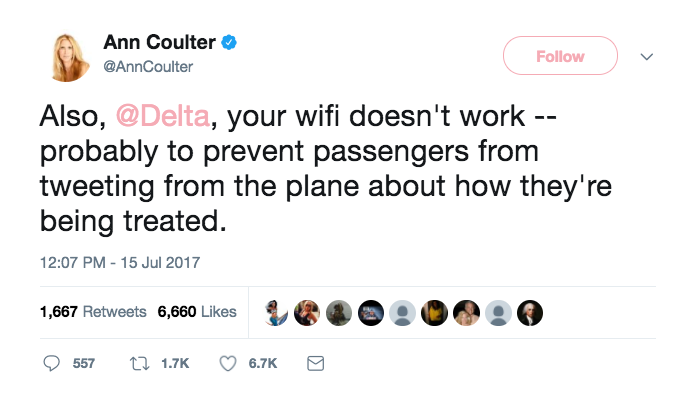 She said Delta sucks.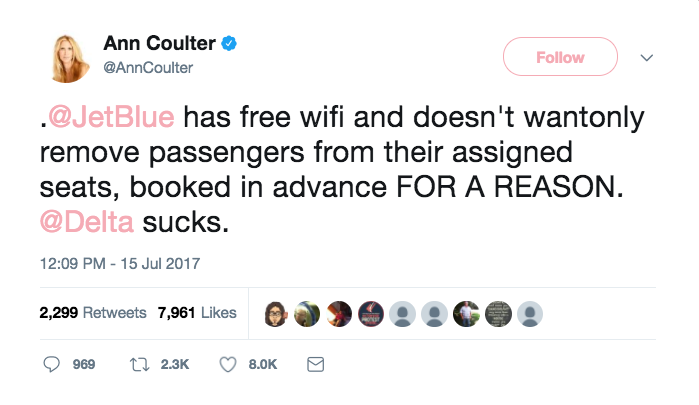 And she kept going for awhile...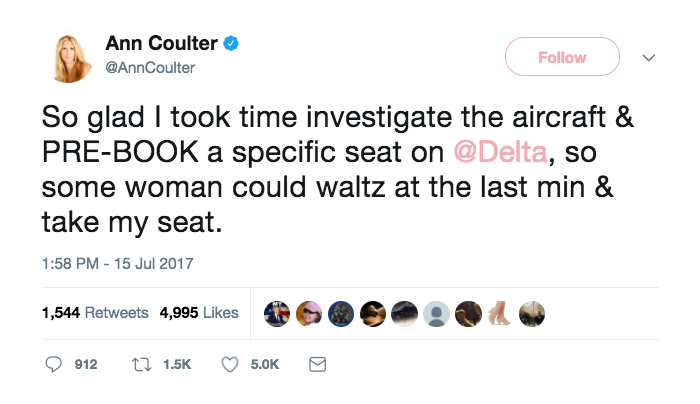 Coulter continued to demand to know why she was moved and to be compensated for inconvenience.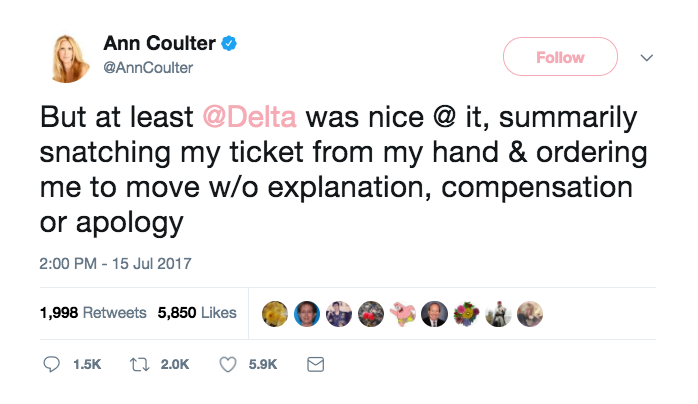 She accused the person who was given her seat of not being eligible for the switch.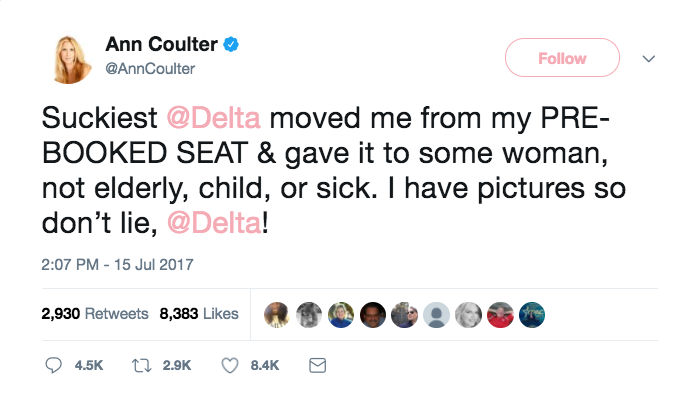 After pausing, possibly to sleep, Coulter started tweeting again about "suck-ass" Delta.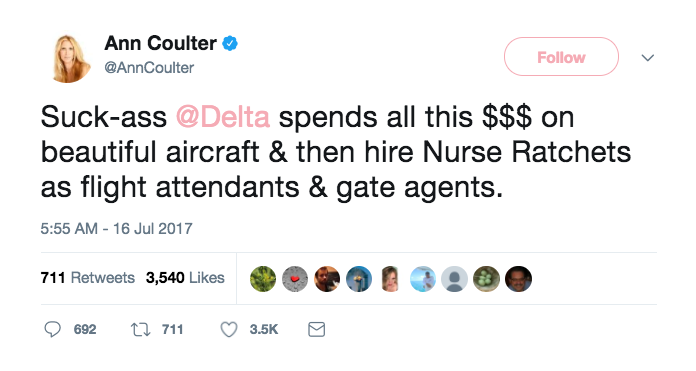 She came up with a new motto for the airline.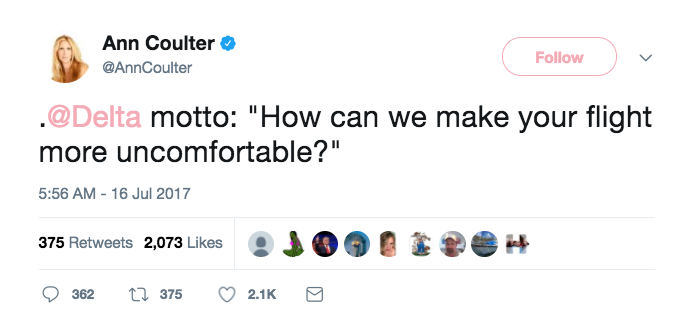 She fantasized about how it hires its staff.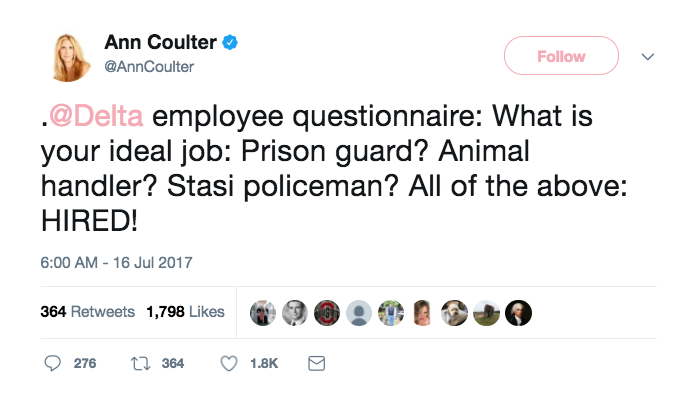 Here, Coulter called the passenger who took her seat a "dachshund-legged woman."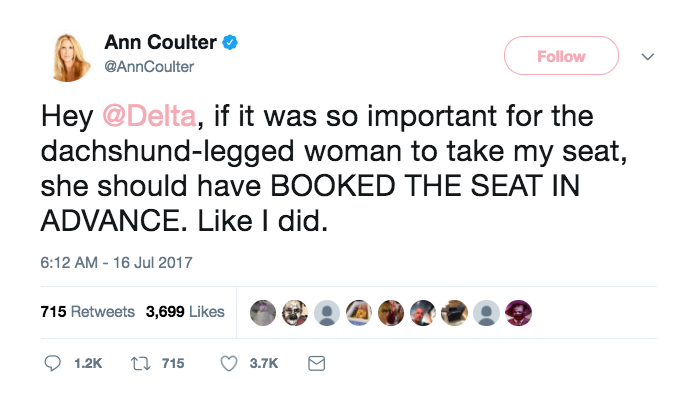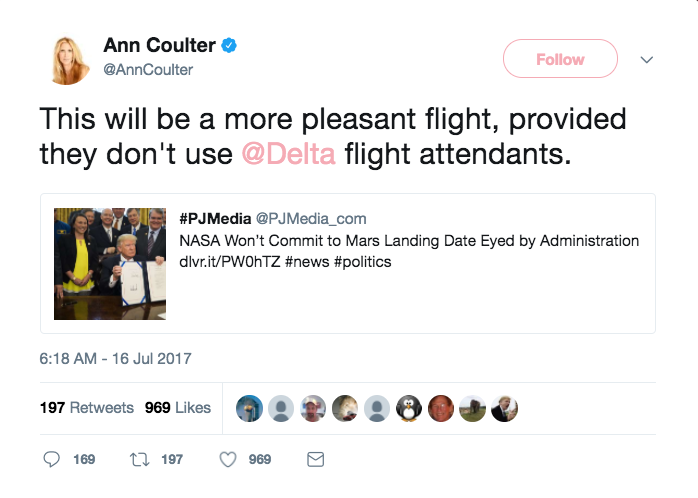 Coulter then compared her experience to Stanley Milgram's infamous experiment at Yale University in the 1960s.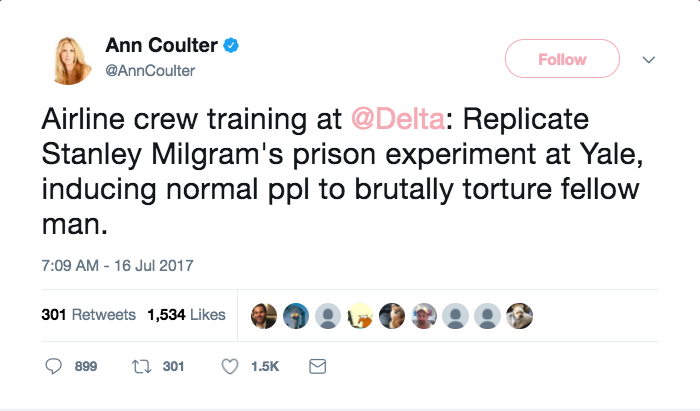 She also started to correct people, explaining she wasn't kicked off the plane, but just kicked out of her prebooked seat.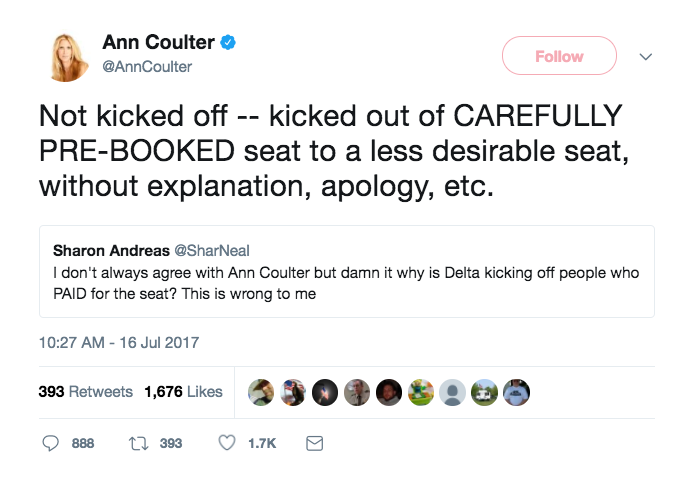 It was at this point that Delta tweeted that it would refund her seat...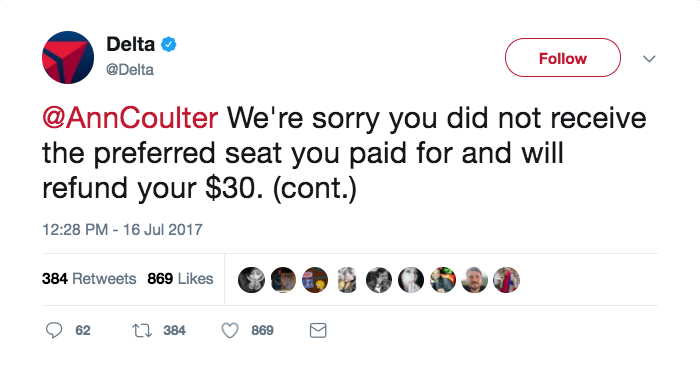 ...and sent this timeless tweet.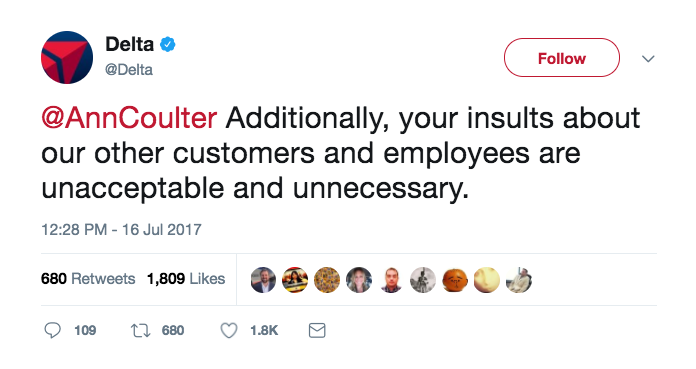 Coulter was definitely not happy with its response and started addressing the CEO of Delta, Ed Bastian.
Coulter continued to demand an explanation, despite Delta's repeated attempts to contact Coulter and its clapback.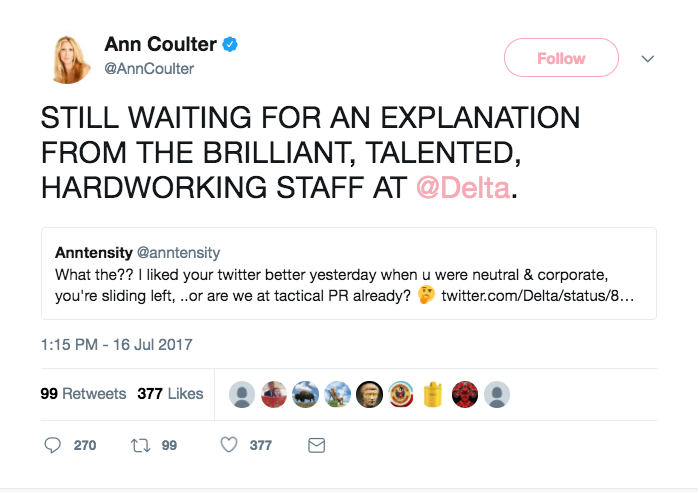 Coulter pointed out that it had been 28 hours since her initial tweet.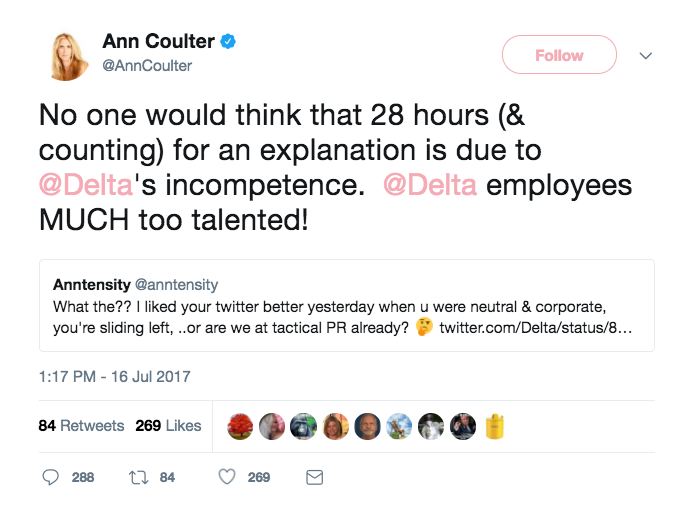 After Delta replied to Coulter, the internet had a meltdown.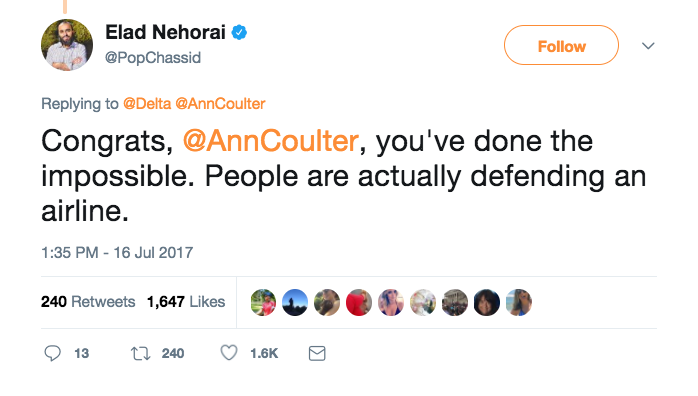 Musician Best Coast thought it was hilarious Coulter didn't fly first class.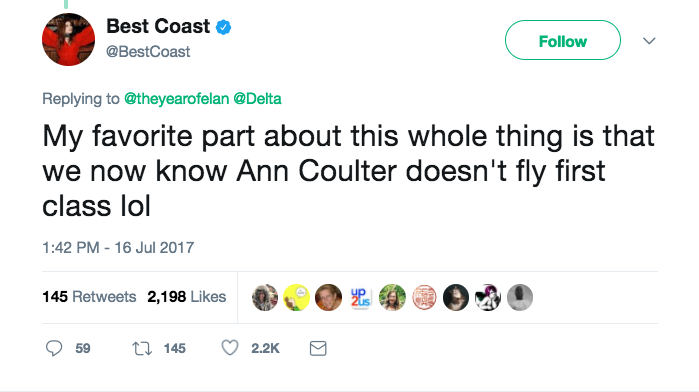 Generally people just loved the whole exchange.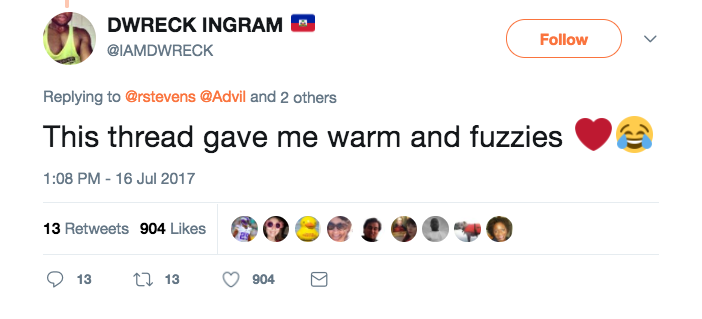 Delta seemed to have some won a few fans along the way.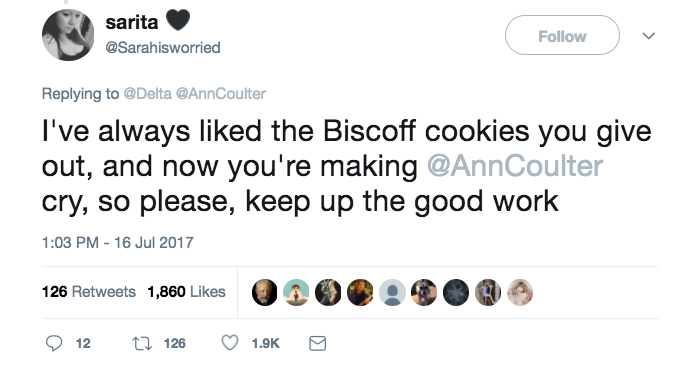 People couldn't believe the whole thing was about $30.
Still, Coulter had her own supporters too.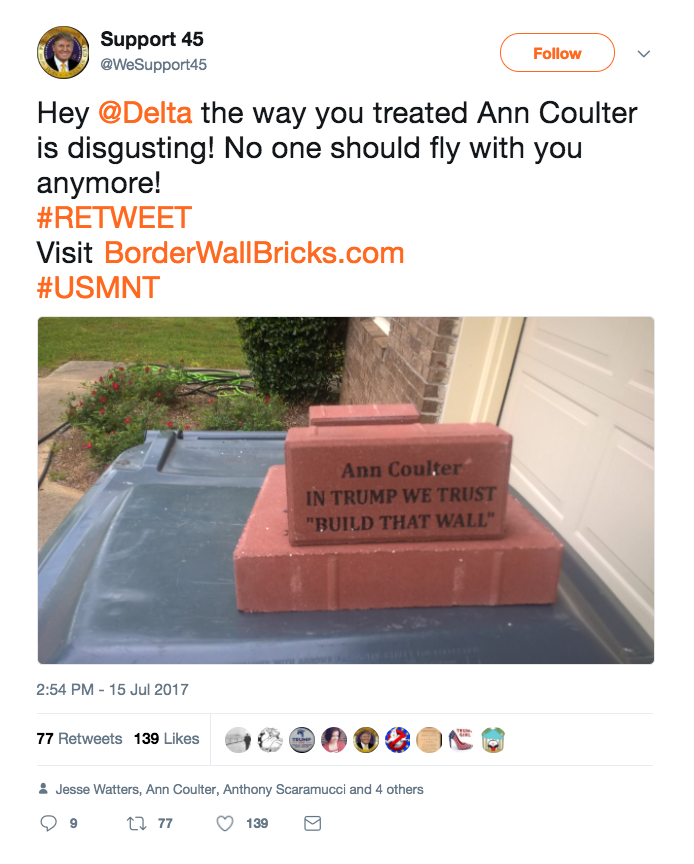 Delta issued the following statement Sunday night in response to Coulter's insults:
We are sorry that the customer did not receive the seat she reserved and paid for. More importantly, we are disappointed that the customer has chosen to publicly attack our employees and other customers by posting derogatory and slanderous comments and photos in social media. Her actions are unnecessary and unacceptable.

Each of our employees is charged with treating each other as well as our customers with dignity and respect. And we hold each other accountable when that does not happen.

Delta expects mutual civility throughout the entire travel experience.

We will refund Ms. Coulter's $30 for the preferred seat on the exit row that she purchased.
Update: About four hours later, Coulter responded on Twitter to Delta's tweet, saying, "Facts are not 'insults.'"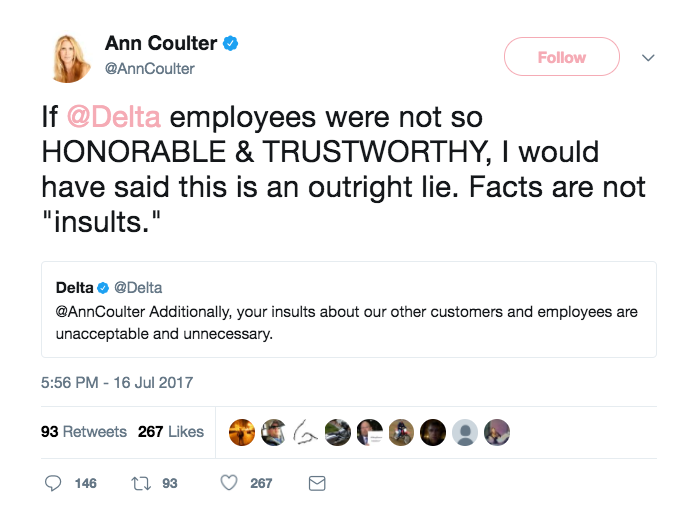 Of course, she had a few tweets to send out.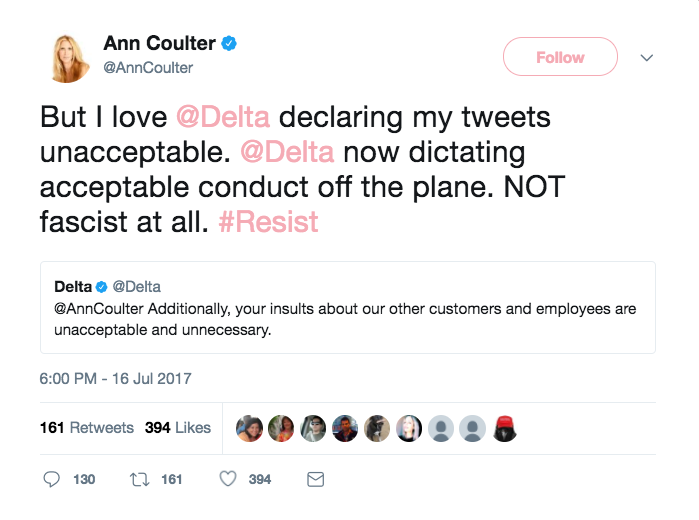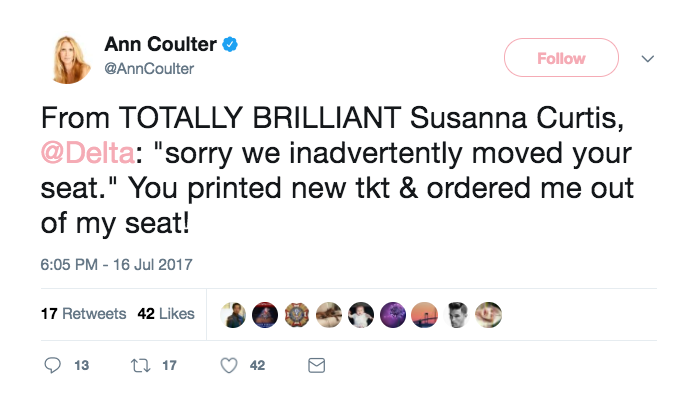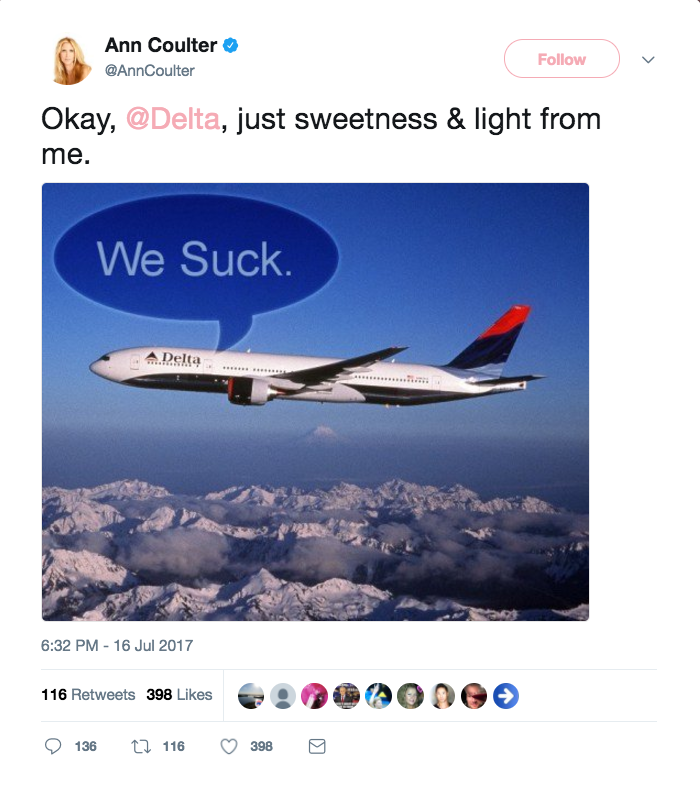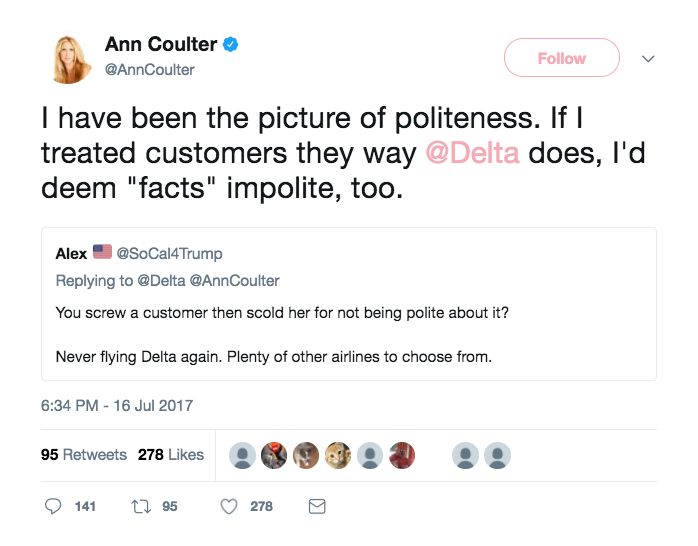 Coulter also said a $30 refund wouldn't do, saying it took about $10,000 worth of her time to choose her seat.