Daredevil Nik Wallenda Walks Tightrope Over Gorge In Navajo Nation
Native Americans protest Nik Wallenda's high-rope stunt over the Little Colorado River Gorge, which is nearby the Grand Canyon not in it.
The Discovery Channel claims that "Nik Wallenda will attempt the death-defying walk across the Grand Canyon."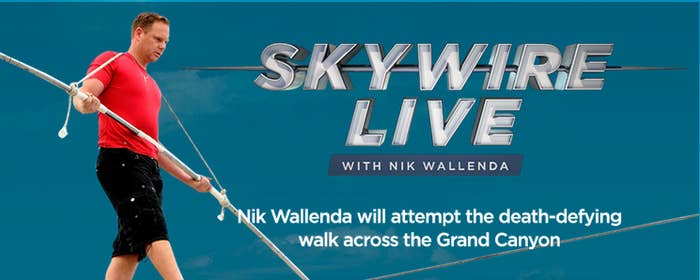 But it was actually here in the Little Colorado River Tribal Park Navajo Nation Parks on the Navajo reservation near Cameron, Ariz., outside the boundaries of Grand Canyon National Park.
On Sunday, Navajo, Hopi and other Native Americans stood along a highway to protest Nik Wallenda's tightrope walk over the Little Colorado River Gorge.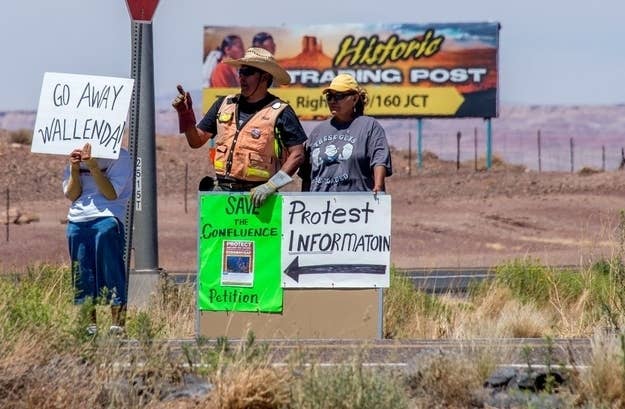 While Nik Wallenda crossed a tightrope 1,500 feet above the Little Colorado River Gorge in the Navajo Nation.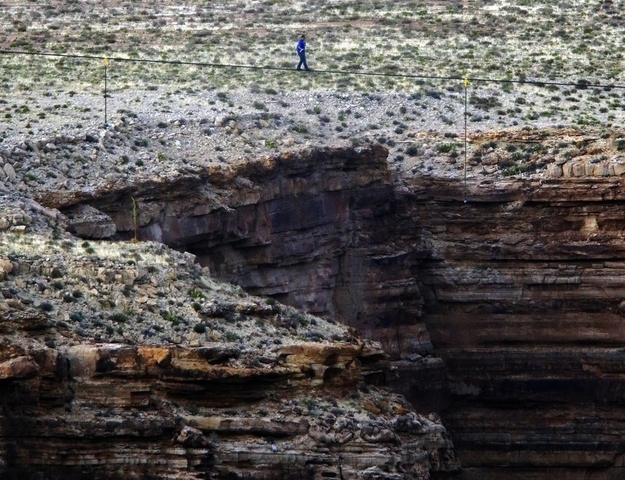 Maureen Oltrogge, the Grand Canyon National Park's public affairs officer, said the event would not have been approved in the park.
Under National Park Service regulations "events must not unreasonably impair the park's atmosphere of peace and tranquility or have an unacceptable impact on the experience of park visitors."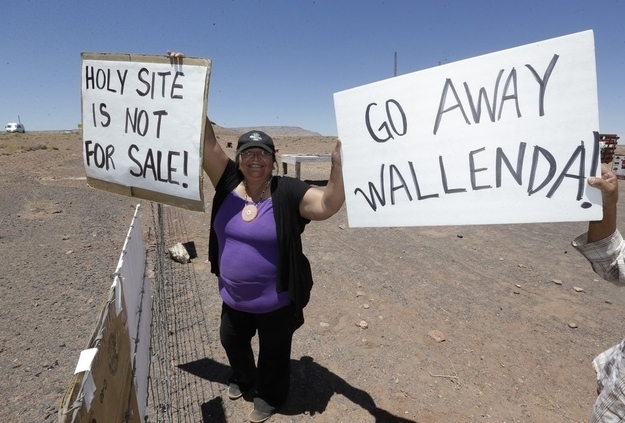 The Discovery Channel did receive permission to host the event from the Navajo Nation.
"When people watch this, our main thing is we want the world to know who Navajo people are, our culture, traditions and language are still very much alive," Geri Hongeva, spokeswoman for the Navajo's Division of Natural Resources
Hopi tribal leaders, whose reservation is nearby to the east, did not approve the event.
Hopis consider the Grand Canyon sacred, said Leigh Kuwanwisiwma, director of the Hopi Cultural Preservation Office.

"It's extremely unfortunate, insensitive and shortsighted that there isn't a more appropriate tourism-promoting activity for the tribes besides this circus stunt," said Rosanda Suetopka Thayer, a protester who is Navajo and Hopi.
Ancient Hopi walked the Colorado River near the confluence with the Little Colorado River searching for and transporting salt.
The trail became known as the Hopi Salt Trail. One of the Hopis' sacred sites, the Sipapu—a hole from which they believe their ancestors first emerged—is located nearby as well.
Wallenda completed the tightrope walk that took him a quarter mile over the gorge in about 22 minutes.
As Wallenda walked across the tightrope, he murmured prayers to Jesus.