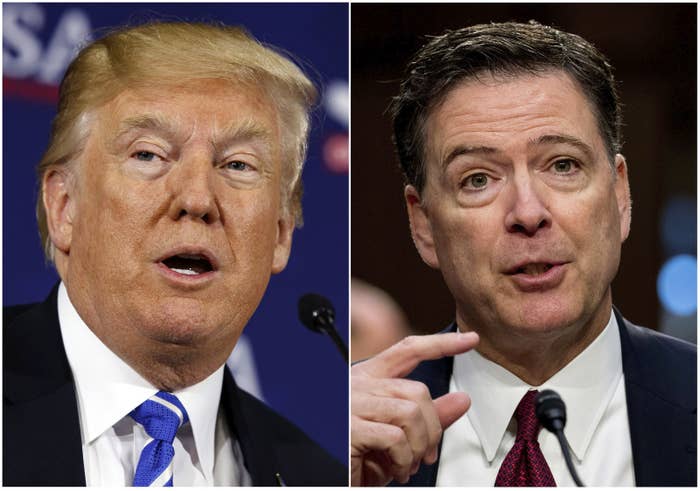 In a wide-ranging interview with ABC News on Sunday, former FBI director James Comey said that there's "certainly some evidence of obstruction of justice" on the part of President Donald Trump, and said it is possible that Russians have compromising information about the president.

The five-hour interview kicked off a publicity tour for Comey's memoir A Higher Loyalty, which details his brief stint working under Trump. In both the interview and the book, Comey — who served as FBI director from 2013 until Trump fired him in May 2017 — describes the president as being "morally unfit" to hold office.
"A person who sees moral equivalence in Charlottesville, who talks about and treats women like they're pieces of meat, who lies constantly about matters big and small and insists the American people believe it, that person's not fit to be president of the United States, on moral grounds," Comey told ABC News' chief anchor George Stephanopoulos. "And that's not a policy statement. Again, I don't care what your views are on guns or immigration or taxes."
Asked about whether Trump had obstructed justice — including with his request to end the FBI's investigation into his first national security adviser, Michael Flynn — the former FBI director responded, "possibly."

"There's certainly some evidence of obstruction of justice," Comey said.

Stephanopoulos asked, "Why is President Trump so reluctant to call out Vladimir Putin?"

Comey responded, "I don't know," adding that he's "struck by it."

"You would think that in private, talking to the FBI director, whose job it is to thwart Russian attacks, you might acknowledge that this enemy of ours is an enemy of ours," Comey said. "But I never saw. And so I don't know the reason. I really don't."

When asked if the Russians have something on Trump, Comey said it was possible.

Stephanopoulos pushed him on the question, saying, "That's stunning. You can't say for certain that the president of the United States is not compromised by the Russians?"

"It is stunning and I wish I wasn't saying it," Comey replied, "but it's just the truth. I cannot say that. It always struck me and still strikes me as unlikely, and I would've been able to say with high confidence about any other president I dealt with, but I can't. It's possible."

When asked about his first impression of Trump, Comey said he was similar to how he "thought he looked on television."

Trump has "impressively coiffed hair, it looks to be all his," Comey said. "I confess, I stared at it pretty closely and my reaction was, 'It must take a heck of a lot of time in the morning,' but it's impressively coiffed.

"He looked slightly orange up close with small, white half-moons under his eyes, which I assume are from tanning goggles," Comey added.

The interview escalated the ongoing battle between Comey and the president, who just hours earlier had tweeted that his former FBI director was a "slimeball" and "the WORST FBI Director in history, by far!"