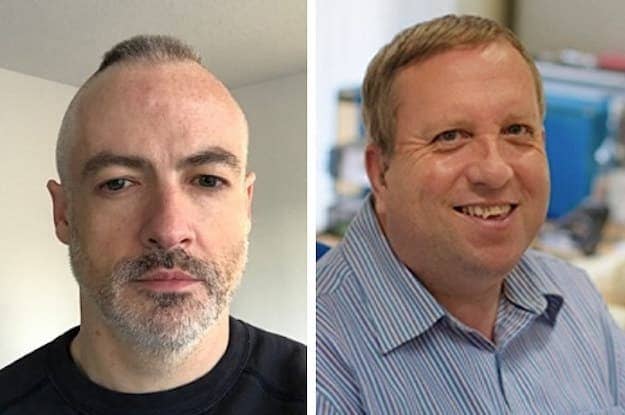 The gruesome stabbing of a Northwestern University professor's 26-year-old boyfriend was part of the sexual fantasy conjured in a chatroom by the professor and an Oxford University employee, a Chicago prosecutor told a judge Sunday.
Microbiologist Wyndham Lathem, 46, and Andrew Warren, 56, met on the internet and discussed "carrying out their sexual fantasies of killing others and then themselves," Natosha Toller, an assistant state's attorney in Cook County, Illinois, said at a bond hearing, according to the Associated Press.
The pair had communicated for months before carrying out the July 27 killing of Lathem's boyfriend Trenton James Cornell-Duranleau, the prosecutor said. It is not clear why they did not carry out their alleged plan to kill themselves, or whether there were any other victims.
According to Toller, Lathem paid for Warren's ticket to fly to Chicago from the United Kingdom, where he was employed as a treasury assistant, and picked him up at the airport a few days before the killing. One day before the murder, Lathem put Warren up in a hotel near his high-rise condo, where Cornell-Duranleau was later found dead, the prosecutor said.

Cornell-Duranleau, a 26-year-old hairstylist, had been asleep in Lathem's condo when the professor let Warren in, according to Toller's account. Lathem then began stabbing Cornell-Duranleau in his chest and neck with a 6-inch drywall saw knife, Toller said. He allegedly asked Warren to record the killing, but Warren failed to do so.
When Cornell-Duranleau awoke, he began screaming and fighting back, while Lathem yelled at Warren to help subdue him, prosecutors claim; Warren then came over and struck the younger man in the head with a lamp, while Lathem continued to stab him. Warren then left the room and returned with two kitchen knives, allegedly joining in on the stabbing.
The prosecutor told the court that the victim's last words were to Lathem: "Wyndham, what are you doing?"
Cornell-Duranleau was stabbed 70 times, and with such force that he was nearly decapitated. His throat was slit and his pulmonary artery was torn.

After showering, prosecutors said, Lathem and Warren then left the apartment, kicking off what would become an eight-day manhunt for the suspects. They surrendered separately to authorities in California earlier this month. Both men have been charged with first-degree murder in Cornell-Duranleau's slaying.
In a strange twist, on the same day as the murder, Lathem made a $5,610 cash donation to Chicago's Howard Brown Health Center in the name "Cornell-Duranleau," according to the prosecution. He and Warren then drove to Lake Geneva, Wisconsin, where Lathem left a $1,000 donation to the local public library in the victim's name, Toller said.
She also said Lathem recorded video messages of himself, in which he admitted to the killings. In the messages, which he sent to his parents and friends, the now-fired Northwestern professor, who did academic work on the bubonic plague, says that "he is not the person people thought he was," according to the prosecutor.
Cook County Associate Judge Adam Bourgeois Jr. declared both men potentially dangerous and a flight risk, and ordered that they remain in jail until their trial.