Hollywood Reacts To The Death Of Debbie Reynolds
"Debbie Reynolds helped light my passion for performing with Singin' in The Rain. She will always be an icon. Rest with Carrie, Debbie."
Hollywood legend Debbie Reynolds died at age 84 on Wednesday, just one day after her daughter, Carrie Fisher, was also pronounced dead. Here's how celebrities expressed their grief.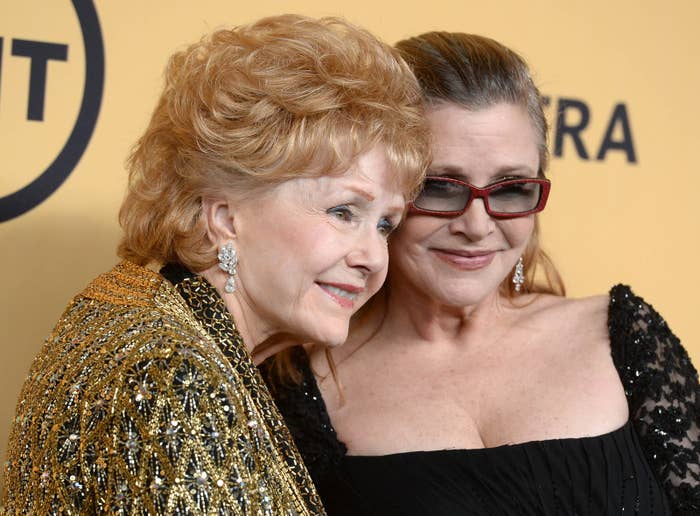 Dancing With The Stars judge Carrie Ann Inaba tweeted "the losses of 2016 are too much to bear" and sent her condolences specifically to the dance studio that Reynolds started.
Mario Lopez wrote "I'll always cherish our dances together."
Filmmaker Kevin Smith said he was "rewatching her be genius" in the 1996 film Mother that she starred in with Albert Brooks.
Brooks called Reynolds "a legend and my movie mom."
Comedy writer Travon Free shared this clip from the movie that made Reynolds famous in 1952.
The executive producer of Grey's Anatomy said "Debbie Reynolds, God is holding you and Carrie in his hands."
Chad Coleman, known for his roles on the Wire and the Walking Dead, said Reynolds and Fisher were "performing together 4ever!"
Dean Cain, who is best known for playing Superman on the TV show Lois & Clark, hashtagged broken heart.
The band One Republic shared the praying emojis.
Public Enemy's Chuck D called her "one of my favs growing up."
Ellen DeGeneres sent her condolences and love to the family.
Liza Vanderpump from the Real Housewives of Beverly Hills said "To lose your child,is a grief maybe too much to bear #RIP Debbie Reynolds."
Grant Gustin, known for playing The Flash, said "Debbie Reynolds helped light my passion for performing with Singin' in The Rain."
Zoe Saldana said "Today is officially a sad day. As a mother my heart goes out to Debbie Reynolds and her daughter Carrie Fisher."
Rose Mcgowan wrote "A final curtain made of tears."
William Shatner, who portrayed Captain Kirk on the Star Trek series, called her "one of the last of Hollywood Royalty."
Lost and Hawaii 5-0 star Jorge Garcia wrote "In shock."
Actress Gabourey Sidibe said "I can't imagine what kind of pain the family of Carrie Fisher and Debbie Reynolds are feeling right now."
Actress Shannen Doherty shared a photo on Instagram and wrote "RIP Debbie Reynolds. Shocking and so sad."
I Dream of Jeannie star Barbara Eden shared a photo of her and Reynolds and said she was "such a talented charming lady & a good mother."
George Takei, known for his role on Star Trek and his activism, said "There is nothing harder than having to bury a child. Debbie died of a broken heart, but she's with her daughter now."
"I hope they're somewhere having fun," actress Mia Farrow said about Debbie Reynolds and Carrie Fisher.
Actress Debra Messing, who played Reynolds' daughter on Will & Grace, wrote a lengthy post on Instagram, saying "Debbie went to be with Carrie. She always worried about her. Carrie left too soon and now they are together again. My heart is literally broken. For 8 years she was my mom. She was pure energy & light when she came on stage."
Actress Joan Collins wrote that she felt "truly heartbroken" and that "she was a wonderfully warm friend and colleague."
Actress Alyssa Milano wrote, "Dear Debbie Reynolds, I totally get it. Hug her so tight for all of us."