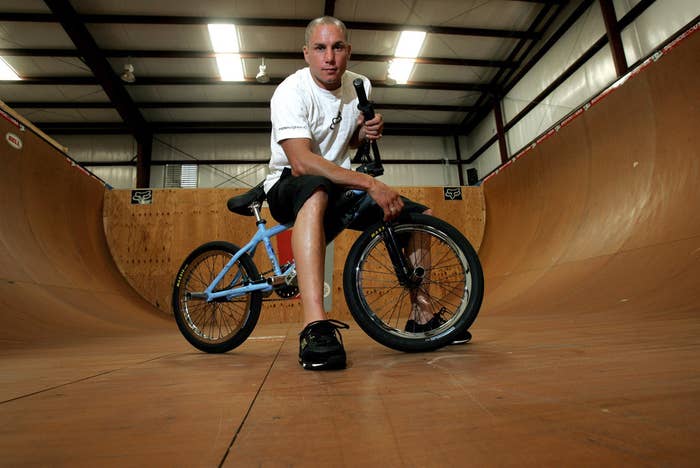 Dave Mirra, who held the world record for most X Games medals until 2013, was found dead from an apparent self-inflicted gunshot wound Thursday, police said.
The body of the 41-year-old was discovered inside a truck Thursday afternoon in Greenville, North Carolina. Police said Mirra had been visiting friends in the area.
In a statement to BuzzFeed News on Saturday on behalf of the family, Mirra's agent, Steve Astephen, said, "Dave's wife and family are shocked and saddened by the loss of such a remarkable person whom they loved so deeply. Thank you for your kind thoughts and prayers and for respecting their privacy through this difficult time."
Mirra was originally from Chittenango, New York, but moved to Greenville in the 1990s and was influential in turning it into what is now called "Protown" because so many professional BMX riders have come out of the area.
Greenville Mayor Allen Thomas mourned the loss of Mirra in a statement.
"We mourn the loss today of a great friend and wonderful human being who touched the lives of so many around the world with his gift," Thomas said. "He called Greenville, North Carolina, home and was as humble a guy talking with kids on a street corner about bikes as he was in his element on the world stage. A young life with so much to offer was taken too soon."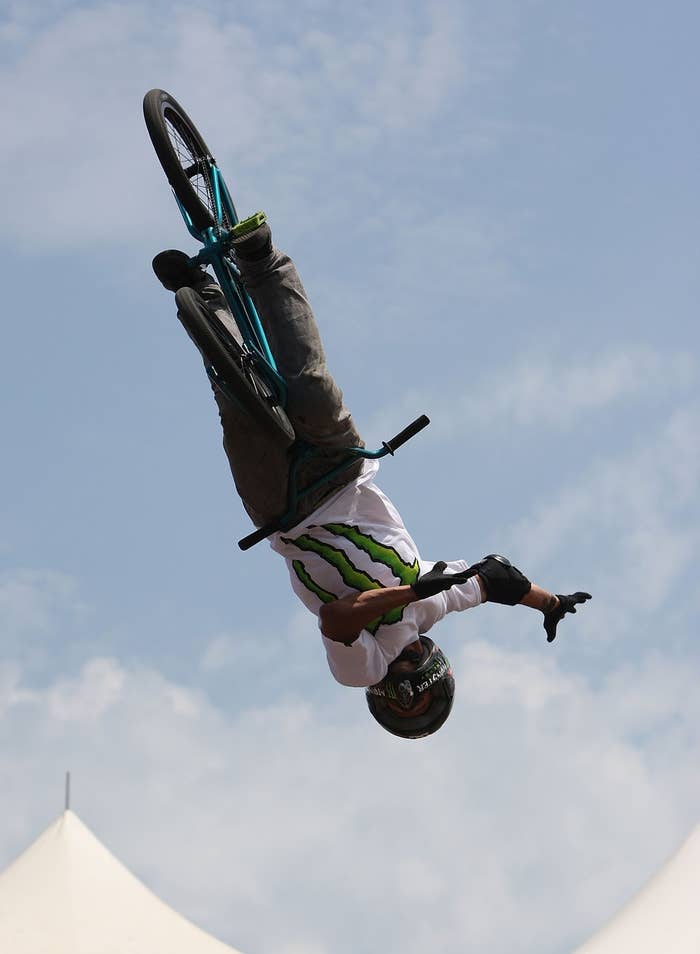 Mirra holds 24 medals for the X Games, which made him the world record holder until 2013, when Bob Burnquist tied his medal count.
In 2000, he became the first park rider to land a double backflip during a competition, according to his website.
Along with his successful BMX career, Mirra hosted two seasons of MTV's Real World/Road Rules Challenge as well as being featured in his namesake video game.
In 2007, Mirra started his own bike company called MirraCo.
Mirra is survived by his wife, Lauren Blackwell Mirra, and two children.
On Thursday, Mirra apparently posted a picture of himself and his wife to Instagram, writing "My rock! Thank god."
Mirra also frequently posted pictures of his two daughters.
"A girl that is inspired and loves her daddy," Mirra wrote with this photo. "A little goes long way. Just be there. Love u Madi"
Mirra's friends and fans took to social media to express their condolences.
Famed skateboarder Tony Hawk called Mirra "a true pioneer" and said "we are heartbroken."
BMX rider Brian Kachinsky thanked Mirra "for pushing the boundaries of what was possible."
Freestyle motocross rider Kenny Bartram called Mirra "a legend and friend."
Patrick Quinn, a sports reporter at Greenville's WNCT, called Mirra the "ultimate family man."
People also tweeted about how much Mirra meant to the community of Greenville.
"He gave it an identity," said MarketWatch reporter Jeremy Owens about Mirra's tremendous impact on Greenville.
Many fans also credited Mirra with introducing them to BMX riding and making them love it.