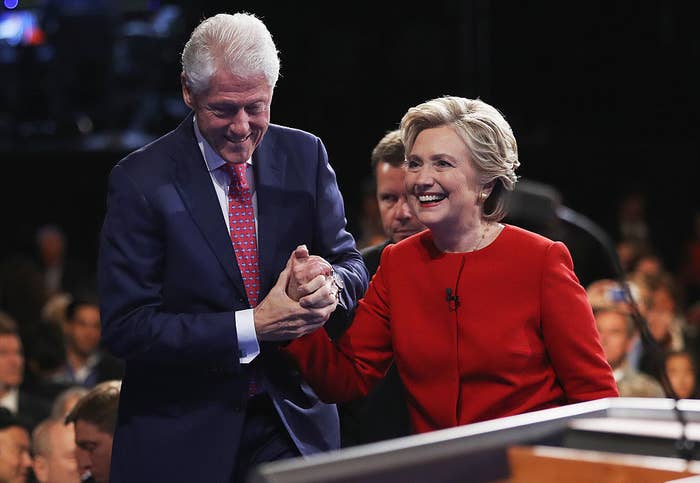 Bill Clinton called Obamacare "the craziest thing in the world" during a rally Monday, but walked back his comments after Republicans pounced on his criticism of President Obama's signature policy achievement.
During the speech in Michigan, Clinton said the Affordable Care Act (ACA) worked fine for those eligible for Medicaid or on Medicare, and for anyone who receives enough subsidies to afford coverage, but insisted it had not been kind to middle-class Americans.
"So you've got this crazy system where all of a sudden 25 million more people have health care and then the people who are out there busting it, sometimes 60 hours a week, wind up with their premiums doubled and their coverage cut in half. It's the craziest thing in the world," Clinton added.
Hillary Clinton's message on Obamacare has focused on improving an imperfect, but necessary, system.
Donald Trump seized on the former president's comments at a rally in Arizona, saying he "absolutely trashed President Obama's signature legislation," but "at least he's honest."
He also told the crowd he bet Hillary Clinton put her husband through "hell" Monday night.
"I'll bet he went through hell last night. Can you imagine?" Trump asked, adding: "But you know, honestly, there have been many nights when he's gone through hell with Hillary."
In Ohio Tuesday, Bill Clinton again talked about Obamacare, but toned down his language, telling the crowd it "did a world of good," and rebuked Republicans for trying to repeal it.
"We, for the first time in our history, at least are providing insurance to more than 90% of our people."

"But there is a group of people," Clinton continued, "mostly small business owners and employees, who make just a little too much money to qualify for Medicaid expansion or for the tax incentives who can't get affordable health insurance premiums in a lot of places."
His wife's proposal would allow people without access to subsidies to buy into Medicare and Medicaid.
Asked to respond to the critiques, White House Press Secretary Josh Earnest told reporters President Obama has acknowledged that there are some things that could be done to further strengthen the law, with cooperation from Democrats and Republicans in Congress.
"That's something that Secretary Clinton has vowed to pursue if she is elected President of the United States," he added.
When pressed about whether he wished Bill Clinton hadn't used the word "craziest" to describe Obamacare, Earnest said, "Of course."