Updated — April 30, 11:15 p.m. ET:
At least 65 tornadoes hit the U.S., according to estimates from the National Oceanic and Atmospheric Administration.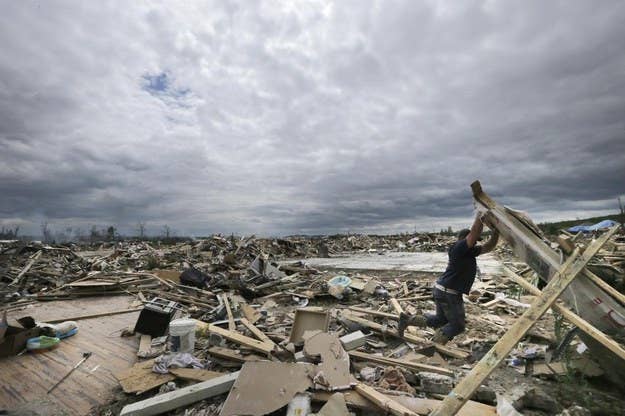 In one of the few times in history, the U.S. was hit two days in a row with tornado deaths in the double digits, on Sunday and Monday.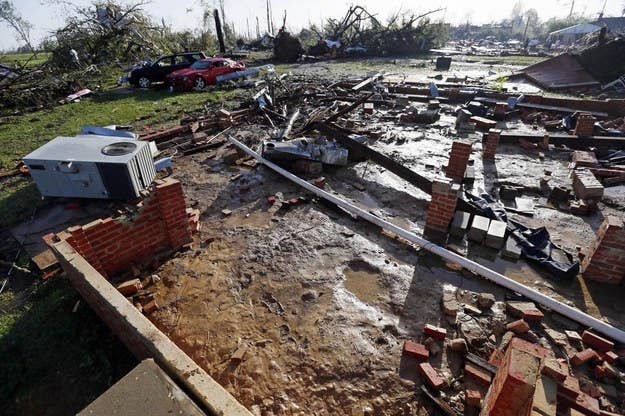 In all, 37 deaths in eight states were caused by the storms.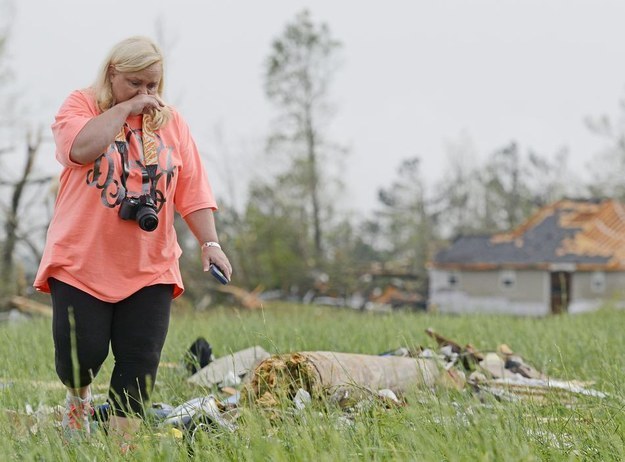 The storm series impacted 16 states in some way, most in the South and the central area of the nation.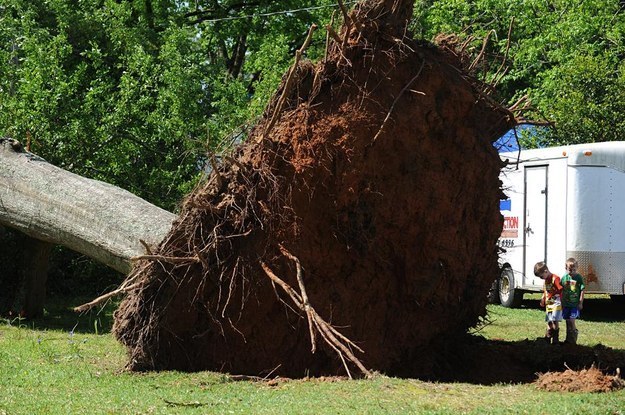 Nearly 2 feet of rain fell in some areas.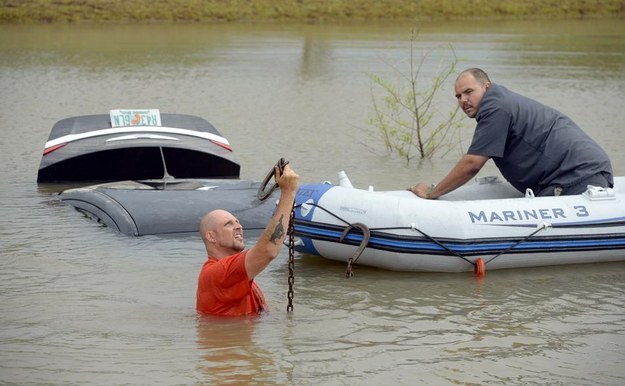 On Monday, tornadoes struck Mississippi and Alabama causing widespread damage.
On Sunday powerful storms ripped through parts of central Arkansas, Oklahoma, Kansas, Missouri, and Iowa.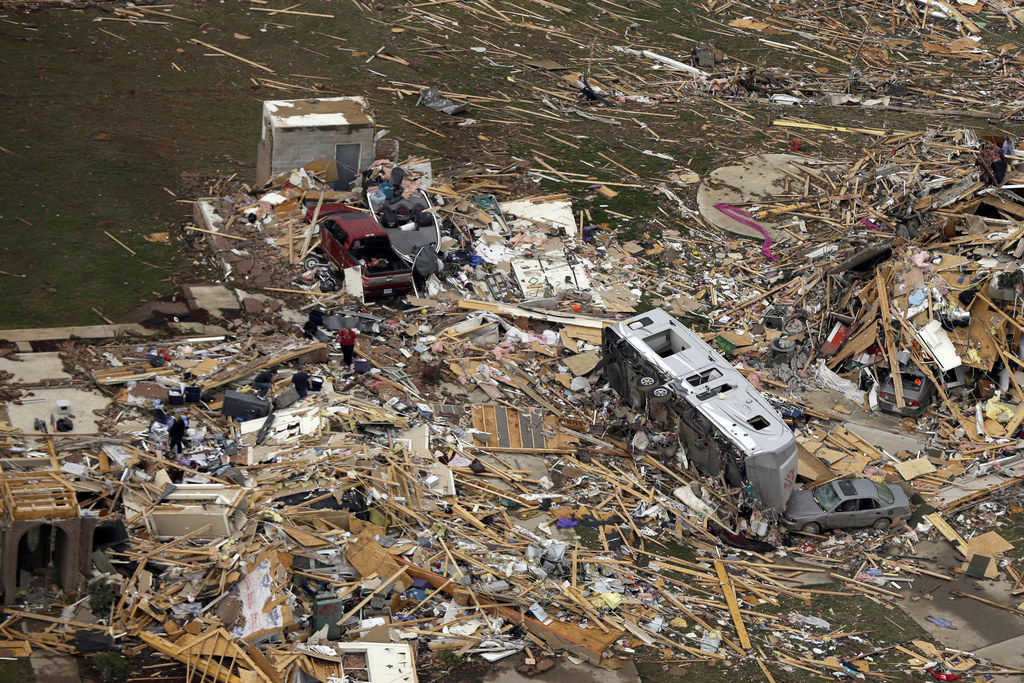 In Alabama up to three deaths were reported from the massive storm system on Monday.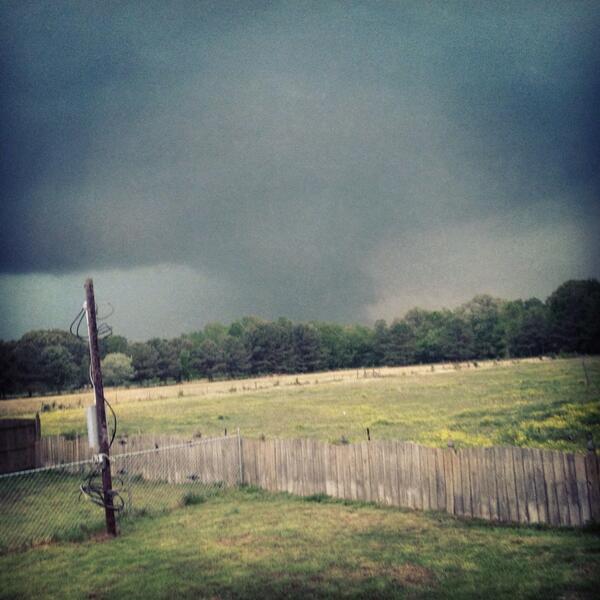 One death includes University of Alabama student and swimmer, John Servati, 21, who was taking shelter in the basement of a home, when a wall collapsed on him.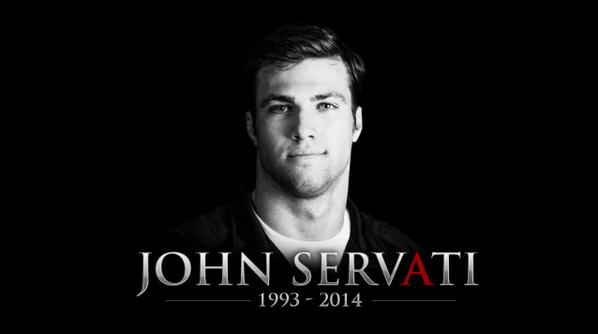 In Mississippi up to 12 people died as a series of tornadoes swept across the state.
Several buildings were destroyed or damaged in Tupelo, Miss., when a twister hit that city on Monday.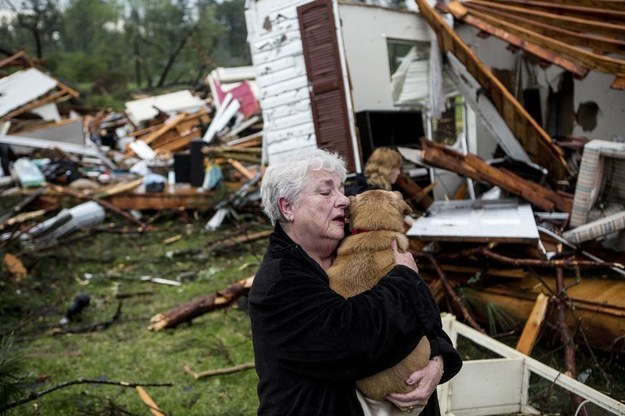 A twister possibly a mile wide was reported near Louisville, Miss. Officials reported at least nine dead in and around the area Monday.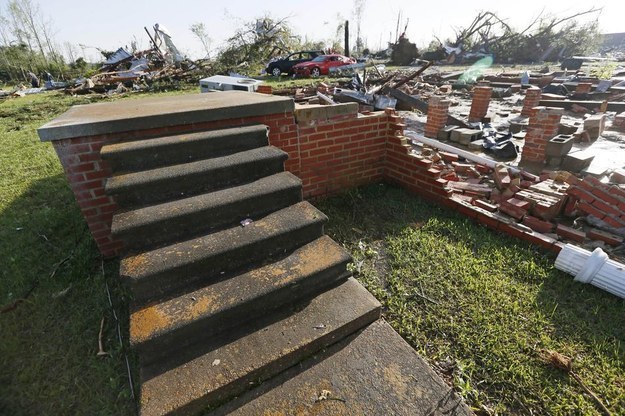 One woman died Monday when her car either hydroplaned or blew off a road during the storm in Verona, south of Tupelo, Miss., Lee County coroner Carolyn Gillentine Green said.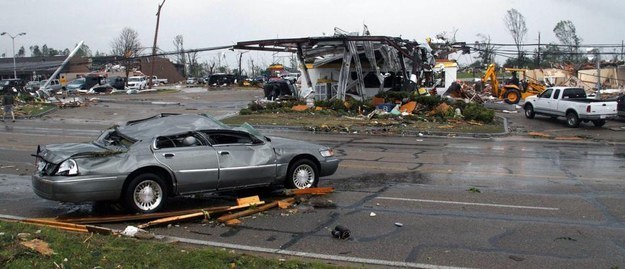 Ruth Bennett, 53, died clutching the last child left at her day care center in Louisville, Miss., as a tornado wiped the building from the ground. A firefighter who came upon the body gently picked up the toddler, who was still alive.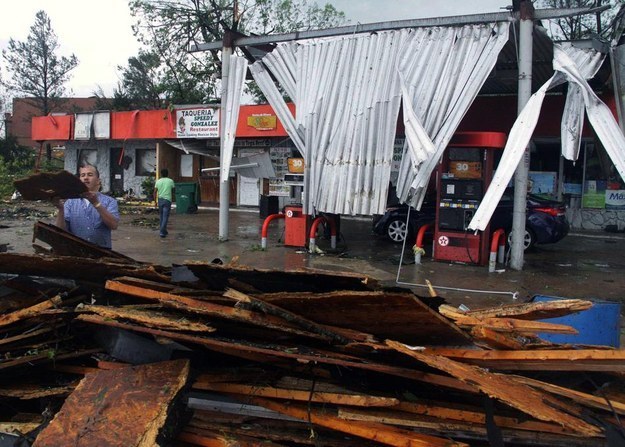 Altogether, Louisville, Miss., was one of the hardest hit ares with 45 people have been reported injured.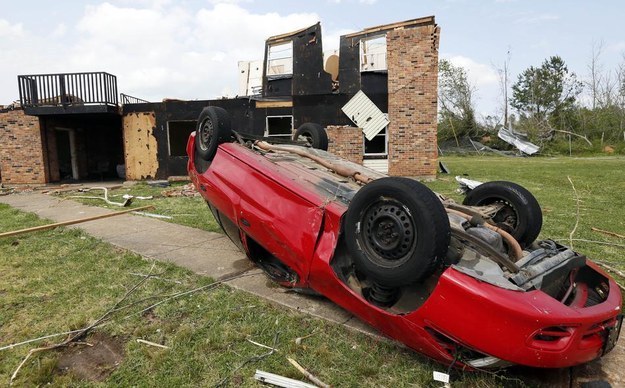 On Monday there were two deaths reported in Lincoln County, Tenn.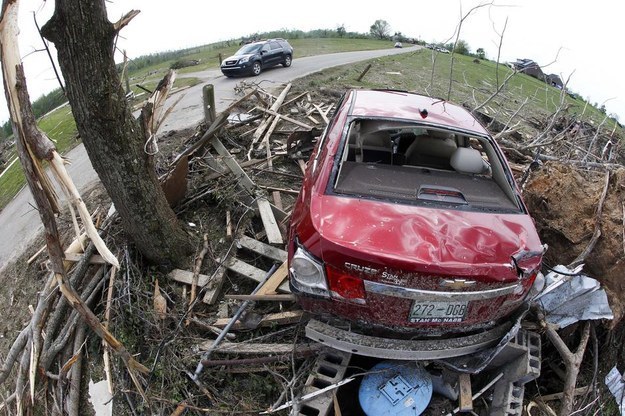 On Sunday at least one person was reportedly killed when a twister hit Quapaw in northeastern Oklahoma, Ottawa County sheriff's dispatcher Colleen Thompson said. An additional six were injured.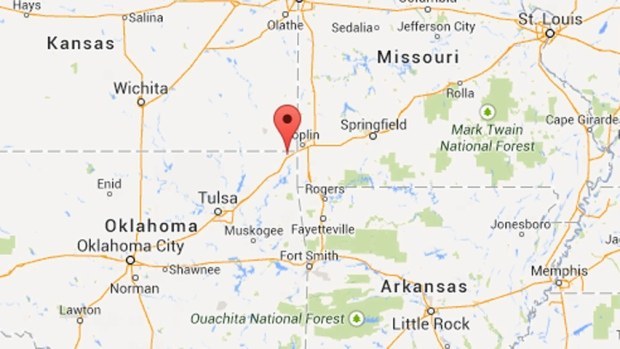 The north side of the town with a population of 900 people was hit hard and a fire station was destroyed, Emergency Management Director Joe Dan Morgan said.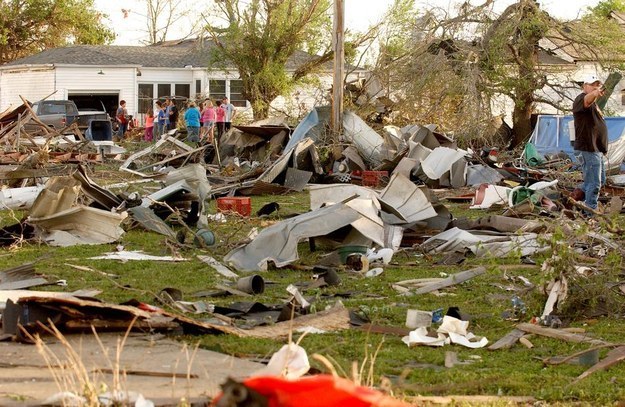 After hitting Quapaw, the twister continued northward into Kansas.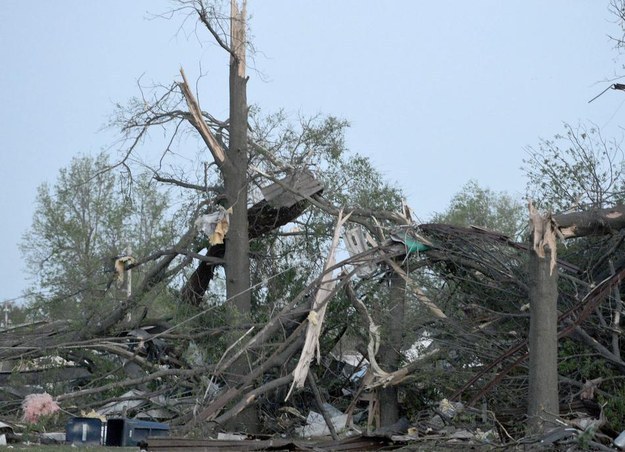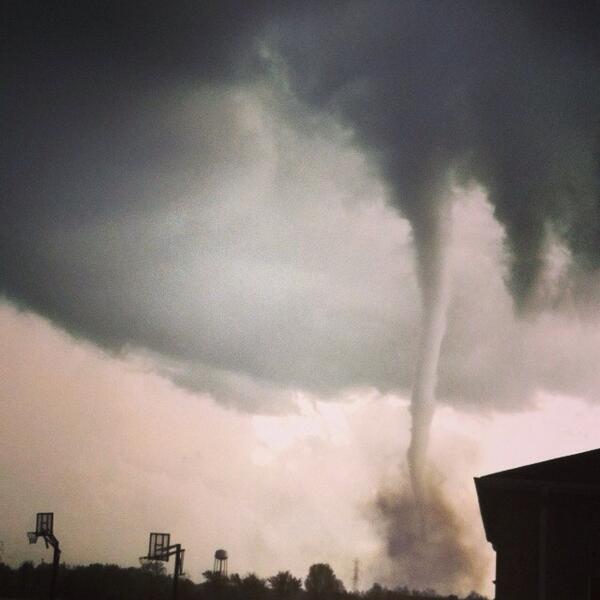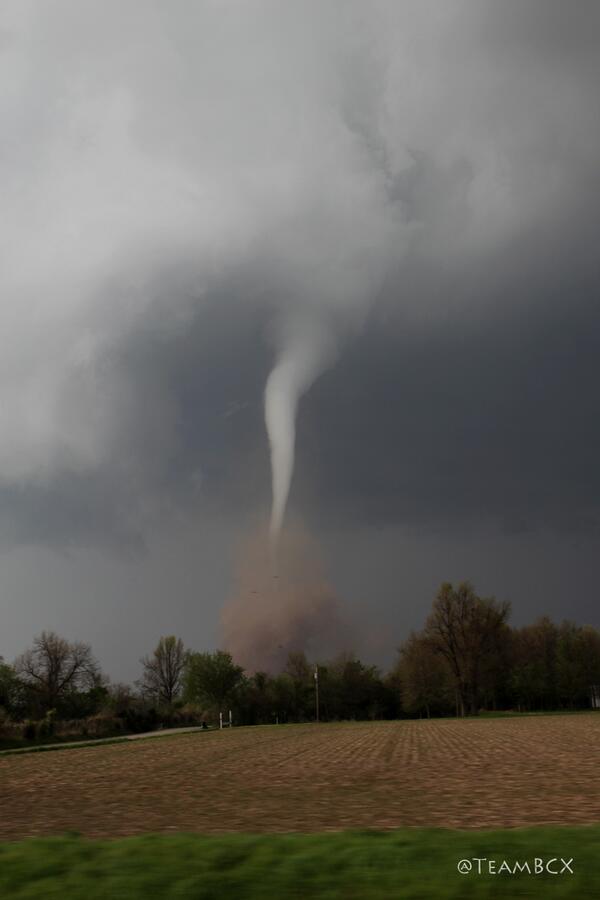 A tornado was spotted on the ground north of Little Rock, Ark., and destroyed homes in the nearby communities of Mayflower and Vilonia.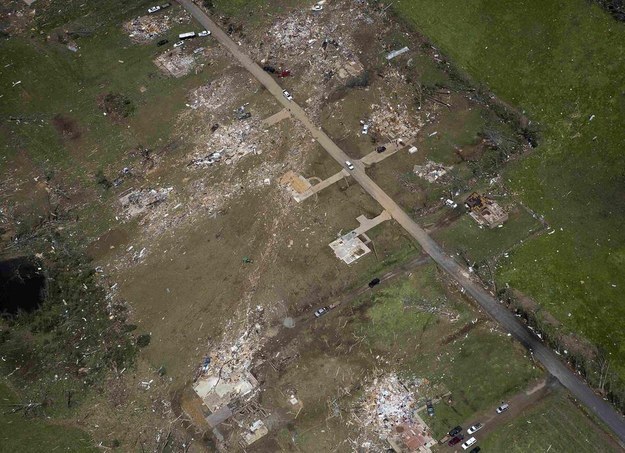 At least 15 people were killed in Arkansas, officials said.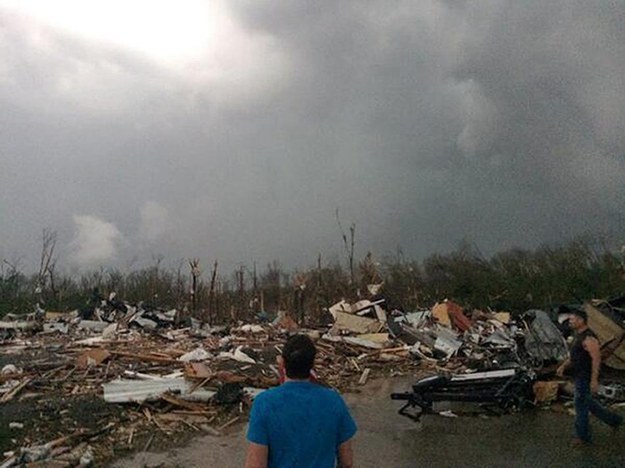 Below a funnel cloud is seen northwest of Joplin, Mo. The Missouri Highway Patrol reported a tractor-trailer was blown onto its side on Interstate 70 about 30 miles east of Kansas City about 1 p.m. No one was injured.
There have been additional reports of tornadoes making touchdowns in Iowa and Nebraska on Sunday.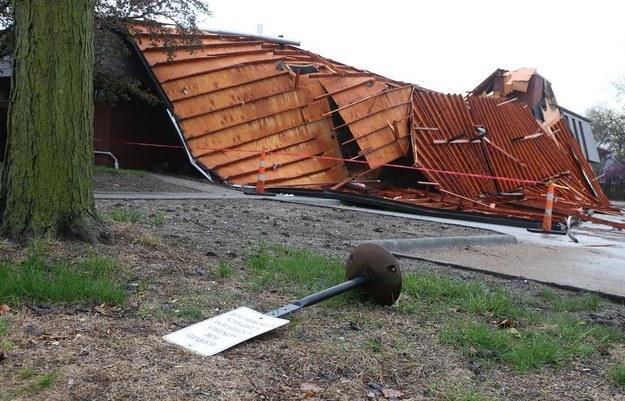 The nation's first tornado-related death of 2014 occurred Sunday in North Carolina, when an 11-month-old boy died from injuries suffered when a twister sent the roof on his home crashing down on Friday.
The storm on Friday is not related to the series of storms happening in central states on Sunday.