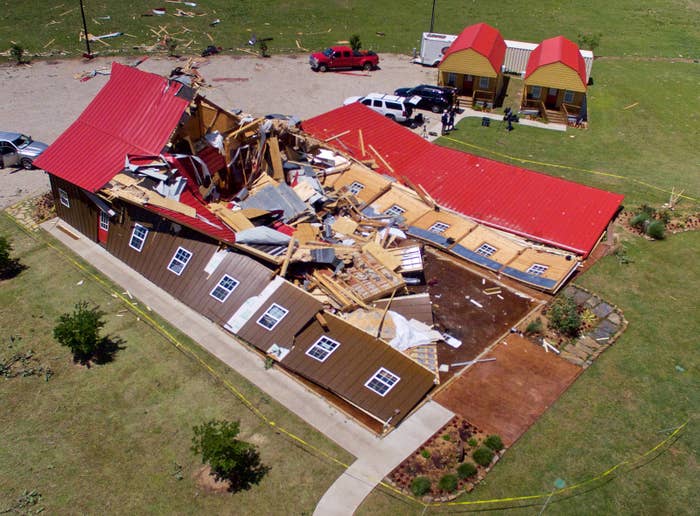 A series of deadly storms tore across the South and Midwest this weekend, killing at least 16 people and leaving a trail of devastation in their wake.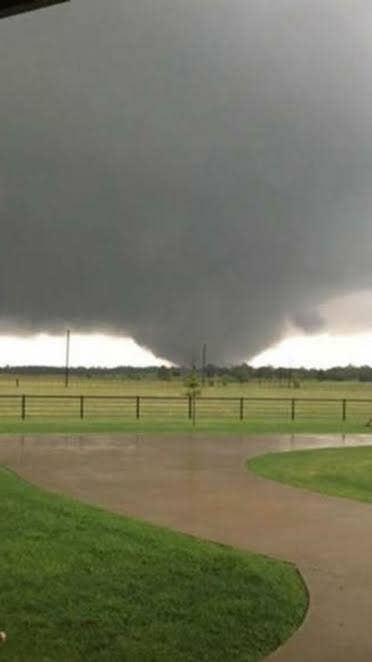 In eastern Texas, four tornadoes touched down Saturday, killing at least four people. The tornadoes flattened homes, pulled trees out, and destroyed a car dealership in Canton, about 60 miles east of Dallas. The Rustic Barn, where a local high school was scheduled to hold its prom Saturday night, was completely flattened.
All told, more than 5,000 homes and other buildings were in the path of the storm, said Texas Gov. Greg Abbott, who viewed the area by helicopter and car Sunday.
"You saw homes and other buildings that were completely flattened, as well as others that were nothing more than rubble," Abbot said during a news conference. "It was just large swath after large swath of devastation."

The Canton Fire Department said that one person died when a car was flipped over by a tornado, according to the Dallas Morning News. By Sunday afternoon, four deaths had been confirmed and two people were still unaccounted for, Canton Mayor Lou Ann Everett told the newspaper. BuzzFeed News reached out the fire department for additional information.

In Arkansas, six people were killed in storms, including a 10-year-old girl and a volunteer fire chief, and two children were still missing as of Monday. The chief, Doug Deckard, died when he was struck by a vehicle while working in a thunderstorm, Cleburne County Sheriff's Office said on Facebook. On Monday, the body of a kayaker who had gone missing near Little Rock was found, the Associated Press reported.
In Northern Arkansas, where massive flooding caused multiple road closures, the 10-year-old girl died after being swept away by an overflowing river. A woman who disappeared while floating in an inner tube on Saturday was found dead in a creek in Eureka Springs, and a 65-year-old woman, Julia Schwede, was killed by a falling tree, according to the AP. The fifth victim, a 76-year-old man, was found dead in a submerged vehicle with his seatbelt still on, Washington County Sheriff Tim Helder told KFSM.
Also in Arkansas, search teams are still looking for a four-year-old boy and his 18-month-old sister who were separated from their mother when the car they were in was swept away, the Madison County Sheriff's Office told BuzzFeed News. Authorities told the AP on Monday that it was now likely a recovery, not a rescue, operation.
Flash floods were blamed for three deaths in Missouri Sunday, including a 72-year-old woman who died when her car was swept away by rushing water despite her husband's desperate attempts to save her. The other two victims were a 77-year-old and an 18-year-old man, the AP reported.
Missouri Gov. Eric Greitens said Sunday that he activated the National Guard to help deal with the flooding that will likely continue to cause damage for several days.
"These floods may well be deep and destructive," Greitens said, according to the AP.
In Mississippi, at least two people were killed, including a 7-year-old boy who was electrocuted. The boy died from an electric shock in Rankin on Sunday, the Mississippi Emergency Management Agency said on Twitter. The Rankin County Sheriff's Department told the AP that a 7-year-old boy unplugged a golf cart and dropped the cord in water, causing the shock. The Mississippi Emergency Management Agency said another person died in Durant, in the central part of the state.

In Tennessee, a two-year-old girl, Melanie Espinoza Rodriguez, was killed after she was struck by a heavy, metal goal post that fell over in high winds, the Metro Nashville Police Department said on Twitter. The middle of Tennessee was hit by storms that toppled trees and power lines.

Oklahoma declared a state of emergency on Saturday, where there was widespread flooding and at least 14 rescues, according to NBC News. Large hail was reported and more than 1,200 residents lost power Saturday night.
The storms was still going through Alabama on Sunday, with a flash flood watch until Monday and high winds expected, according to the National Weather Service. Most states in the South still had high wind warnings in effect and were bracing for more severe weather through Monday.