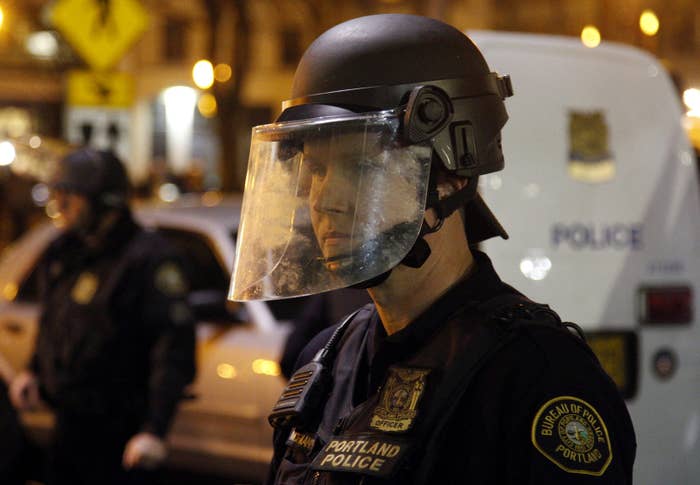 Police have arrested two 18-year-olds in connection to what could be a gang-related shooting that took place during anti-Trump protests in Portland, Oregon, late Friday night.
Demonstrations in the area, which have been occurring since Trump's victory, were declared a riot by police on Thursday night.
Reporters and witnesses on Morrison Bridge reported hearing what sounded like gunshots as protesters marched across the road. Portland Police confirmed Friday that a man had been shot after an altercation with a driver in a car on the bridge. The suspect fled the area following the shooting.
"Preliminary information indicates that a suspect was in a vehicle on the bridge and there was a confrontation with someone in the protest. The suspect got out of the vehicle and fired multiple shots injuring the victim," police said.
On Saturday, authorities released another statement announcing that the shooting victim "is continuing to recover from his injuries and is expected to survive."
Officers conducted a traffic stop after seeing the suspect vehicle — previously reported as a silver or grey sedan — and detained the four people inside the car. They also seized a firearm found inside.
According to the statement, "The occupants of the vehicle are believed to be criminal gang associates."
Oregonian reporter Jim Ryan tweeted that he saw "a person on the ground, apparently conscious. Unclear how the person was injured. I heard multiple loud pops. I don't know if gunshots."
Police said four people were detained during the investigation and two of them were arrested and booked in county jail.
Steffon Marquise Corothers and Shamar Xavier Hunter, both 18, were booked on suspicion of six counts of attempted murder, Portland Police said in a statement.
The victim's identity was not released. Police said he is expected to survive.
On Thursday, protesters shattered car windshields and smashed in storefront windows as they filled the streets, prompting police to declare the demonstration a riot and use "less lethal munitions" to try to disperse the crowd.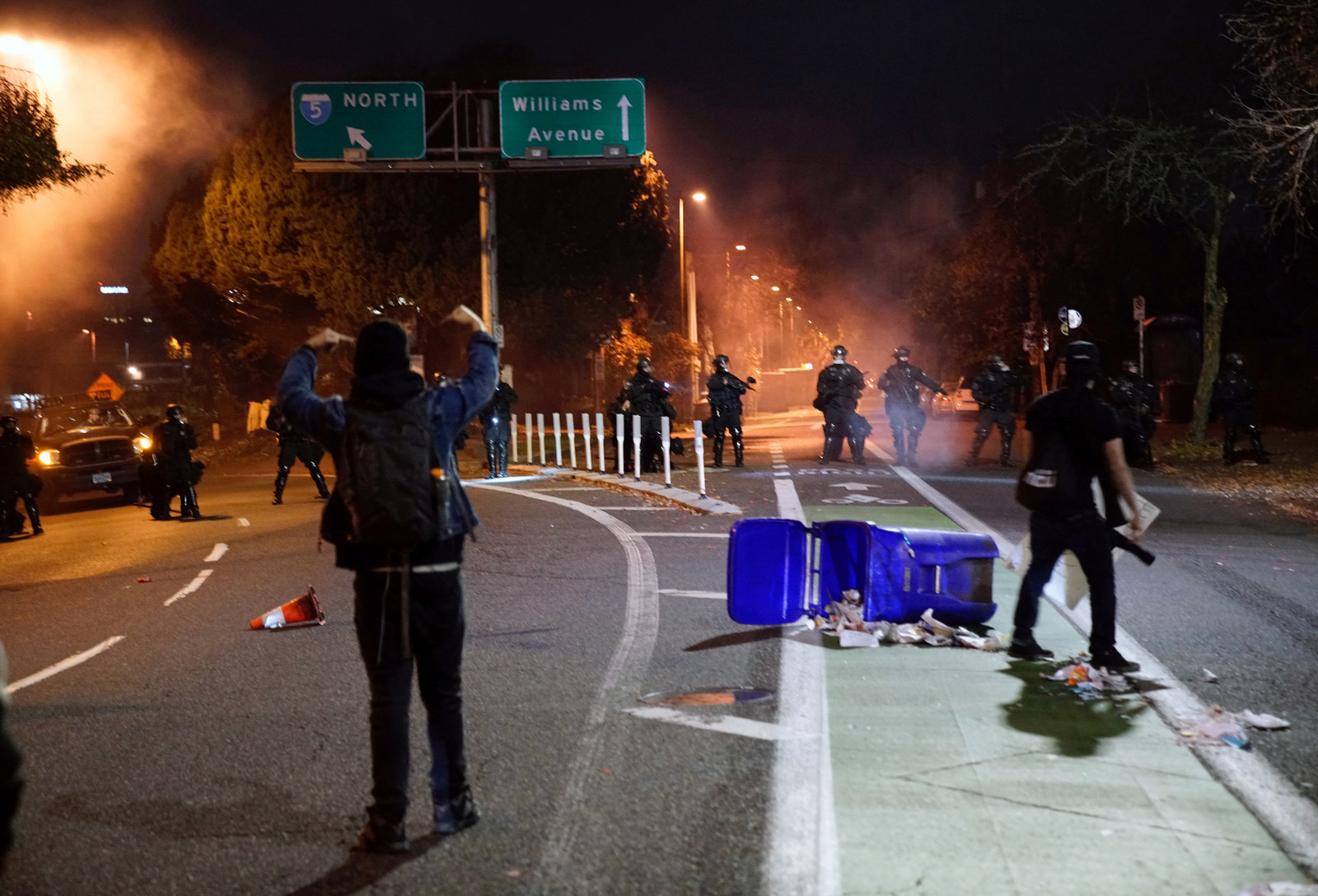 As the night wore on, riot police were pictured extensively on social media.
Local news station KOIN 6 livestreamed part of the protests, as riot officers moved into the area. There were flashes of violence, with some onlookers claiming police were using rubber bullets against the crowd. Flash bangs could be heard in the background of many videos from the scene.
"Nazism is coming to America," organizer Greg Clark told BuzzFeed News late on Thursday night, after officers had moved in to attempt to disperse protesters.
Clark is with the Portland Anarchist Black Cross, which helped organize the protest. He said they were protesting Trump as well as the US government's response to climate change, police violence, racism, and global capitalism.
"We're one bad day away from nuclear holocaust," he claimed. "Trump wants to indiscriminately murder the families of the people who are on whatever terrorist watch he keeps."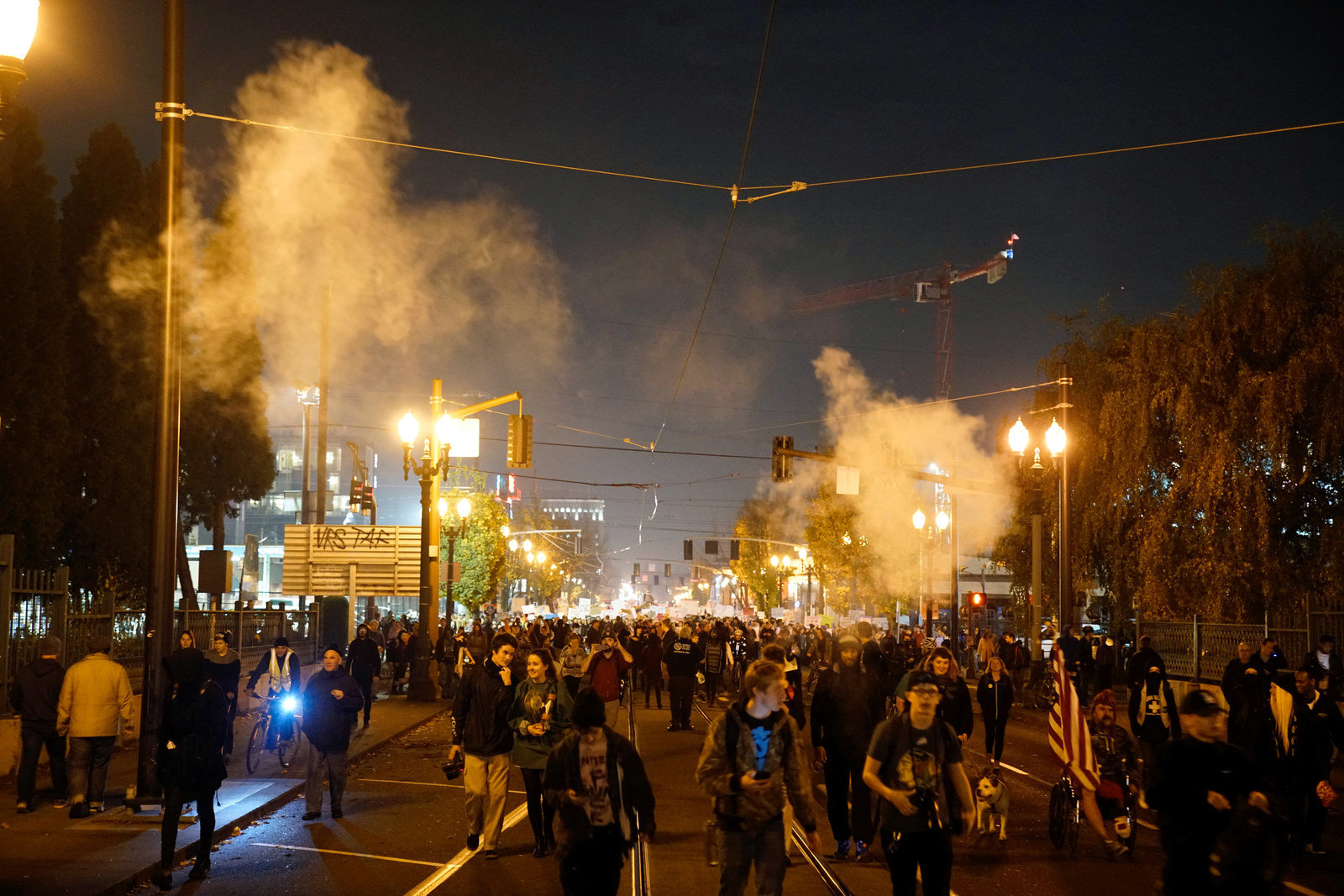 He said the Portland ABC "did not participate in what the state calls vandalism and violence tonight" and did not witness any violence against the state. "I saw people taking direct action against the grip of fascism and global capitalism," he continued.
Clark ended by stating: "We do not condemn the actions anyone took tonight".
It was the third straight night of protests across the country after Donald Trump won the presidential election. The Portland protest began around 6 p.m. with people marching through the streets.
Police were seen detaining protesters towards the end of the night.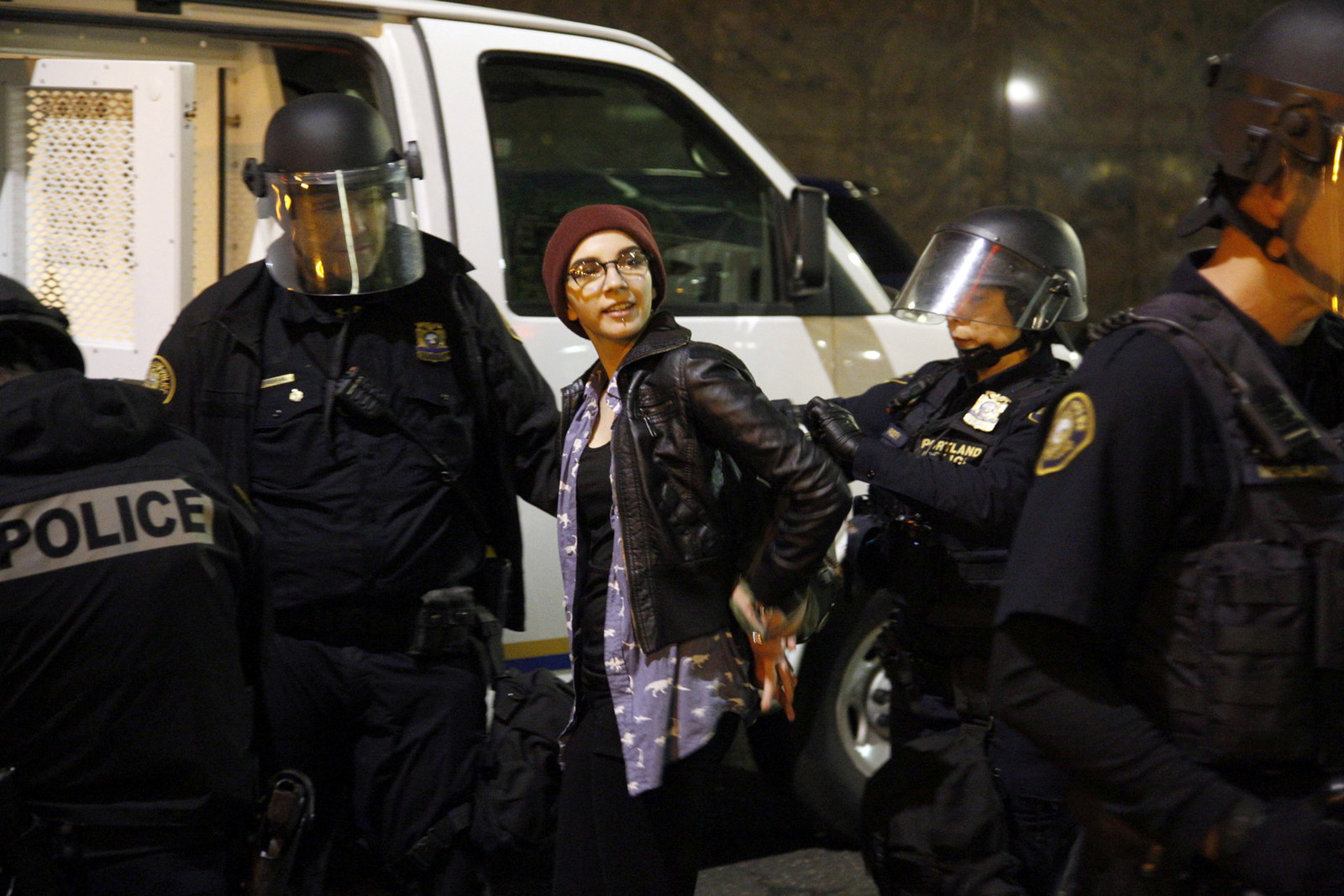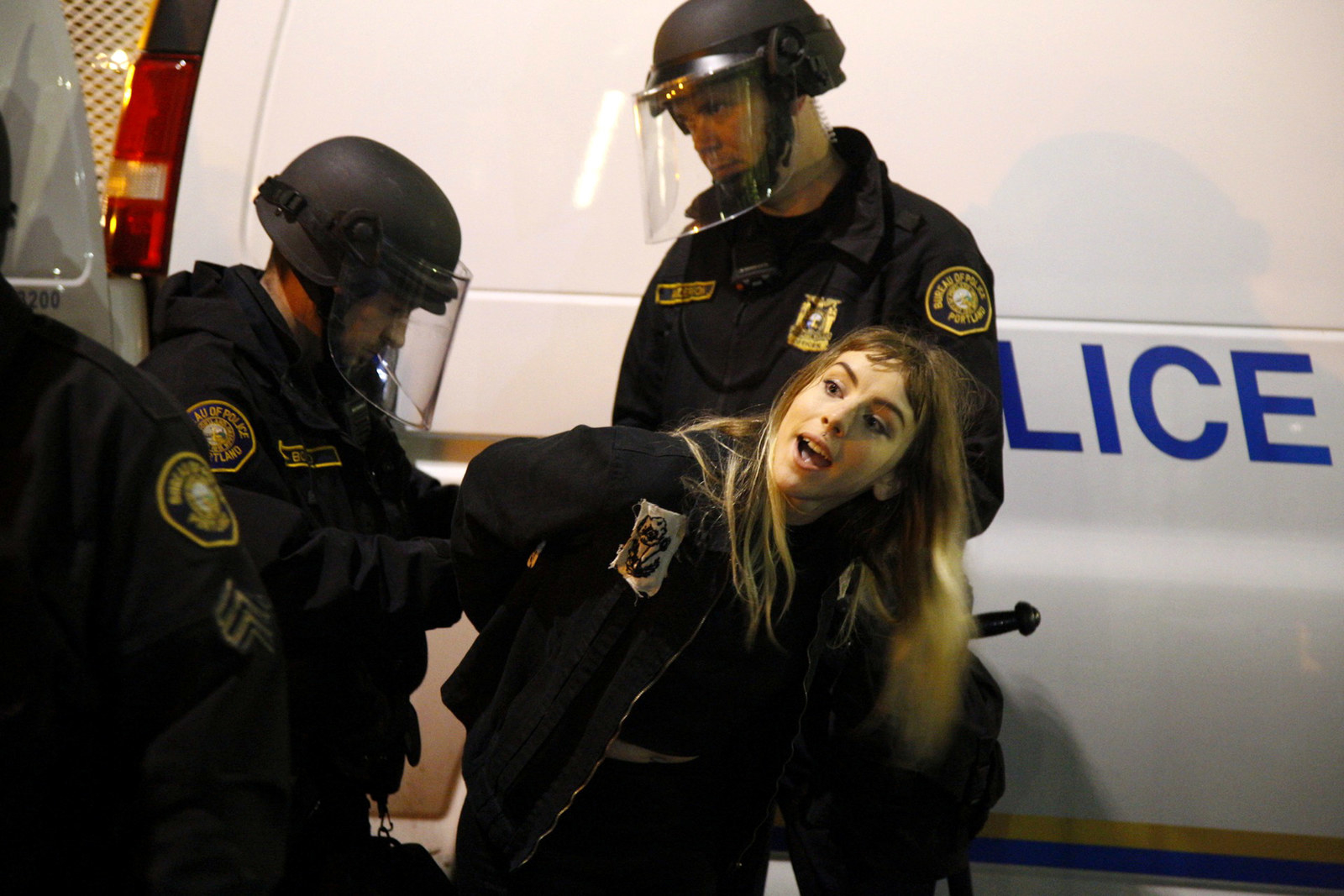 One protester was reported to be badly injured, and was seen "bleeding from her head."
Speaking to BuzzFeed News earlier, before the arrival of riot police, and when the protest appeared mostly peaceful Clark had called for a "revolution because we don't have the option of creating real reforms".
"We're protesting the rise of white supremacy and fascism in this country. It threatens people of color and their communities," Clark said. "Violence on behalf of the state that will increase under Trump."
"We can't survive four years of Donald Trump," he added.
He told BuzzFeed News he had voted for Anarchist candidate Sean Swain.
"If he's elected, he'll burn down the White House," Clark told BuzzFeed News. "He's my candidate."
Police said fire devices and bats were reported in the crowd. Around 9 p.m., authorities said demonstrators were seen throwing projectiles.
A protester was seen spray painting an anarchist symbol on the state seal.
Another was spotted setting a newspaper rack on fire.
Multiple car windows were smashed in at a dealership.
A transformer was seen being smashed by one rioter.
And a bus station was destroyed.
A number of people were also seen tagging "Fuck Trump" on city buildings.