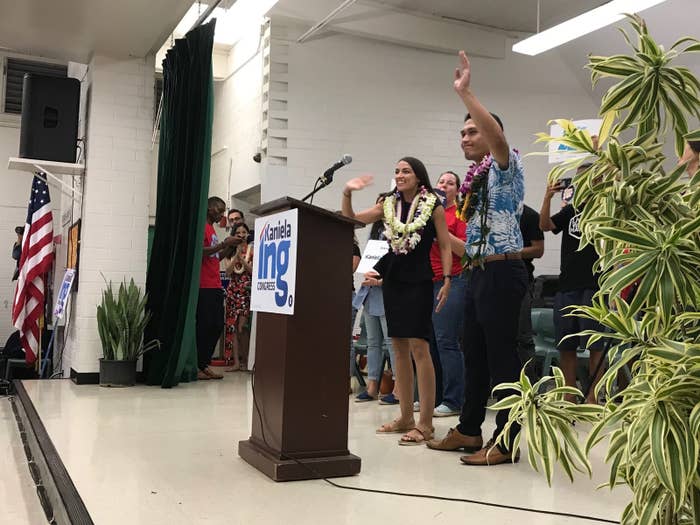 HONOLULU — Hundreds of young, jubilant supporters gathered in a hot cafeteria at the Hawaii School for the Deaf and the Blind in Honolulu and cheered as Alexandria Ocasio-Cortez, a democratic socialist and likely future member of Congress, introduced state Rep. Kaniela Ing as "my brother in that struggle."

On Saturday, when Democratic primary voters decide whether to nominate Ing for Congress, it'll become clear how far that struggle will go in Hawaii.
Ocasio-Cortez's win in the Democratic primary in New York's 14th congressional district this June took Washington by surprise, and hinted at a potential new wave of progressive candidates. Ing was the first person Ocasio-Cortez endorsed after she won her primary. But likeminded candidates she has supported haven't been as successful — on Tuesday, candidates she backed in Michigan, Missouri, and Kansas had mixed results.
Saturday's crowded primary in Hawaii is a chance to see if Ing can be the next democratic socialist candidate to win off the momentum built by Ocasio-Cortez, who many see as similar to the rising 29-year-old lawmaker from Maui.

On Thursday night, supporters at the "Fight for Aloha" rally were "stoked" to see Ocasio-Cortez, and about the similarities between the two candidates.
Chelsie Salvatera, a 26-year-old Honolulu resident and member of the teachers union here, told BuzzFeed News that she had early-voted for Ing, but had come to the rally to hear Ocasio-Cortez speak "because she's such a powerhouse" and she wanted to learn how "she might actually put everything into action."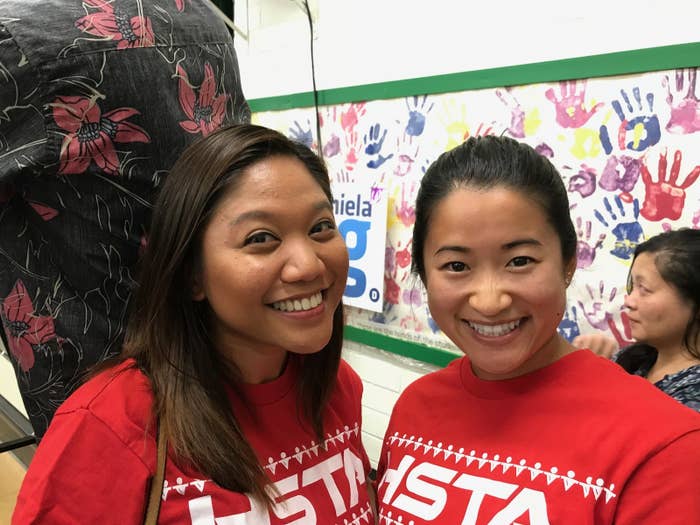 Keola Diaz, a 44-year-old from Honolulu, said he had long been a supporter of Ing.

"One of the big things that stood out to me is that he wasn't going to take any corporate money for his campaign funds," Diaz said to BuzzFeed News. "I believe that's where a lot of our problems start ... You get this corporate money and that's where you owe your allegiance to, and you forget about the people you're representing."
Rejecting corporate donations was a focus of Ocasio-Cortez's run. She told BuzzFeed News that one of the main reasons she is supporting Ing is because "he's up against mostly lobbyist backed candidates."

"I think that if we're going to change this country, then we need to change our candidates and how they're financed," she added.
Ing and Ocasio-Cortez were both backed by the progressive group Justice Democrats, and share similar positions that reflect major tenets of the democratic socialist movement: They both believe in tuition-free college, Medicare for All, and abolishing the US Immigration and Customs Enforcement agency (ICE).
The socialist filmmakers, Means of Production, who made Ocasio-Cortez's viral campaign ad in May, also came to Hawaii to produce a similar ad for Ing, which was released last month and has been viewed more than 400,000 times on Twitter. The ad showcases many of the connections in positions and life stories between the two.
Ocasio-Cortez told BuzzFeed News that she saw a resemblance between New York City and Hawaii because of the lack of affordable housing options for residents.

"I think New York City and Hawaii are both experiencing a crisis in the cost of housing. It's part of the fundamental squeeze on working families ... so I think that the struggles that we have here are very much the same," said Ocasio-Cortez. "I think that both of our districts are really hungry for a working-class champion."

But Hawaii's race for the Democratic Party's nomination for the 1st Congressional District is packed with seven candidates, after the incumbent, Colleen Hanabusa, announced in January that she would not seek reelection in order to run for governor. Recent public polls show Ing trailing, with only about 6% of the vote. The winner of Saturday's primary in Hawaii is likely to win the general election since the state almost always votes for Democrats.
University of Hawaii political science professor Colin Moore told BuzzFeed News that while polling was wrong for Ocasio-Cortez, he did not think there was any chance of that happening in Hawaii.
"They were wrong in Queens, but that's a district that has changed with more people of color, more immigrants," said Moore. "Her campaign did a brilliant job of mobilizing people that don't traditionally vote. This is not that district. The people who turn out in local elections are overwhelmingly older, wealthier, more conservative, although Democrats, and I don't expect that to change."
Ing told BuzzFeed News that he has not been discouraged by the polls.
"Polls talk about who is likely to vote, and it's landlines mostly, and someone who has to sit through 20 minutes of questions, and not check their caller ID to make sure it's a pollsters," he said. "So I don't think anyone near or around our age would answer a poll."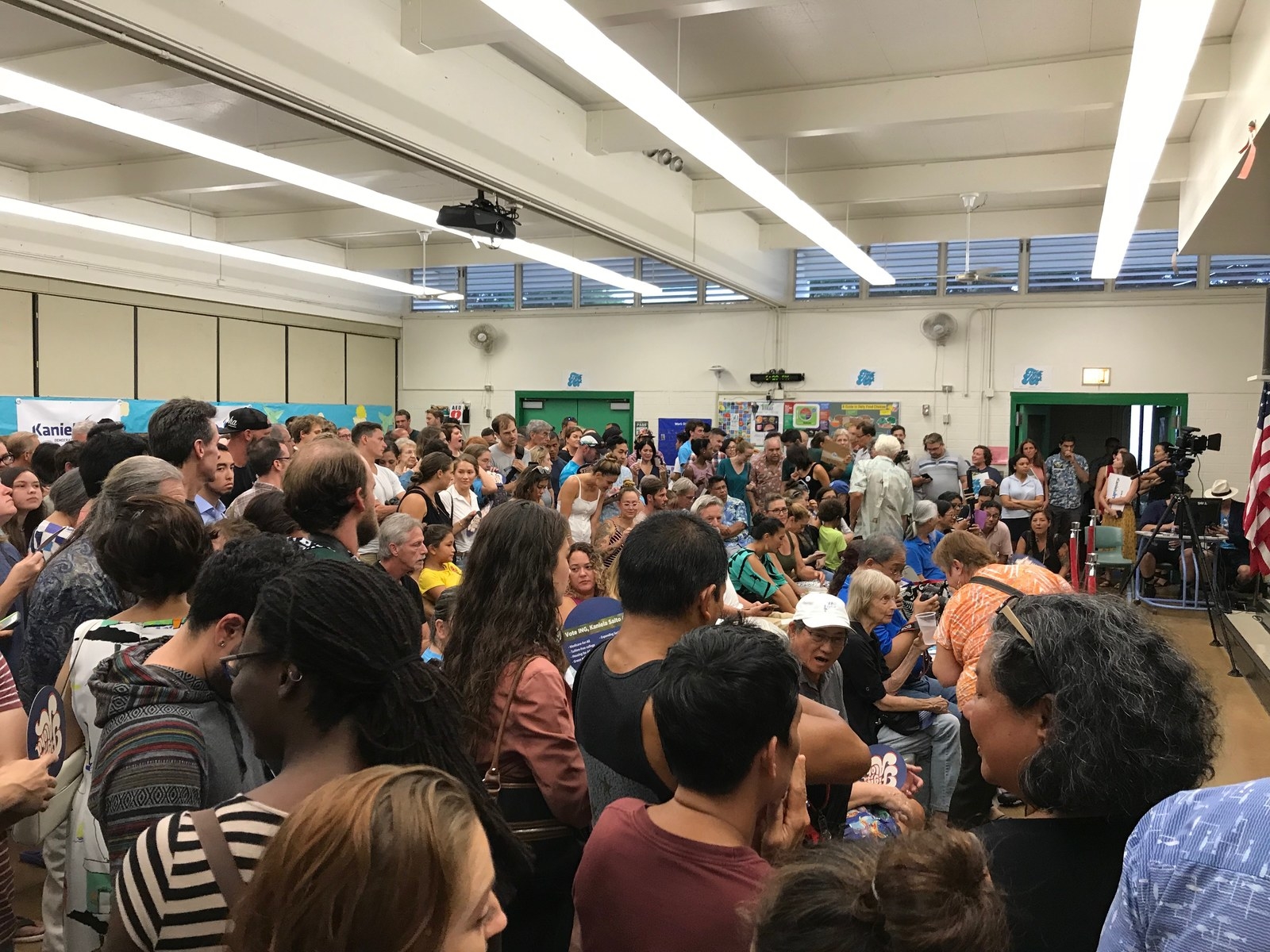 Thursday's event drew hundreds of people. A video display of the rally was set up outside of the packed school cafeteria so that the overflow crowd could watch the event.

Kahi Pacarro, a 39-year-old Honolulu resident who is the executive director of the nonprofit Sustainable Coastlines, said he had not yet decided who he was going to vote for in Saturday's primary, but that he was excited to hear Ocasio-Cortez talk.
"I'm trying to figure out who to vote for in this election, and I figured the best way to do your due diligence was to come out here and hear it firsthand," Pacarro told BuzzFeed News.
"But to see her backing Kaniela is a big statement," he added about Ocasio-Cortez.
Ing's campaign paid for Ocasio-Cortez's visit, which cost approximately $5,000 for her and two staffers to travel to Hawaii on Thursday for the rally, said Jay Parasco, a spokesperson for Ing. He said they would leave Friday.
Former US Rep. Ed Case, who held the seat from 2002 to 2007, is currently leading in the polls. While in Congress more than a decade ago, the 65-year-old was a fiscally moderate and centrist Democrat. Another prominent candidate is Doug Chin, Hawaii's lieutenant governor and former attorney general, who has largely made his name on fighting President Donald Trump's travel ban in federal court.
Also on the ballot is state Sen. Donna Mercado Kim, who has been in politics for over 30 years; Honolulu City Council chair Ernie Martin, who has run a campaign focused on working families; retired federal employee Sam Puletasi, who is running a shoestring campaign; and Rep. Beth Fukumoto, who made her name by leaving the Republican Party last year because of Trump's statements on race and women.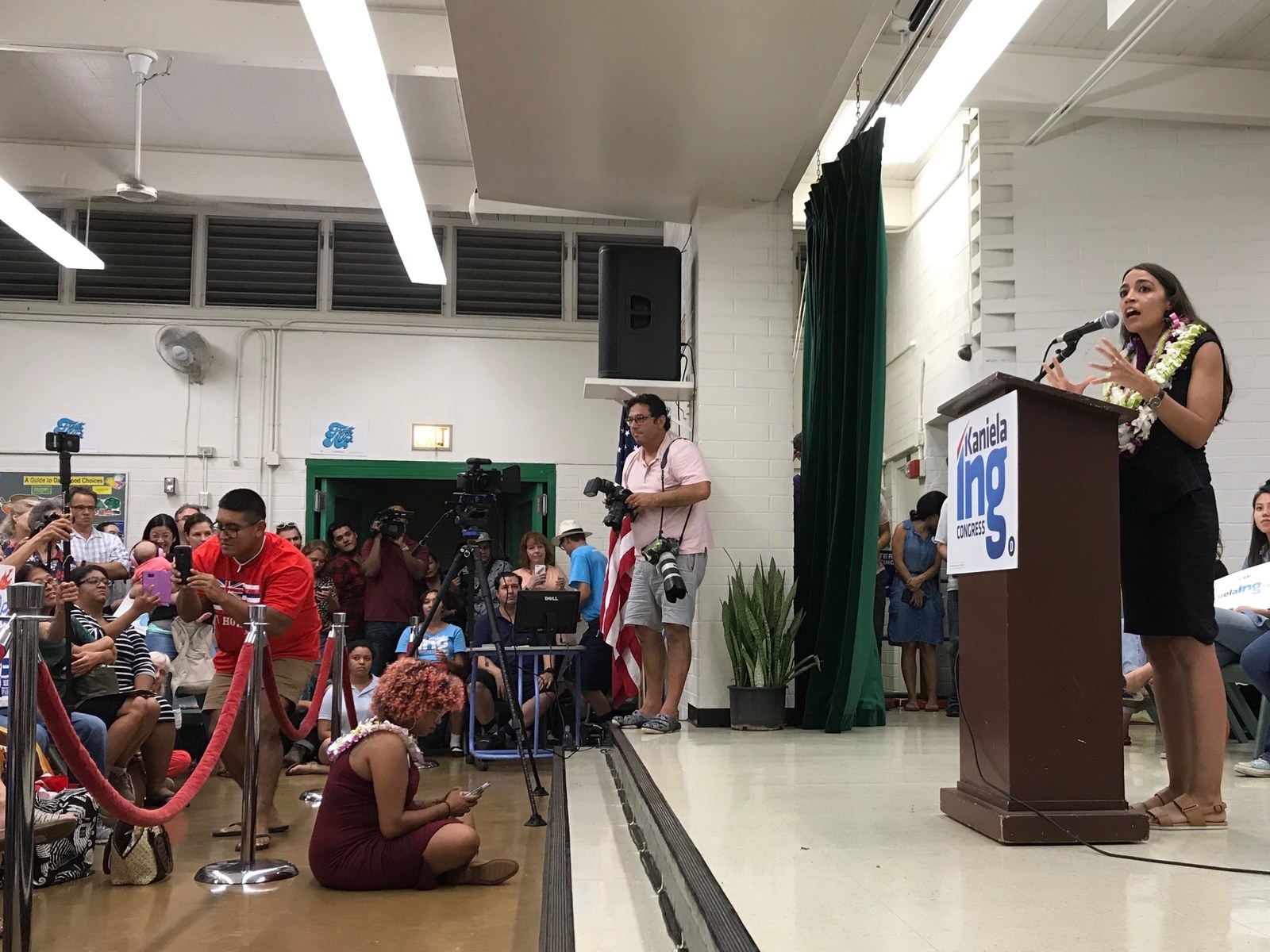 Moore said one of the reasons that Ing appears to be struggling is that the district he's running in, which encompasses urban Oahu, is not particularly progressive.
"Ing's challenge is that Hawaii and the first district in particular, it tends to be a classically center Democratic district," said Moore, which he added tends to be dominated by labor and unions.
Hawaii only has two congressional districts — the second covers rural Oahu and the neighbor islands, which Rep. Tulsi Gabbard represents. She has become politically famous in her own right, in part after breaking from mainstream Democrats and supporting Bernie Sanders in the 2016 presidential election. Sherry Alu Campagna, an environmental scientist, is running against Gabbard.
"Politics in the neighbor islands tends to be a little more volatile," said Moore. "There are progressives that have had more success there — Ing himself represents Maui and that is the home of the strong anti-GMO movement."
Still, people on Thursday were excited about Ing's energy. Joshua Noga, a 35-year-old father of four, said he was an early supporter of Ing for Congress, because "we needed a voice that was going to stand for the working people," like him. Noga was selling kava, a mildly sedative and euphoric drink consumed across the Pacific Islands, and poi, a traditional Hawaiian food made out of taro, outside of the event.
Ing has been weighed down by several missteps, including an arrest two years ago for failing to show up to court after being cited for driving without car insurance; saying that he had earned a master's degree from the University of Hawaii, when he had not completed the program; and most recently being fined $15,000 by the Hawaii Campaign Spending Commission for filing false reports and using campaign cash to pay for personal items.
Ocasio-Cortez, though, was only positive Thursday night. She thanked the crowd for coming and said it showed "there's power and there's energy behind the progressive message." She addressed the frequent criticism that she has received for leaving her district and going on a tour for other progressive candidates.
"We can't get tuition-free college for my nieces and nephews back home unless we get it out here in Hawaii too," she said. "When they tell me to stay home, I know that we can't stay home that we have to come out with our spirit as organizers."
In this way, she positioned Ing as part of a movement that included her and the winners she backed Tuesday in the Midwest. Before flying out Friday, Ocasio-Cortez joined Ing and his team for the Hawaii political tradition of sign waving, and the pair waved to pedestrians and cars at an intersection outside of the state capitol.