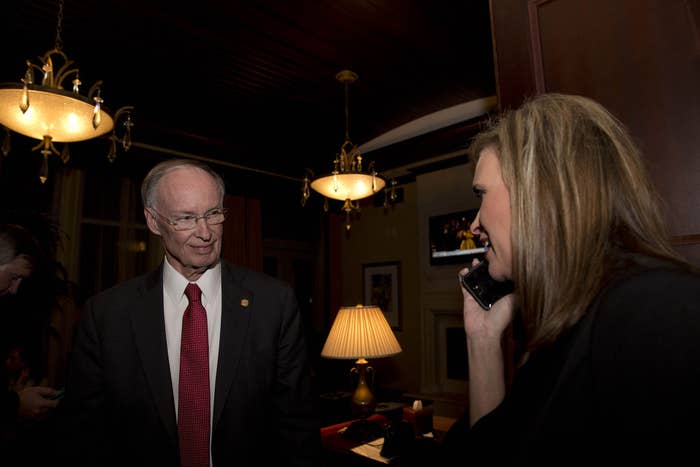 The governor of Alabama admitted on Wednesday to making inappropriate and sexual comments to a top staffer, but denied having a physical relationship with her.
"Today I want to apologize to the people of the state of Alabama and once again, I want to apologize to my family. I am truly sorry and I accept full responsibility," Gov. Robert Bentley said at a news conference at the State Capitol, the Associated Press reported. He apologized specifically for saying "some inappropriate things."
The two-term governor was accused by Spencer Collier, the state's former law enforcement secretary, of saying sexually charged comments and having an improper relationship with Rebekah Mason, a close advisor and longtime aide.
The accusations came after Collier was fired Tuesday for "a number of issues," including the possible misuse of state funds, the governor's office said in a statement.
"Less than a month ago, the governor told me that he was still madly in love with Rebekah Mason," Collier said at a news conference Wednesday, during which he unleashed detailed claims about the relationship between Bentley and Mason.
Bentley responded Wednesday during his news conference that he had made "a mistake" and said "inappropriate things," adding it happened two years ago. Bentley said he apologized to Mason and her family, but had broken no laws.
Bentley has been the subject of gossip that was heightened when his wife, Dianne Bentley, suddenly filed for divorce in August after 50 years together.
Collier said he listened to a recording of comments made by Bentley in 2014 to someone he believed to be Mason. Portions of the tapes were later released to AL.com and Bentley can be heard talking to a woman about how he liked touching her breasts.
"There was no way to explain it as anything other than sexual or romantic in nature," Collier said.
He said afterward he confronted the governor about the comments.
"Governor Bentley simply hung his head and asked for advice on how to get out of it," Collier said at the news conference.
Collier said he told the governor that using state funds to pursue an affair amounted to a crime, and Bentley said he had broken no laws.
In a statement, Mason said Collier would not have made his comments "about another man" and accused him of gender bias. She did not specifically address allegations of an affair or the inappropriate comments allegedly made by Bentley.