Here's What Happens To Your Property After Lava Covers It
More than 700 homes have been destroyed by lava on Hawaii's Big Island. Residents who lost their property now face limited options.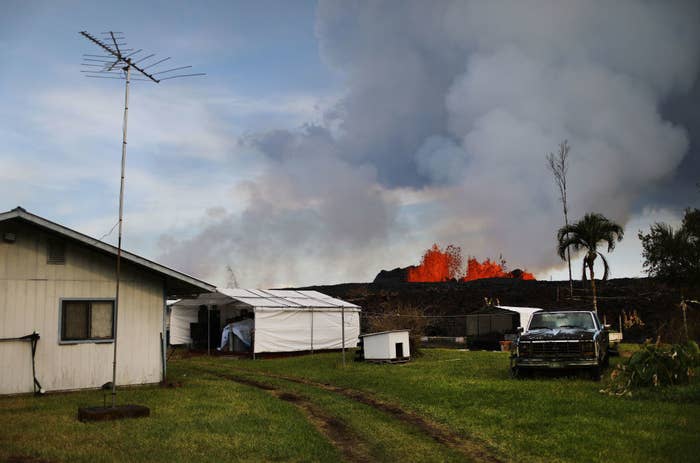 Amber Makuakane, a mother of two, purchased a home nearly a decade ago in Leilani Estates, a lush, rural community on Hawaii's Big Island. Makuakane grew up in the neighborhood and wanted her children to enjoy the jungle in their backyard as she had.
That all changed on May 3, when a volcanic fissure opened up in their neighborhood, sending lava and hot gas exploding into the air, and forcing the family to leave their home for what would be the last time.
A few days later, Makuakane received a text message from a friend confirming her worst fears — their home had been completely engulfed by lava. The 37-year-old elementary school teacher told BuzzFeed News she hasn't been able to return to her property since it was destroyed, because the lava has made it inaccessible, covering at least a mile around it.
Makuakane was one of the first Hawaii residents to lose their home to lava since the most recent eruption at Kilauea began more than a month ago. At least 700 homes have since been destroyed by the slow-moving lava in communities downslope from the volcano. Residents who have lost their homes in the eruption are now facing limited options, including whether to rebuild or relocate.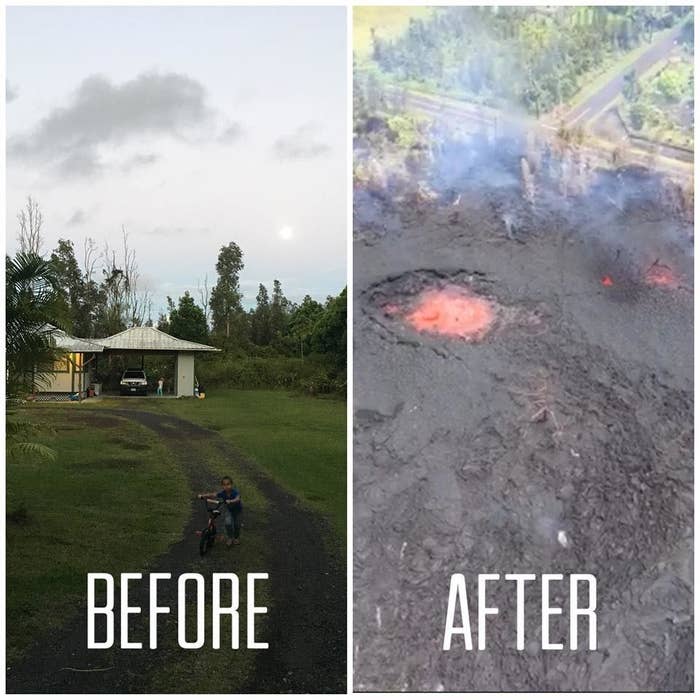 Rebuild or relocate?
After evacuating, Makuakane moved into a rental home with the help of a network of teachers who started an online fundraiser for her.

"They just totally helped me put my house together," she said. "I'm super grateful that I have family and friends who have been with me since day one."

Her home now in ruins, Makuakane said she has no plans to return to the community where she has spent most of her life.

"I won't go back. I want to be able to build something for my family later on, but it won't be in Leilani Estates," she said. "We will be looking for another place on the Big Island."
While Makuakane doesn't know where she'll end up next, she said the lava zone "will be a consideration" when she does decide.
In Leilani Estates, located in lava zone 1 (the highest volcano hazard area), two dozen fissures have opened up, producing intermittent streams of lava for nearly six weeks. The area is located on Kilauea's East Rift Zone, a limb of the volcano that extends for miles from the summit, making it less obvious that the area is atop an active volcano.
Residents planning to rebuild run the risk of having their property inundated by lava again. In the early 1990s, more than 100 homes were destroyed by lava in Kalapana Gardens, but a decade later the area was resurveyed, people returned, and started rebuilding. In 2011, three homes were destroyed in Kalapana when lava engulfed them, but that hasn't stopped people from continuing to move to the area.
Rebuilding isn't easy. Leilani Estates and other neighborhoods in lower Puna are completely without power after lava activity damaged more than 700 utility poles. Drinking water is also an issue with multiple lines cracked by earthquakes.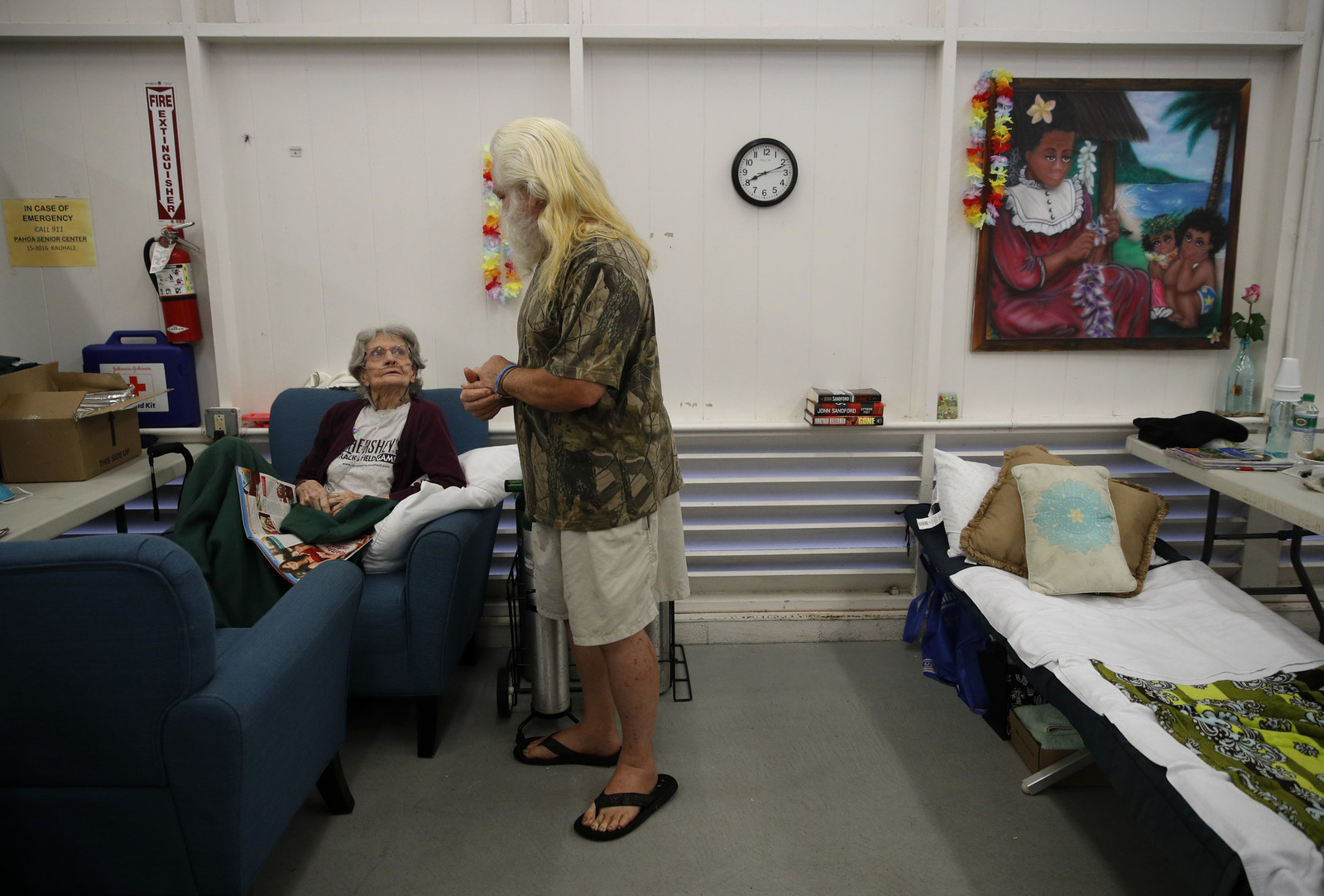 A new settlement "out of harm's way"
While some residents like Makuakane have found alternative housing, more than 400 others are still sleeping in shelters set up by Hawaii Red Cross. On Friday, the construction of tiny, temporary homes began on the lawn of Sacred Hearts Church in Pahoa to move people out of the shelters.

Hawaii County Mayor Harry Kim said that a subdivision may be built for lava evacuees, but there have been no concrete details about where the homes would be located or how it would be funded.

"We will also pursue the relocation program that is very long term," said Kim at a press conference Monday. "There are areas that cannot and should not be gone back to, so we are looking at the total scope of what we can do."
Hawaii Gov. David Ige told reporters he is putting together a housing task force with county, state, and federal agencies to make plans for permanent housing for lava evacuees.

"We will have to confront and respond and answer some very tough questions about where and why people should live in certain areas," said Ige.
At the same press conference, the mayor was more assertive about not rebuilding in lava zone 1.
"Kilauea is the most active volcano in the world, regardless of where this stops, it will start again somewhere," Kim said. "Our responsibility is to work with the community to rebuild out of harm's way."
Hawaii County Planning Director Michael Yee told BuzzFeed News officials are considering building a large development on state land for lava evacuees to relocate on the east side of the Big Island. He said the governor suggested earlier in the week that they look at unused agricultural land near Maku'u Farmer's Market, which is in lava zone 3.
Yee said they are also looking at the possibility of swapping land — or property transfers — between the state and residents who had lost their homes to lava.

"If you give up your property up in this lava zone 1, you possibly can be given a property elsewhere or be given some funds, if you opt to buy a property in a certain area," said Yee.

The planning director emphasized they are only in the preliminary stages and are hoping to conduct a survey to determine the variety of needs for homeowners as well as renters who have been displaced.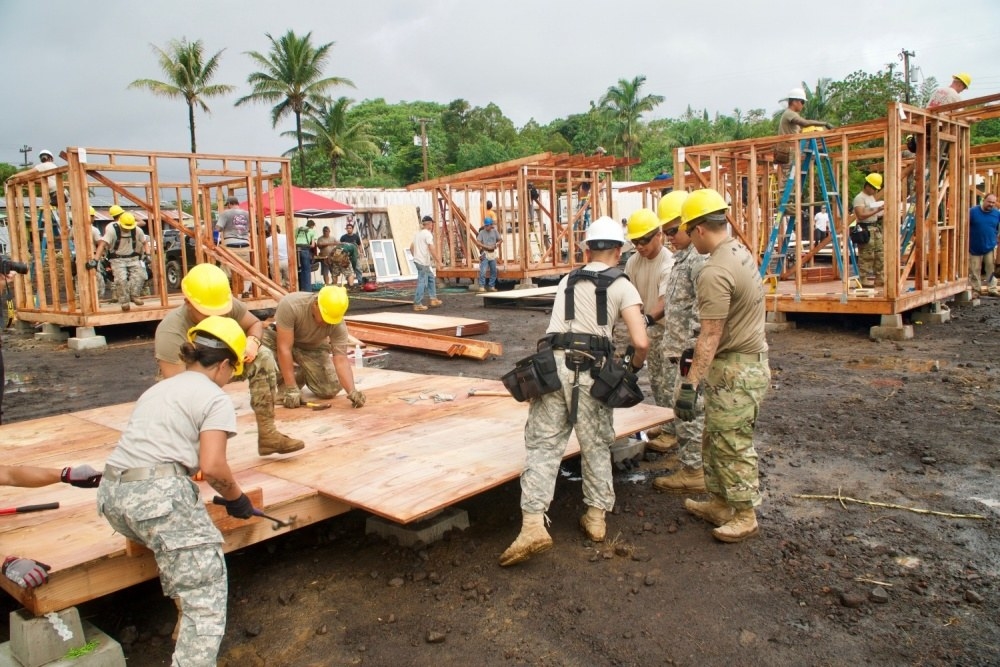 Who owns new land formed by lava?
Kim, the mayor, is one of the more than 700 homeowners who lost their homes to the lava. His property located in Vacationland, is renown for its beautiful, geothermal tide pools.
"I bought my place in 1971 because I wanted a piece of Puna... just some place that I could sit by the water," an emotional Kim said at a community meeting.
Lava from the eruption completely filled Kapoho Bay last week as well as the adjacent tide pools, creating a delta of land that now extends nearly a mile out from the former coastline.
New land that forms as a result of hardened lava is the property of the state of Hawaii, unless the new area is formed within Hawaii Volcanoes National Park, which belongs to the federal government.
That means property owners in Vacationland and Kapoho Beach Lots, who once owned waterfront homes, no longer do. After a 1955 lava flow extended the shoreline in Kapoho, the Hawaii State Supreme Court decided that a resident did not have a claim to the seven acres of land that formed in front of his home.
On the US mainland, accretion laws often allow shoreline homeowners to claim new land that forms, but the Hawaii court's decision looked at ancient Hawaiian practices, in which land was thought of as a communal, living entity that would provide for the people if cared for properly.
The court ruling reflects "how Hawaiians looked at land traditionally," said Moses Haia, the executive director of the Native Hawaiian Legal Corporation. "Land was not a commodity — it was a resource and it was a resource for the good of all, so you couldn't just stake a claim to that land."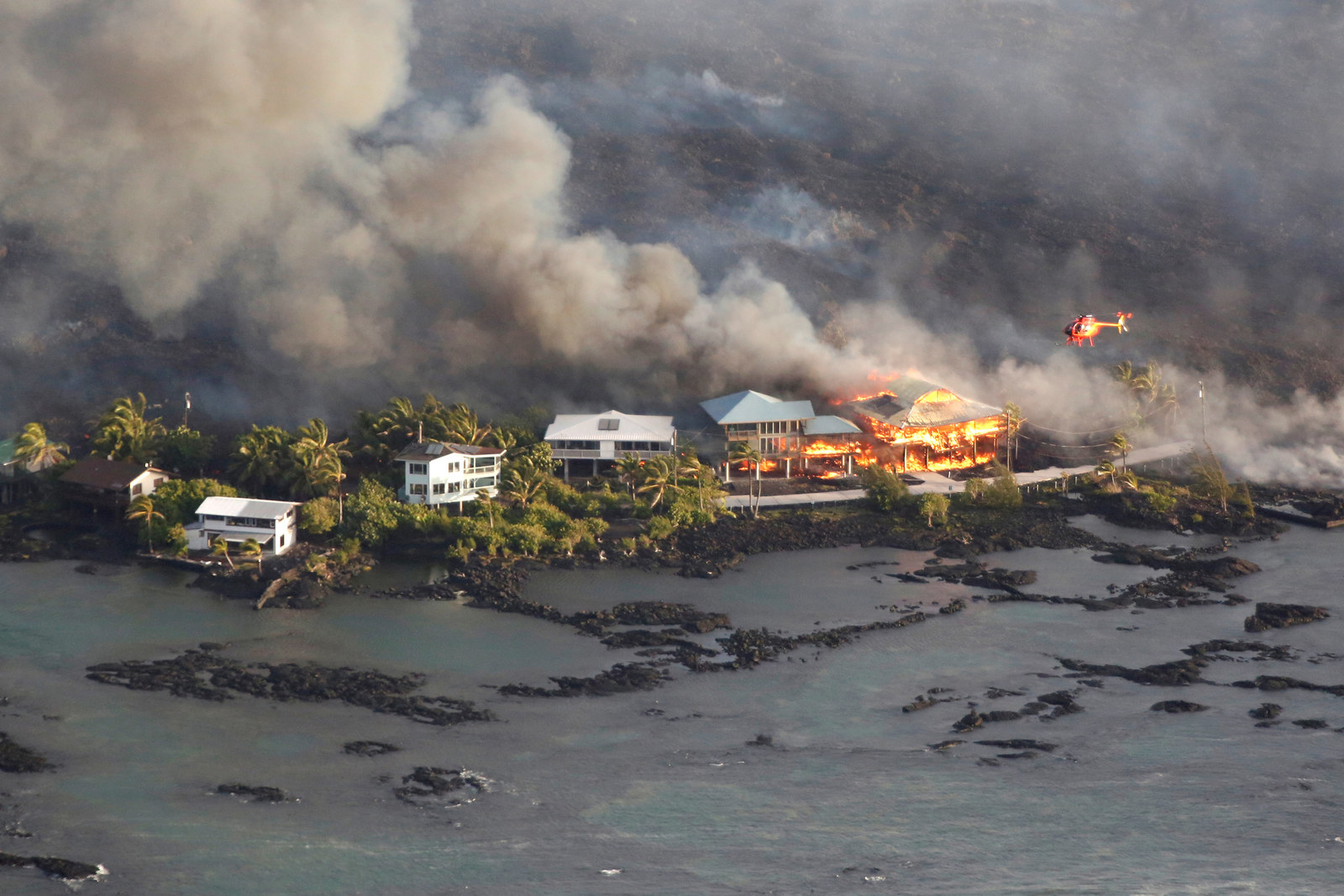 Who is going to write the check?
Property destroyed by lava still belongs to its original owner, but will need to be resurveyed. It's not clear when properties like Makuakane's will be surveyed, but her home was reassessed by the Hawaii County Real Property Tax Office at "zero value," so no property taxes are owed for at least a year. She is also working with loan officers and her insurance company to determine what will be covered.
"I'm hopeful they will cover the mortgage," said Makuakane.
The mother of two did not have lava insurance, but thinks it will be covered by her fire policy.
For people living in lava zones 1 or 2, insurance options are limited since many private companies won't sell coverage or have extremely high premiums for hazard zones. Insurance rates in lava zone 1 are often three times higher than the rates for lava zone 3. Bill Parecki, a realtor for Elite Pacific Properties, told BuzzFeed News that he has heard of insurance rates around $5,000 a year for properties in lava zone 1.
Private insurance policies should cover lava damage — even without a specific clause calling for it — although Hawaii Gov. Ige warned residents at a community meeting to not ask about lava and instead "ask if you have coverage for fire."
In the early 1990s, the state created the Hawaii Property Insurance Association, which provides basic insurance options to people living in lava zones 1 and 2. These policies are limited and usually max out at $350,000.
On Thursday, President Trump approved a request from Ige to initiate all of the Federal Emergency Management Agency's individual assistance programs, which cover housing, unemployment, trauma, and legal matters.

FEMA Regional Administrator Robert Fenton said at a press conference Monday that the housing program would allow property owners who lived in their homes and did not have insurance to seek financial assistance, which is capped at $34,000.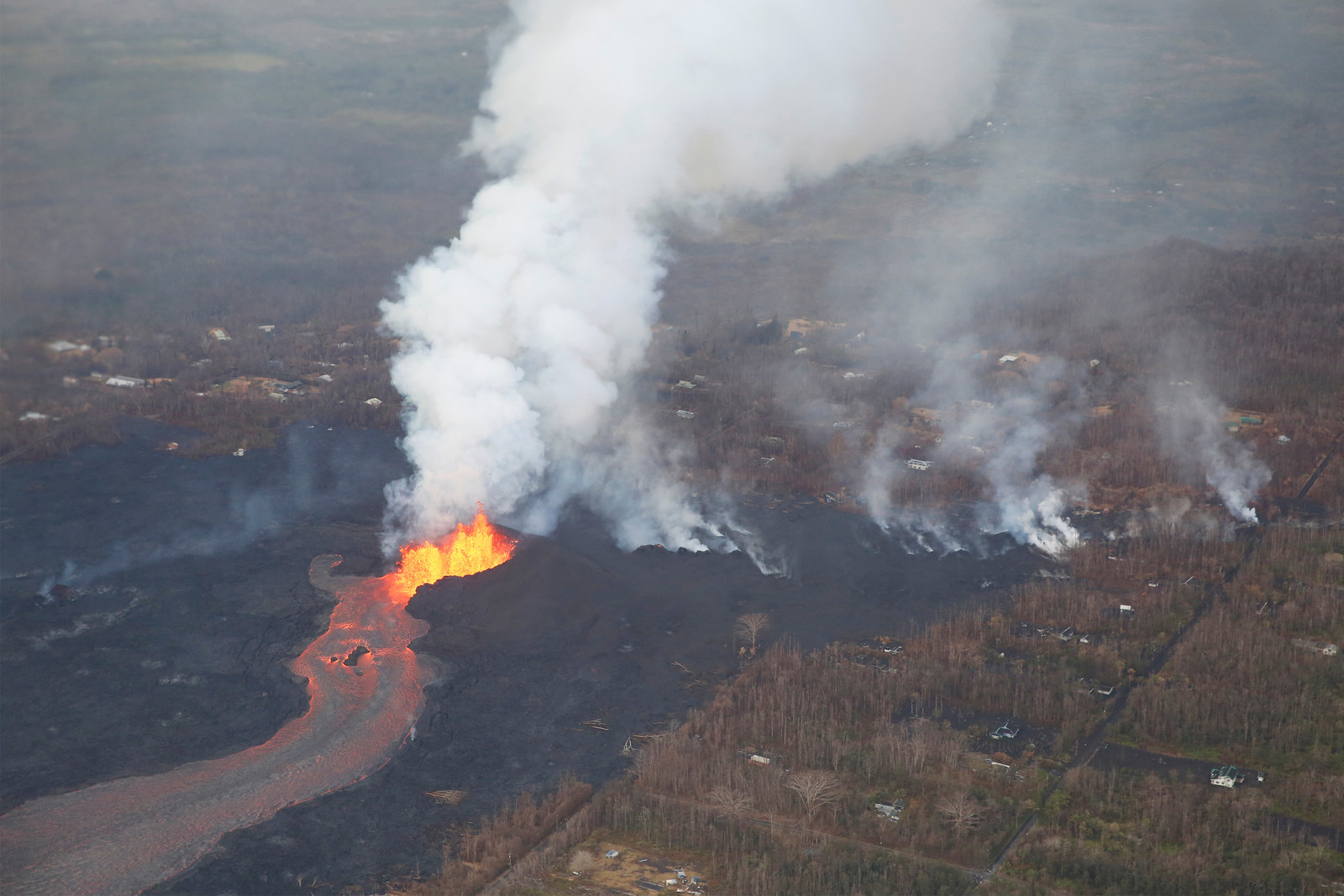 Is it even possible to go back now?
Makuakane's parents are anxiously holding out hope they will be able to return to their home despite lava flowing just 100 yards away.

Even if the lava eruption ends in Leilani Estates, the fissures that opened up in the ground could continue to emit dangerous levels of sulfur dioxide gas, making it potentially uninhabitable and killing plants. The underground volcanic activity has also caused severe cracking along the only remaining road into the area, making access unpredictable.
For Makuakane, the uncertainty about when the eruption will end has presented a challenge for her family, but she said it wouldn't stop her from moving on.
"We literally are going with the flow and we just make the best of the situation," she said. "We still choose to live on this beautiful island."