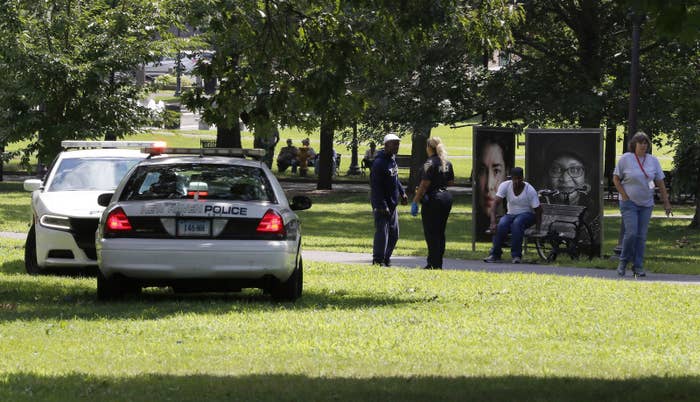 At least 76 people overdosed over the course of 36 hours starting Wednesday in New Haven, Connecticut, officials said.

The overdoses are believed to have happened after people used a drug commonly known as synthetic marijuana that was laced with fentanyl, according to Dr. Kathryn Hawk, an Emergency Department physician with the Yale New Haven Hospital who spoke to the New Haven Register on Wednesday. BuzzFeed News reached out to Hawk for more information.
On Thursday, New Haven Police Chief Anthony Campbell said that a sample sent to the Drug Enforcement Administration (DEA) for testing had shown the drug was just synthetic marijuana, but that they had sent more samples Thursday and were awaiting additional tests. He added that he knew doctors at the Yale New Haven Hospital had said that "some of the testing that they were able to perform did have cases that have fentanyl," and that was why his department sent the DEA more samples to test.
No deaths have been reported as a result of the mass overdose.
New Haven police said in a statement that on Wednesday afternoon they arrested a man believed to be connected to "at least some of the overdoses." A second suspect was also arrested, according to Campbell, who spoke at a news conference on Thursday. He said both suspects were known to officers because they had previously sold the same drug.
Neither of the suspects was identified as the investigation is ongoing.

Campbell said that many of the victims had told officers that at least one of the suspects was not charging money for the drug and that "he was simply handing it out."

"We have the belief that this individual may have had the intent of getting people addicted to this product, and thereby starting a chain of clients for themselves," said Campbell on Thursday.
At least 72 people who overdosed were taken to local hospitals, Mayor Toni Harp said Thursday. Four other people who overdosed Thursday did not seek medical care. Harp said that another "half a dozen or so" similar calls were answered Thursday morning.
Fire Chief John Alston said that the first overdoses were reported on Wednesday around 8 a.m. He said that at least two dozen of those overdoses happened in a privately owned park called the Green that is located in downtown New Haven and bordered by commercial buildings and property owned by Yale University. The park is known to be a place where people do drugs and where those experiencing homelessness sleep.
Alston said that cops, firefighters, and EMTs rushed to the Green to assist people, with one crew member treating nine victims within an hour.

EMS Medical Director Dr. Sandy Bogucki said Thursday that the product in question was "short acting, but also a rapid-acting version of the drug, so people who smoked or ingested it in some way tended to go down very fast — almost right in their tracks."
A witness, David Wynne, told Fox61 that he saw two men in different parts of the park fall over within minutes of each other.

"I seen one guy fall over here," said Wynne while pointing. "And I looked up over there and a guy was laying flat on his side."
Bogucki also said that many of the patients had respiratory problems and needed to be resuscitated, but that because the effects did not last long some people were released from the hospital and went back to the park to "seek another high."
Synthetic cannabinoids are also known as synthetic marijuana or fake weed, or by the brand names K2 and Spice. They contain an artificial chemical that is sprayed on dried plants so that it can be smoked or is sold as a liquid so that it can be used in a vaporizer. The chemicals are called cannabinoids because they mimic chemicals found in marijuana, but they don't actually have much in common with the plant cannabis.

"These chemicals are not related to THC in their structure," Dr. Michael Baumann, chief of the Designer Drug Research Unit of National Institute on Drug Abuse, told BuzzFeed News. "THC is the active ingredient of marijuana. These chemicals are actually unique in their structure."
This is not the first outbreak related to the drug. One earlier this year left three people dead in Chicago.
CORRECTION
The name of the Drug Enforcement Administration was misstated in an earlier version of this post.