A Missouri woman was charged Tuesday with murder after her autistic daughter's remains were found on her property, weeks after the teen was reported missing.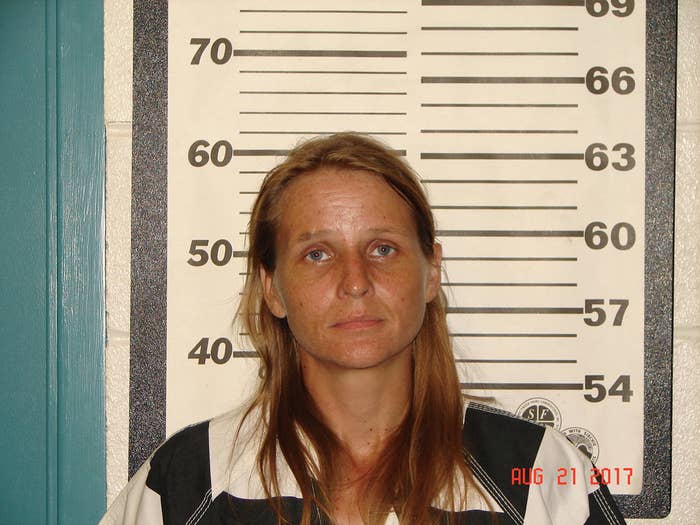 In November, Rebecca Ruud, a 39-year-old woman living with her boyfriend in Theodosia, Missouri, was asked to care for her biological daughter, 16-year-old Savannah Leckie, who she had placed for adoption as a baby.

The adoptive mother, Tamile Leckie-Montague, had raised the girl from when she was an infant in Minnesota, but said the teen did not get along with her new fiancé, Cary Steeves, according to an affidavit obtained by the Associated Press. Leckie had been diagnosed at age 9 as having a form of autism, depression, and ADHD, according to a probable cause statement sent to BuzzFeed News.
Ruud agreed to care for her daughter and was given power of attorney. The teen was then homeschooled and rarely had social contacts, according to the AP.

Steeves told KSTP that the 81-acre farm seemed like a good place for the girl to live at the time. Leckie-Montague told the Star Tribune that she had last talked to her on June 3, which was her 16th birthday, and there weren't any "red flags."
Leckie-Montague did tell investigators that Ruud complained about the time and money it took to care for the girl, texting "it's to the point that I either need more help to care for her, or I can do nothing with her," the probable cause statement said.

Ruud later told investigators that she punished Leckie by smashing her cell phone and limiting her contact on Facebook. She made the teen roll around in a hog pen and bathe in a pond, according to the probable cause statement. Ruud said when Leckie cut herself "in a suicidal gesture," she rubbed salt and alcohol into the wound as punishment. She also made her pull her pants down, so she could spank her.

On July 18, Ruud reported that she had been burned while trying to save her daughter from a fire on her remote property, but would not let officers talk to her when they arrived to put out the fire, according to the probable cause statement.
Two days later, Ruud reported that Leckie was missing, investigators said. She gave different accounts of how the fire was started, but said the teen ran away because she blamed herself for starting it.
During a search on Aug. 4 executed with a search warrant, Ruud and her boyfriend, Robert Peat Jr., left the property and got married. It was at this time that investigators finally found bone fragments in a burn pit on the property.

In subsequent searches on the property they found a slew of cryptic clues: human teeth, a meat grinder, a knife, and 26 bottles of lye, which can be used as a catalyst to breakdown human tissue, according to the AP.

The probable cause statement said it's believed the victim's body was burned multiple times in several fires.
The Ozark County Sheriff's office said in a statement sent to BuzzFeed News that the remains were identified as belonging to Leckie on Monday. The Sheriff was tipped off that two suspects were leaving the area, and with the help of local officers were able to block Ruud from leaving Springfield, Missouri, on a Greyhound bus.

Ruud had bought a ticket to Kansas City, and her husband had bought a ticket to Memphis, the probable cause statement said.

Ruud was charged the next day with first-degree murder, abuse of a child resulting in death, and second-degree felony murder. She is also charged with tampering with physical evidence and abandoning a corpse, the statement from the Ozark County Sheriff's Office said.
The suspect is currently in Ozark County Jail and was denied bond as she was deemed a flight risk. Her arraignment in circuit court is set for Aug. 28.
Peat Jr. has not been charged with any crimes, but the Sheriff's office said more charges were forthcoming on any individual that was found to be tampering with the investigation.
David Leckie, the teen's adoptive father, shared the news that his daughter had died on his Facebook.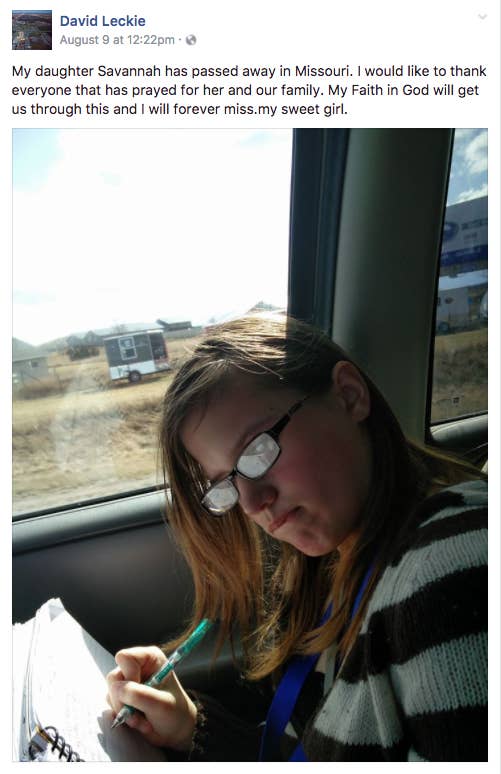 Leckie-Montague said in a statement on Tuesday that she wanted privacy as her family grieved.

"Our family is in deep grief and is mourning Savannah as her remains were identified yesterday. This is not the outcome that we were hoping and praying for," she said.