US President Donald Trump is currently traveling in Asia and meeting with foreign leaders in Japan, South Korea, China, and Vietnam. On Sunday, he arrived in the Philippines for the annual US-ASEAN Summit.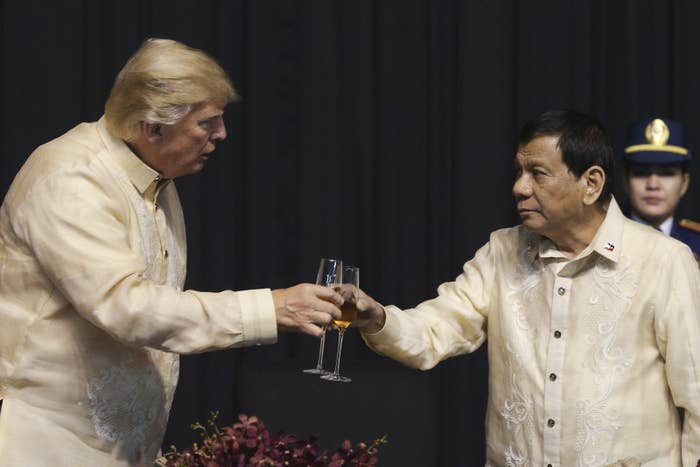 At the event, Duterte grabbed the mic and started singing the Philippine hit "Ikaw," along with local star Pilita Corrales.
"Ladies and gentlemen, I sang uninvited, upon the orders of the commander in chief of the United States," Duterte said in a video captured by Karen Jimeno, an undersecretary for the Department of Public Works and Highways in the Philippines.
There is a song, by Philippine pop star Yeng Constantino, came out in 2014, called "Ikaw" and its video has over 65 million views on YouTube, but what Dutetre sang might be a different, older song.
Lyrics for a few lines of the song translate roughly to "You are the love I've been waiting for / Heart is grieving for a long time but now you're here."
This tweet appears to be translating more of the song's lyrics:
"Ikaw" has been called Duterte's favorite song, and the internet has several videos of him singing the same jam.
Duterte has been a controversial figure since taking office as president last year and launching a war on drugs that has killed at least 3,900 people in the Philippines.
His administration has said that those carrying out the killings have been acting in self-defense, but many have condemned the extrajudicial slayings as a major human rights violation.
When White House reporters traveling with Trump asked whether the issue of human rights had come up at a meeting between the two presidents Monday, both Trump and Duterte declined to respond.
"Whoa, whoa," Duterte said, according to a report from the White House press pool. "This not a press statement. This is the bilateral meeting." Duterte then called the reporters "spies," which made Trump laugh.
White House press secretary Sarah Sanders later said that the subject of human rights briefly came up during Trump's meeting with Duterte in the context of the Philippines' fight against illegal drugs.