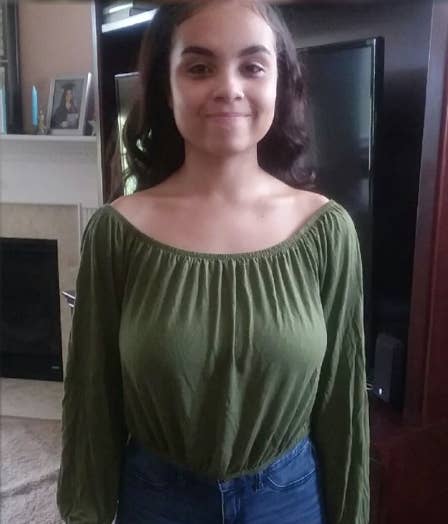 A North Carolina high school student has hired an attorney to help her challenge a 10-day suspension and a ban from walking at graduation after she says she was isolated and intimidated by school officials for violating the dress code.

Summer Bond, a senior at Hickory Ridge High School in Harrisburg, was wearing a green shirt last week that showed a portion of her shoulders and her back, when the school's principal, Michelle Cline, approached her to warn that the shirt was a possible dress code violation, attorney Ken Harris, who is representing Bond, told BuzzFeed News. Bond's friend then gave her a jacket that she zipped up over her green shirt.
"Students typically have the right or ability to comply concerning any violations of the dress code," Harris said to BuzzFeed News. "And if they comply, there typically would be no punishment."
When asked about the incident, the director of communications for Cabarrus County Schools system, Ronnye Boone, told BuzzFeed News that they were "not at liberty to discuss students or students' discipline."
"At that point, from our perspective, the incident should've ended," Harris said. "She was in full compliance and she should've been allowed to go on with her day."
Instead, Bond was asked to go to an auditorium, which the principal asked other students to vacate, according to Harris.
"Summer was left in the auditorium with the principal and a security guard, which creates a very unusual circumstances and also one that is very intimidating and ominous," Harris said. "She says they stood in front and over her and told her she could not get up."
At this point, Bond attempted to call her mother, Jeanette Hunter, who did not answer, Harris said. The principal than told the security officer, also known as a school resource officer, to arrest Bond, but before this happened Hunter called back and had a conversation with the principal. After the phone call, Bond was escorted out of the auditorium and into another room where she was told to remain until they released her, according to Harris.
"There are different levels of offenses in the Cabarrus County Schools system, and we don't think she violated any level of her responsibility according to the school system's rules," Harris said. "She complied immediately with the principal."

Bond's story went viral this week, after the high school senior spoke with Charlotte-based news station WCNC last week about her suspension and showed the shirt she was wearing at the time that she got in trouble.
The Cabarrus County School system has now received over 5,000 emails and hundreds of phone calls about the story, the Independent Tribune reported, thanks in large part to national media attention from outlets like the Huffington Post and Teen Vogue. Some of the statements are being investigated as threats, according to the sheriff's office.
"We're taking precautions and are fully investigating the threats," Cabarrus Sheriff Brad Riley told the Independent Tribune.

Boone told BuzzFeed News, "I do not have any information about threats to school officials," but added that "Hickory Ridge High School is operating on a normal schedule."

Students and other people have also responded with comments on social media and Google reviews, expressing largely negative sentiments about Hickory Ridge's administration, and particularly its enforcement of the school's dress code policy.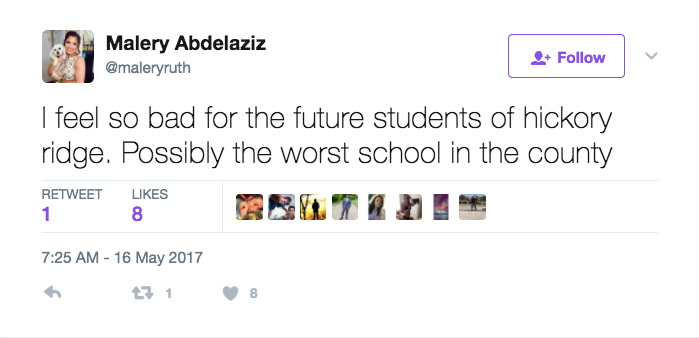 It's not the first time the school has come under scrutiny for its enforcement of the dress code. Last year, 45 female students were sent to the principal's office for wearing leggings in a way that violated the school system's dress code, according to the Independent Tribune. The young women were sent to the office to have their shirt lengths checked, which are required by the school's dress code to "fully cover a student's buttocks and pelvic area."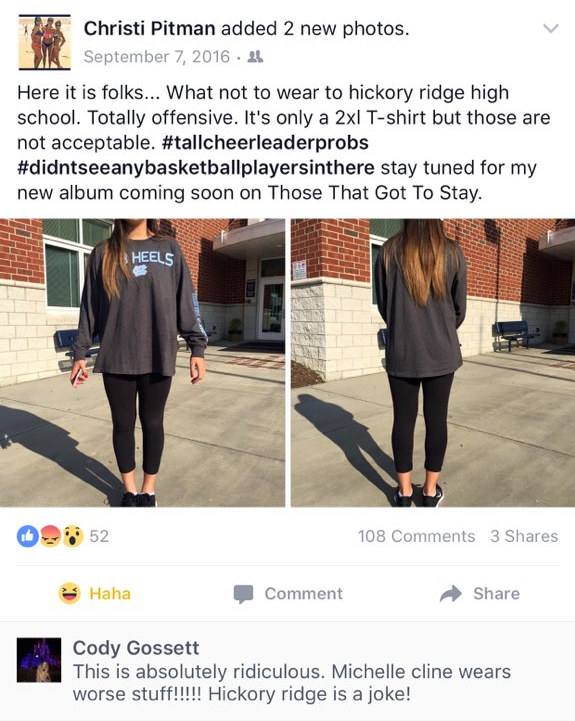 Bond's classmate, Malery Abdelaziz, told BuzzFeed News that the principal "picks out certain girls" and "she is inconsistent and biased and unfair."
Abdelaziz said she has also been in trouble for allegedly violating the dress code, after "wearing a 2XL shirt and leggings." Abdelaziz said that even though her shirt was very long, she was sent to the principal's office, where Cline "changed the rules saying that it had to go past my fingertips."
She said that her mom was made to bring her different clothes to wear. Her mom, Chrsti Pitman, then shared images on Facebook of the outfit that allegedly violated dress code, which Abdelaziz sent to BuzzFeed News. Abdelaziz said she was allowed to go back to class after her mom brought the new clothes.
"There are numerous allegations concerning issues at the school related to the way students are managed," Harris told BuzzFeed News. "I have had several parents contact me already indicating that they have experienced issues that they have felt uncomfortable with at Hickory Ridge."

Harris said that after dealing with Bond's suspension and graduation ban, he would be looking into "civil or criminal related issues concerning any unjustified confinement" that Bond may have experienced while being held by the principal and school resource officer.

For now, he is seeking a fair analysis for Bond "related to this contention that she committed some type of offense," as well as the opportunity for her to walk at graduation.
"If she doesn't have the chance to do that," Harris said about walking at graduation next month, then "she's lost something that she'll never get back."