A commercial fishing boat that ran aground off the coast of Hawaii remained stuck on the reef Sunday, after it caught on fire.
The 79-foot, US-flagged commercial fishing vessel, named Pacific Paradise, has been marooned on the reef since Tuesday, when it ran aground in shallow waters about 400 yards offshore, the US Coast Guard said in a statement. The coastal waters, located off of Oahu's Diamond Head and Kaimana Beach, are full of coral reefs.
Although the ship did not send out a distress call, the Coast Guard and Hawaii Fire Department managed to save all 20 men on board, after witnesses on land reported the ship had crashed. Officials have said they aren't sure why the ship didn't call for help.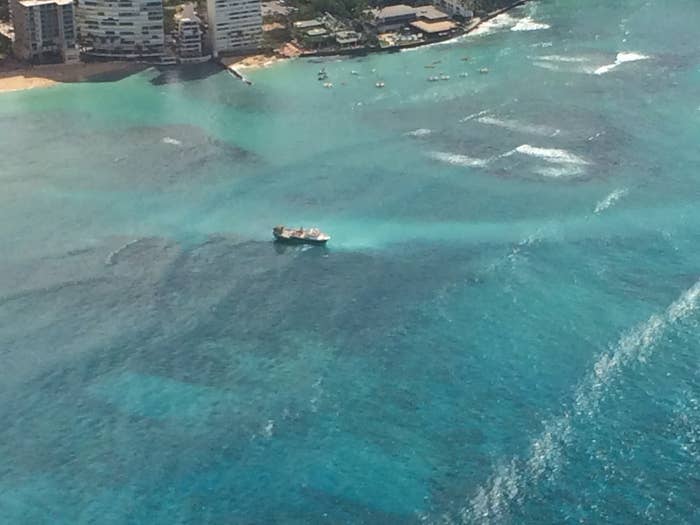 The 20 people rescued included 19 were foreign fishermen, as well as the captain, who is an American citizen.
The Honolulu-based ship was staffed by fishermen from Indonesia, Vietnam, and the Philippines. They are among the hundreds of undocumented foreign workers employed by Hawaii's fishing fleet, thanks to a federal loophole that also excludes the workers from basic labor protections.
Coast Guard officials said the cause of the crash is still under investigation.
Since the Pacific Paradise ran aground offshore, US Coast Guard has been working to remove fuel from the boat, which was carrying about 4,500 gallons of gas.
The salvage company was planning a second attempt to tow the boat Saturday when the vessel caught fire, US Coast Guard Chief Petty Officer Sara Muir told the AP.
The boat has two diesel tanks under its deck, where the fire started, and still had 1,500 gallons of fuel on board when the blaze began. Some of the fuel was released into the ocean during the blaze, but it was not clear how much, Muir said.
The fire was still burning Sunday as firefighters used a helicopter to dump water on the ship.
The water dump helped smolder the fire, but plumes of smoke continued to shoot up from the vessel.
The tow lines were damaged in the fire and the salvage company said it would have to reevaluate how to tow the ship in the coming days. Until then, beachgoers in Hawaii will continue to watch the ship burn.