$10,000 Reward Now Offered In Theft Of Baby Sea Lion In California
On April 19, four suspects stole a sea lion pup from it's mother on a beach. With police no closer to finding the pup more than a week later, a $5,000 award from PETA has been doubled by a donor for information that leads to the arrests of the culprits.
A $10,000 reward is now being offered for information leading to the arrest of whoever stole a sea lion pup at a California beach on April 19.
The Los Angeles Police Department said four people were seen snatching the baby sea lion from its mother on Dockweiler State Beach at around 3 a.m. on April 19.
With few leads for police to go on, PETA announced a $5,000 reward on April 22 for any information leading to the arrest and conviction of the culprits. The reward was doubled on April 27 to $10,000, after Shera Danese, the widow of Columbo actor Peter Falk, added $5,000 to PETA's reward for information.
"This seal pup has already suffered greatly from the trauma of being separated from his or her mother and is most likely terrified, lacking proper nutrition, and in desperate need of rescue," PETA Senior Director Martin Mersereau said in a statement.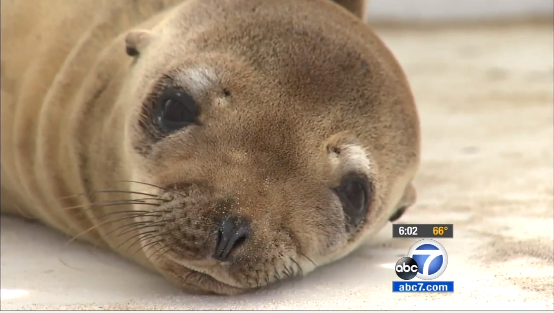 Witnesses said that the suspects were harassing the sea lion pup, throwing cinder blocks and trash at it, then wrapping it in a blanket and placing it into the trunk of their car.
The LAPD said the people who stole the sea lion include two women and two men, all Latinos in their early 20s.
The suspects apparently attempted to capture a second sea lion pup, possibly the first animal's sibling, but it fought back and escaped into the bushes, Los Angeles' KABC reported.
The second pup, which is 10 months old, was found later by authorities cowering in the bushes and taken to Marine Animal Rescue, where it is recovering.
Peter Wallerstein, director of Marine Animal Rescue, told KABC that sea lions are being stolen more often than in the past, due to a record number of malnourished pups showing up along the Southern California coastlines.
The LAPD is investigating the incident with the help of National Oceanic and Atmospheric Administration (NOAA) because the sea lion is a protected species under the Marine Mammal Protection Act.
The suspects' car is described as a dark-colored Honda Civic with two-doors and a California license plate ending in 56, according to ABC News.
PETA encouraged people with information to call NOAA at (800) 853-1964.
"PETA is urging anyone with information about this kidnapping to come forward immediately so that if this pup is alive, he or she can receive medical care and hopefully be returned to the sea," Mersereau said.
The suspects face up to a $10,000 fine and a year in jail, authorities said.