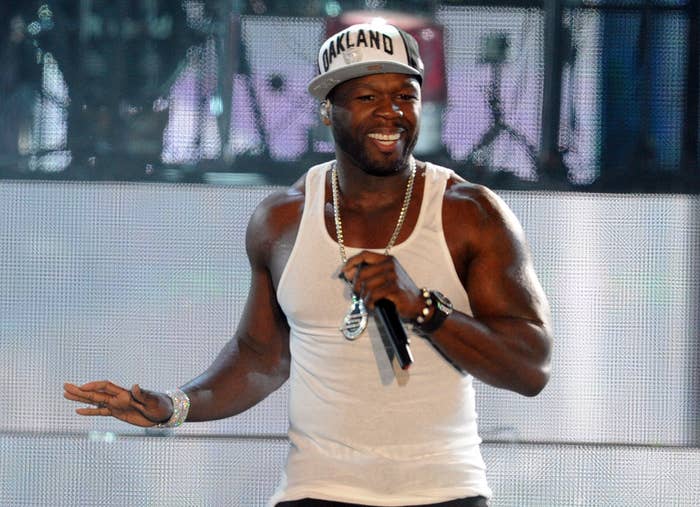 Rapper Curtis James Jackson III, also known as 50 Cent, was ordered Friday to pay an addition $2 million to a woman whose sex tape he released online with himself added in as a character named "Pimpin' Curly."
The same federal jury on July 10 had awarded $5 million in damages to the lawsuit's plaintiff, Lastonia Leviston.
After the initial ruling, the 40-year-old rapper filed for Chapter 11 protection in U.S. Bankruptcy Court in Hartford, Connecticut, on Monday, the Wall Street Journal reported.
In 2009, the multiplatinum-selling Get Rich or Die Tryin' rapper posted a version of Leviston's sex tape online, which was given to him by the women's ex-boyfriend, who was in it. The 13-minute video was altered to include 50 Cent, who is seen wearing a wig and calling himself "Pimpin' Curly." His character also refers to Leviston as a porn star and makes crude comments about rival Rick Ross.
"I am extremely proud and thankful that my team helped me find the courage to stand up to a man who took advantage of and humiliated me in front of the entire world," Leviston said in a statement.
Leviston has a child with Ross — who was in a public feud with 50 Cent at the time the video was posted online — but he is not in the tape. In his defense, 50 Cent said the man who gave him the video said it was OK to post online, although Leviston said she never gave her approval.
"This was something done to me. I didn't have a choice. I would never, ever do this to myself," she testified, according to the Associated Press.
James Renard, the attorney who represented 50 Cent, said in a statement that he was disappointed with the jury's decision. He said his client would file post-verdict and pre-judgment motions to try and reduce the amount the rapper has to pay.
"Ultimately, the fate of any obligation to pay a final judgment will be determined by the bankruptcy court," Renard said.
In May, 50 Cent's boxing promotion company, SMS Productions LLC, also filed for bankruptcy in New York in a move seen as protecting against possible damage payments related to Leviston's invasion-of-privacy lawsuit, the New York Daily News reported.
It was not immediately clear how the bankruptcy filings will affect the payouts to Leviston.