20 Heartbreaking Images Of Cyclone Phailin's Destruction In India
India's strongest storm in more than a decade left a trail of destruction along the country's east coast over the weekend. In advance of the cyclone, close to a million people were evacuated, saving many lives.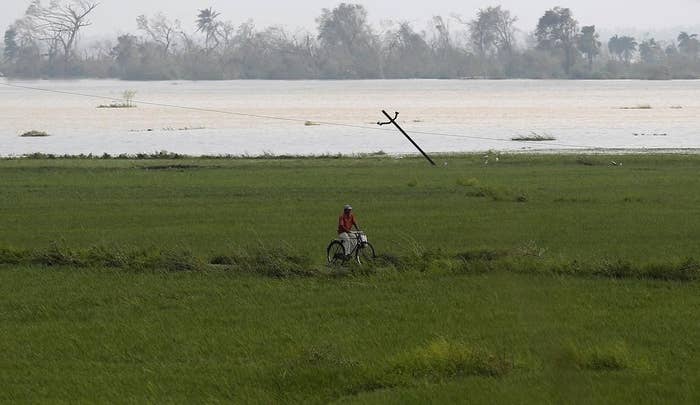 After making landfall Saturday from the Bay of Bengal with sustained winds of up 131 miles per hour, Cyclone Phailin destroyed agriculture fields, turned over trucks, and downed communication lines, but authorities said they knew of only 17 fatalities. The final death toll is expected to climb as officials reach areas of the east coast that remain isolated, but the evacuation of about a million people seems to have saved many lives.
Because of it's warm waters, the Indian Ocean produces many cyclones, including 27 of the 35 deadliest storms in recorded history that have come through the Bay of Bengal and landed in either India or Bangladesh. In 1999, a cyclone struck Orissa, roughly the same place as where Cyclone Phailin hit, killing more than 10,000 people.
India's response to Cyclone Phalin's shows a significant change, which is due in large part to vastly improved communications throughout the country. Nearly a billion people routinely use mobile phones in India, up from fewer than 40 million in the early 2000s, reports the New York Times. Also India's news media market is saturated with 24-hour news channels that have coverage of the storm, and most communities now have televisions.