A Louisiana State University student died at a hospital Wednesday night after being rushed from a fraternity house following a possible hazing incident, officials said.
Maxwell Gruver, 18, was taken to a Baton Rouge, Louisiana, hospital for what school officials called a "medical emergency." He was later pronounced dead.

Gruver had a highly elevated blood alcohol level, according to a preliminary autopsy report released Friday by the East Baton Rouge Parish Coroner's Office. The autopsy also found the presence of THC in his urine. The coroner's office said a complete toxicology report would take up to four weeks to complete. There was no internal or external trauma noted, but cerebral and pulmonary swelling were observed, according to the autopsy.
The Louisiana State University police are investigating Gruver's death as a "potential hazing incident," LSU Media Relations Director Ernie Ballard said during a news conference Thursday.
"We are investigating this matter with the utmost seriousness," LSU President F. King Alexander said at the news conference.

All Greek life has been suspended indefinitely on campus pending the results of the investigation, Alexander said.
"Hazing is dangerous, irresponsible, and unacceptable," he added. "And it will not be tolerated at LSU."
Gruver, of Roswell, Georgia, was a pledge at the Phi Delta Theta fraternity. The fraternity's general headquarters said in a statement that it is investigating the LSU chapter of Phi Delta Theta after the death and is cooperating with university administrators and law enforcement.
"We're committed to investigating this situation thoroughly. The chapter and any individuals who are found to have violated our policies will be held accountable," said Bob Biggs, executive vice president and CEO at Phi Delta Theta.

By Thursday afternoon, the website for the LSU chapter of the fraternity was down.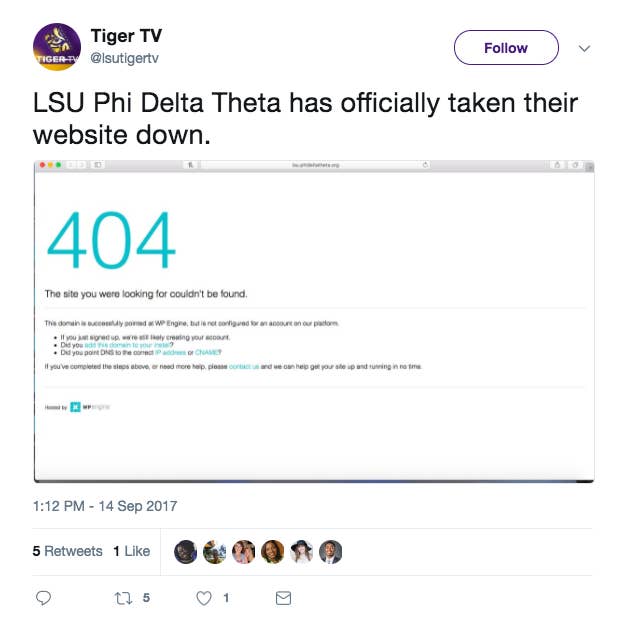 Phi Delta Theta, which was founded in 1848 and has 183 chapters across the US and Canada, became the largest fraternity to implement an alcohol-free housing policy starting in 2000.

"Phi Delta Theta chapter properties are to remain free from alcohol by anyone, at any time, under any circumstance," the policy states.

Images on social media showed people at the LSU fraternity earlier this year promoting parties at the Phi Delta Theta house.

Since March 2015, at least three fraternities have been kicked off the LSU campus, according to an investigation by KATC.
A student died in 2015 after the LSU chapter of Beta Kappa Gamma fraternity's retreat, an annual tradition that involved staying overnight in the woods, KATC reported. Praneet Karki, 22, was pronounced dead after he was taken to a hospital in the morning.
A toxicology screen showed no drugs or alcohol in Karki's system, and his cause of death was ruled as "arrhythmia, likely exercise induced," KATC reported. The station reported that the night Karki died, pledges had been required to run relays, do push-ups, lift cinder blocks over their heads for extended periods of time, and perform other acts of extreme exercise.
The LSU chapter of Pi Kappa Phi was also investigated for allegedly locking new members in a bathroom and forcing them to drink 40 beers, and was later placed on probation.

Just last year, LSU officials put the fraternity Lambda Chi Alpha on probation after two new members were sent to the hospital in the spring, KATC reported. The allegations filed against Lambda Chi Alpha said new members were deprived of sleep and had prescription medications withheld.
The fraternity Acacia was kicked off LSU's campus for three years after forcing pledges to crawl through cayenne pepper on a wet floor as well as drink mixtures of leftover food and spices.