YouTube Temporarily Blocks Russia Today's Channel For "Misleading Content"
Russia Today has been on the front lines of the Kremlin's information war over Ukraine.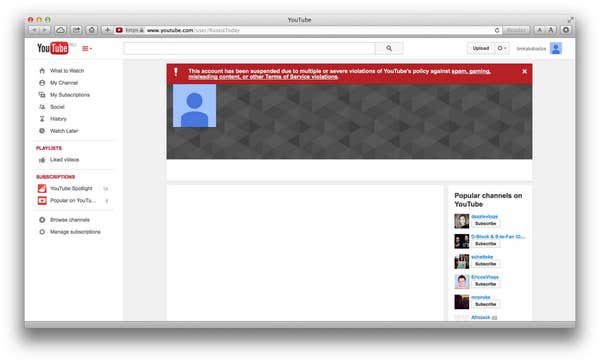 YouTube temporarily blocked Kremlin English-language propaganda network RT's wildly popular account on the video streaming service on Tuesday for unspecified terms of service violations.
Users who attempted to access the Russia Today account were told the account had been suspended "due to multiple or severe violations of YouTube's policy against spam, gaming, misleading content, or other Terms of Service violations."
YouTube said the blocking was a "technical mistake" in a comment provided to BuzzFeed by RT's press service. YouTube did not immediately respond to a request for comment or specify why Russia Today's account, the first news channel to amass over a billion views on the site, had been blocked.
The site's terms of service warn: "Everyone hates spam. Do not create misleading descriptions, tags, titles or thumbnails in order to increase views. It's not okay to post large amounts of untargeted, unwanted or repetitive content, including comments and private messages."
"They blocked us two years ago to the day on March 18," Russia Today boss Margarita Simonyan tweeted. "We very much hope it's a technical glitch, and not a 'technical glitch.'"
RT, better known as Russia Today, has been on the front lines of the Kremlin's information war with the West over the Ukrainian crisis in recent weeks. The channel claims to present alternative views from outside the mainstream, including 9/11 conspiracy theorists and Holocaust deniers, but closely toes the Kremlin line. Recent reports have claimed that no Russian troops are occupying the Crimean peninsula and parroted Kremlin claims to be protecting Russian-speakers in Ukraine against "fascists," despite a complete lack of evidence.
Russia Today's main YouTube channel appeared to be the only one blocked. Two other channels geared at American and Russian audiences respectively were still available.
Max Seddon is a correspondent for BuzzFeed World based in Berlin. He has reported from Russia, Ukraine, Azerbaijan and across the ex-Soviet Union and Europe. His secure PGP fingerprint is 6642 80FB 4059 E3F7 BEBE 94A5 242A E424 92E0 7B71

Contact Max Seddon at max.seddon@buzzfeed.com.

Got a confidential tip? Submit it here.