White House Says Putin's Syria Op-Ed Will Test His Credibility
"Putin saves the world," a senior Russian lawmaker tweets.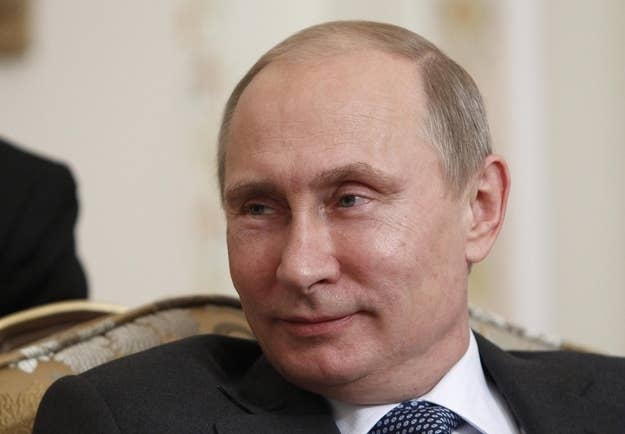 The White House says that Vladimir Putin's op-ed in The New York Times puts the onus on Russia to follow through on commitments to destroy Bashar al-Assad's chemical weapons.
"President Putin has invested his credibility in transferring Assad's chemical weapons to international control, and ultimately destroying them," a senior White House official speaking on conditions of anonymity told BuzzFeed. "The world will note whether Russia can follow through on that commitment."
The Russian proposal that U.S. Secretary of State John Kerry is meeting his Russian counterpart Sergey Lavrov in Geneva to discuss is a simple four-step plan that does not involve the threat of force, the Russian newspaper Kommersant reported. Syria would have to join the Organization for the Prohibition of Chemical Weapons, declare its chemical weapons production facilities and stockpiles, admit chemical weapons inspectors and decide with them how best to dispose of the weapons. The Obama administration has said that the push for diplomacy must be backed by a "credible threat of the use of force," setting the stage for a potentially prickly meeting between Kerry and Lavrov.
The U.S. asked Russia for the meeting after receiving a copy of the four-point plan on Tuesday, Kommersant wrote, citing Russian diplomatic sources. Both sides are bringing chemical weapons experts, Lavrov said Thursday.
"Obama threatens war and Putin saves the world. That's the 'division of labor.' And who is more worthy of the Nobel Peace Prize? The contrast isn't in Obama's favor," Alexei Pushkov, chairman of Russia's parliamentary foreign affairs committee, wrote.
Pushkov deleted an earlier tweet that said "The USA threatens with strikes, and Russia saves the world. That's the 'division of labor.' War against Syria induces repulsion all over the world without even having begun."

Republican senator John McCain was less charitable:
Max Seddon is a correspondent for BuzzFeed World based in Berlin. He has reported from Russia, Ukraine, Azerbaijan and across the ex-Soviet Union and Europe. His secure PGP fingerprint is 6642 80FB 4059 E3F7 BEBE 94A5 242A E424 92E0 7B71

Contact Max Seddon at max.seddon@buzzfeed.com.

Got a confidential tip? Submit it here.